The Indian Foreign Service Must Speak Out Against Growing Politicization
The Indian diplomatic corps is being increasingly used for partisan purposes.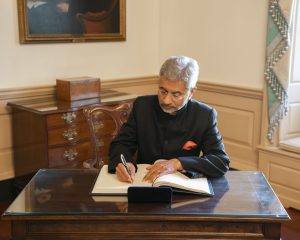 To work toward an era of global leadership, India needed to focus on building national power and state capacity. The apocalyptic second wave of COVID-19 has brutally exposed the limits of both. But far from stepping up to the challenge, Indian Minister of External Affairs S. Jaishankar has made everything worse.
The Indian Foreign Service (IFS) has long been revered for its professionalism, especially in diplomatic communication. Indian diplomats have long been masters of the spoken word, using it effectively to execute delicate balancing acts around the world. Ever since his term in office began two years ago, Jaishankar – who spent long decades in the IFS himself – has been bafflingly dismantling that, sullying India's diplomatic corps with naked partisanship and Chinese-style wolf warrior diplomacy.
Last October, India charged a Special Rapporteur on Freedom of Religion or Belief at the United Nations, Ahmed Shaheed, with being biased toward "one religious community." India's verbal attack had followed Shaheed's report on the controversial 2019 Citizenship Amendment Act (CAA) and the allegations of police brutality against those protesting it that followed.
Less than two months later, an Indian diplomat accused the U.N. General Assembly (UNGA) of selectively condemning attacks on Abrahamic religions while ignoring attacks on Hinduism and Buddhism. Media outlets later fact-checked the statement, pointing out various UNGA resolutions that had condemned attacks on Buddhist and Hindu temples in countries like Afghanistan.
During the pandemic, the unraveling of India's diplomatic communications have been far more counterproductive and serious. At a time when India's understaffed diplomatic missions abroad should be sourcing and coordinating help from around the world, Jaishankar has been pushing them to waste precious time and personnel in countering the world press. Last week, after a scathing piece on the Indian government by the Australian press, the Indian High Commission in that country published what it called a "rejoinder." But far from addressing any of the criticism in the report, the letter read more like a rant from a party propaganda department, calling the media report "motivated and malicious."
Meanwhile, in New Delhi, it has been more of the same. As embassies were gasping for oxygen cylinders, far from setting up efforts to help them (such as a helpline or a war room to coordinate supplies), India's foreign ministry issued an ill-spirited circular, calling on embassies not to "hoard essential supplies."
This circular followed after the diplomatic missions of New Zealand and the Philippines reached out to volunteers from the opposition Congress party for help. But in response, Jaishankar picked a Twitter spat with a Congress leader, claiming that there was no requirement for oxygen in the Philippines Embassy, accusing the Congress of staging it for "cheap publicity." Several commentators called this out, arguing that no diplomatic mission in the most secure area of New Delhi would willingly open its gates to a combustible package, unless they had specifically requested it.
So far, the crass politicization of the IFS has gone unchallenged by senior Indian diplomats. This is a gross dereliction of duty. The Indian civil service is professional – not political – for a reason: It should provide technical skills to the political leadership, and also act as a check on its worst partisan impulses, in the larger interests of the nation.
When Donald Trump challenged norms and professionalism in the United States, America's diplomatic corps pushed back more than once. In 2017, about 1,000 American diplomats from around the world signed a dissent cable, protesting Trump's ban on immigrants from seven Muslim-majority countries. Three years later, the U.S. Assistant Secretary of State for Legislative Affairs, Mary Elizabeth Taylor, resigned in protest against Trump's mishandling of racial tensions in the U.S. Then, in the wake of the Capitol Hill insurrection, dozens of U.S. diplomats signed another dissent cable, asking the State Department to publicly denounce Trump's incitement of the riot.
Jaishankar's politicization of India's diplomatic corps will be a legacy that could live beyond the Modi government itself. With norms breached, future governments could further exploit the IFS for partisan propaganda at the cost of national interest.
For decades, India has stood out as a mature and advanced democracy in the developing world, renowned for the professionalism and independence of its state institutions. As Indians die by the thousands and the Indian foreign ministry focuses on wasteful political propaganda abroad, it's time for Indian diplomats to stand up.