Transatlantic Cooperation on the China Challenge
Insights from Hans Binnendijk.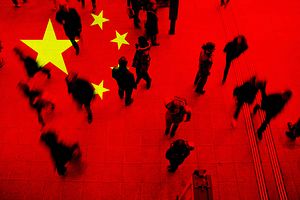 Trans-Pacific View author Mercy Kuo regularly engages subject-matter experts, policy practitioners and strategic thinkers across the globe for their diverse insights into U.S. Asia policy. This conversation with Dr. Hans Binnendijk  –  distinguished fellow at the Atlantic Council's Scowcroft Center for Strategy and Security, who has formerly held senior level leadership positions at the U.S. State Department, National Security Council, and Senate Foreign Relations Committee; and co-lead author of The China Plan: Transatlantic Cooperation for Strategic Competition (2021)  – is the 271st in "The Trans-Pacific View Insight Series."
You were a lead author of a major Atlantic Council study entitled "The China Plan."  Why is a transatlantic China Plan needed?
China under Xi Jinping has a clear and comprehensive strategic plan for the next 30 years that is harmful to transatlantic interests across the board. That plan includes stringent measures at home to repress any opposition to the Chinese Communist Party (CCP). Oppression of any criticism of the CCP narrative now extends to other nations as its diplomats use economic leverage to coerce and intimidate. Its unfair economic practices include state subsidies, debt traps which are part of the Belt and Road initiative, and other investments intended to create strategic dependencies. China uses its technological prowess to infiltrate cyber networks and seeks to impose its own cyber standards. It is forming new partnerships with other authoritarian regimes. Dangerously, Xi has stimulated Chinese nationalism and directed it toward China's disputed claims in the South and East China Seas and towards Taiwan. China is following a divide and conquer strategy towards democratic nations.
The democratic nations have no comparable plan to deal with this Chinese onslaught. Without a plan they are vulnerable to this Chinese offensive. The erratic self-serving behavior of the former U.S. administration under Trump made things worse by reducing the prospect for genuine cooperation among democratic nations. Now the combination of Chinese overreach, Europe's slow awakening to the Chinese challenge, and a Biden administration focused on restoring American partnerships together creates the possibility of a true China plan designed by America and its partners.
How has the China Plan study been received?
The study is consistent with the general approach that the Biden administration is taking, and the response has been positive. In Europe, an increasing number of China experts generally embraced the conclusions and recommendations. European governments generally support a transatlantic approach, but some fear they will be asked to choose between the United States and China. Recent Chinese retaliatory sanctions have backfired on China. Still, Germany and France seem to be reluctant to follow an American lead on China policy. For a transatlantic China policy to work, there will need to be adjustments on both sides of the Atlantic. 
What can be done about the Chinese challenge to democratic values as well as  western economic and technology interests?  
The study finds that in principle, Chinese challenges to democratic values both in China and overseas should provide the most fruitful area for transatlantic cooperation. Nations on both sides of the Atlantic have imposed sanctions on China relating to human rights practices in Hong Kong and Xinjiang, and the study suggests more options for sanctions. The study also suggests that "diplomatic coercion towards one is diplomatic coercion towards all" should be an underlying principle for members of the proposed Transatlantic Coordinating Council on China. 
Finding transatlantic approaches to China's economic and technological challenges may be more difficult. For example, in December the EU agreed to a Sino-EU Comprehensive Agreement on Investment without adequate consultation with the U.S., and European nations are still taking differing approaches to the incorporation of China's 5G technology into European IT systems. But as the risk of Chinese practices become clearer, the prospect for greater transatlantic convergence on economic and technological interests grows.
What is the nature of China's security challenge to the transatlantic partners, and what needs to be done?
NATO has rightly begun to focus on the negative impact of Chinese investments in infrastructure, of defense supply chain dependencies, and of Chinese political influence on European security. It has not yet appreciated the full impact of Sino-Russian defense cooperation, Chinese activity in the global commons, and potential Sino-U.S. conflict on European security. The China Plan recommends that in addition to steps designed to reduce these European dependencies on China, Europe should take steps to increase its own defense capabilities to compensate for a possible American pivot to Asia. And it should also increase its efforts to help deter Chinese aggressive behavior in Asia.
Given China's major military build-up and its aggressive nationalistic behavior in Asia, war with China is no longer unthinkable. Former Secretary of State Henry Kissinger has warned that such a war would be catastrophic. This concern has been animated by the recent book "2034."  And yet the United States cannot abandon its allies and interests in the region. Therefore, Washington needs to balance U.S. military deterrent posture with efforts to settle political differences over maritime claims and to diffuse the currently building tension over Taiwan.
What are the prospects of greater U.S.-Chinese cooperation in areas of mutual interest? Will greater cooperation in these areas help get Sino-U.S. relations back on track?
Despite the need to meet the challenges from China across this broad spectrum of issues, there is also a prospect of cooperation with China on several other issues. The study examines potential cooperation on limiting climate change, enhancing global health, achieving nuclear nonproliferation, supporting economic development, and making international peacekeeping effective. In the past Chinese promises of cooperation have acceded their actual deeds. So as cooperation is planned, the results need to be closely monitored. 
While cooperation in these areas is unlikely to dramatically reverse the decline in relations with China, successful cooperation coupled with solutions to some of the problems discussed above can at least halt the slide.