Beijing on the Border: What's China Doing in Tajikistan?
What should be made of recent reporting that shows evidence of a Chinese paramilitary presence in Tajikistan?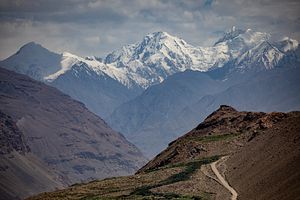 Last week's dynamite story by the Washington Post's Gerry Shih provides the strongest evidence yet of a Chinese military presence in eastern Tajikistan. Backed by interviews, satellite images, photographs, and firsthand observation, Shih's report appears to confirm that there is a Chinese outpost of some kind on Tajik soil.
Over the past few years, regional watchers have noted increased Chinese economic and military involvement in Central Asia. This gradually increasing security role is very much linked to China's rising investments in the region, which are often grouped under the moniker of the Belt and Road Initiative. Increased Chinese interest in Afghanistan — and in the settlement of the conflict there — has economic roots, too. Tajikistan has become a focus of Chinese efforts in several ways.
Back in 2016, Reuters reported that Tajikistan had signed an agreement with China that would provide for the construction of 11 "outposts of different sizes and a training center for border guards." Other developments include: the August 2016 creation of the "Quadrilateral Cooperation and Coordination Mechanism in Counter Terrorism," a coordination mechanism established by Afghanistan, China, Pakistan and Tajikistan (the grouping had a second high-level meeting in 2017 but I haven't been able to find notice of a 3rd such meeting in 2018); China's first bilateral military exercises with Tajikistan in October 2016; and the 2017 forging of a "comprehensive strategic partnership" between China and Tajikistan.
In this context, a small Chinese military presence in eastern Tajikistan is par for the course. As Nadege Rolland, a senior fellow for political and security affairs at the National Bureau of Asian Research, commented in a recent episode of RFE/RL's Majlis Podcast, the Chinese soldier who gave his surname as Ma to the Washington Post's reporter was wearing what she said looked liked the uniform of the Chinese People's Armed Police Force (PAP), a paramilitary organization.
Across the border in Afghanistan, many of the same rumors about Chinese bases or troops are regularly in the air. As I've previously commented, the terminology used to discuss Chinese activities in this regard is often haphazard and imprecise:
It's worth mentioning that different reports use different terminology — military base, training camp, counterterrorism center, etc — and sometimes use those terms interchangeably. There's a difference between a joint training center and an outright Chinese military base, a nuance that does not always come across in reporting, not the least because the involved parties (China, Afghanistan, Tajikistan, and Pakistan) are not always that precise or forthcoming with details. More than the terminology, what's important to watch for is what any emerging facilities are designed and staffed for.
This imprecision is, to a certain extent, unavoidable given the secrecy of the countries involved and the remote locale. That said, it seems clear that there are Chinese security forces stationed in the frontier region of Tajikistan (and quite probably Afghanistan). I'm inclined to agree with Rolland and Raffaello Pantucci, director of National Security Studies at the Royal United Services Institute, who both joined the latest Majlis Podcast and said that while increased Chinese activities in the security realm in this region is certainly notable, it is best characterized as "hardening of their border region." Both Pantucci and Rolland cautioned reading too much into the story of Chinese troops in Tajikistan: they may be there, but this isn't Beijing's first step toward getting militarily involved in the Afghan conflict.
Chinese interests in involvement in the Afghan conflict have grown, but are predicted on first securing its borders and interests, and then promoting the resolution of the conflict. The Quadrilateral Coordination Group (encompassing China, Afghanistan, Pakistan and the United States), formed in 2016, followed China's first attempts the year before to push negotiations along. Though that effort stalled, other negotiating tracks moved forward. Meanwhile, China remains involved in the quest for peace in Afghanistan.
China's latest gambit in that realm is the proposal to form a Shanghai Cooperation Organization (SCO) a contact group. Speaking last week in Beijing after a visit by his Kyrgyz counterpart, Chingiz Aidarbekov, China's Foreign Minister Wang Yi said, "We will make the SCO Afghanistan contact group to play a better role so we can speed up the political settlement of Afghanistan internal issues."