China's Afghanistan Challenge and the Central Asian Dilemma 
None expect China to replace the United States in military terms, but Central Asia may hope Beijing plays a more substantial role in Afghanistan.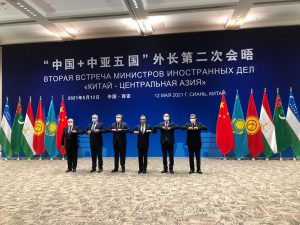 The U.S. troop withdrawal from Afghanistan is underway and is due to be completed by September 11, 2021. In the early days of the War on Terror, U.S. military bases in Central Asia were central to mobilization in Afghanistan, but regional pressure led to their closure. While a narrative persists in the press that the United States will want to keep some substantial presence in the region after the drawdown, it is unclear that anyone in Central Asia has actually been asked.
Russia is unlikely to step forward very far to fill this vacuum, instead preferring to continue to play a supportive role where it serves its interests. To the extent that the United States does appear to want to stay engaged, it seems to be focused on reviving the New Silk Road concept that connects Central Asia to South Asia through Afghanistan, alongside positioning some over-the-horizon counterterrorism capabilities.
The key uncertainty is whether China is going to finally step forward to take up some mantle of responsibility toward Afghanistan and follow through on its repeated security promises.
Central Asian politics have changed since the United States vacated the Manas airbase in Kyrgyzstan in 2014. At the time the overriding discourse was how Moscow was going to fill the ensuing security vacuum. Yet, the narrative of the intervening seven years has not been of Russian dominance, but of Chinese expansion. From politics to security, language and economics, China is the rising power in Central Asia.
On May 12, China hosted the second China plus Central Asia (C5+1) Foreign Ministerial talks in Xi'an. The five Central Asian foreign ministers were the first group of foreign officials invited to China since the start of the pandemic. Political ties between China and the Central Asian states have grown exponentially in the past decade. 
Afghanistan was an obvious topic of discussion. Central Asian states fear the potential spillover of conflict and are looking for a security guarantee from within Afghanistan, as well as the other major powers in the region. While urging the U.S. troop withdrawal to "proceed in an orderly and responsible manner to avoid a resurgence of terrorist forces," China (like Russia) has no desire to see the return of U.S. bases in Central Asia. Yet, at the same time, Beijing has failed to deliver tangible security plans to support its neighbors on the western periphery in the event of an escalation of instability in Afghanistan. The joint statement on Afghanistan released at the end of the Chinese C5+1 meeting was thin on details.
In the past few years, China has emerged as an active player in Afghanistan. China has opened a number of multilateral diplomacy channels around Afghanistan, participated in regional talks, worked with the United States and Pakistan to bring the Taliban to the negotiating table, and repeatedly pushed (albeit to no avail) to get the Shanghai Cooperation Organization (SCO) to do more about Afghanistan. China has offered some limited support to Afghan, Tajik, and Pakistani border forces, and reportedly built its own base in Tajikistan. But these efforts are single-mindedly focused on Chinese border concerns.
The story has been similar on the economic side. China has expanded measures to induce economic incentives for peace in Afghanistan, something that Chinese policymakers have put forward as the most appropriate contribution China can make. A bilateral economics and trade committee was set up in 2015. Direct cargo flights between Afghanistan and China opened in late 2018. After building the Mazar-i-Sharif to Hairatan train line, a cargo train corridor between China and Afghanistan was inaugurated in summer 2019, via Uzbekistan and Kazakhstan. Bilateral trade between China and Afghanistan doubled from $338 million in 2013 to $629 million in 2019, according to data from Chinese customs. And Beijing has repeatedly spoken about bringing Afghanistan into its Belt and Road Initiative foreign policy vision – increasing Afghan connectivity with Central Asia, China, and Pakistan.
In reality Beijing has achieved little. China's most recent promises include reported security contributions to help with counterterrorism efforts, but it is not clear what these will look like. Economically, China's stake in Afghanistan has grown, but it has failed to deliver on the massive extractive project in Mes Aynak its firms signed contracts for in 2007, and the China National Petroleum Corporation (CNPC) project in northern Afghanistan has also been suspended. Beijing has not lived up to its economic potential in the country yet.
None of this is going to get any easier in the wake of the U.S. withdrawal. With the possible outcome that the Taliban will regain control of a greater part of Afghanistan, rule by Islamist ideology may then become an inevitability and that will have consequences for China. While Beijing has clearly been bolstering its relations with factions in the government in Afghanistan, its analysts are equally certain that some Taliban return to power is likely. This confusion in part reflects the baffling complexity of the Afghan battlefield, but it also highlights a dissonance within current planning.
It also illustrates where China's post-American Afghan strategy likely falls down. With Washington present in force, Beijing can largely apportion blame and responsibility to the U.S. for anything that happens. Once the U.S. is gone, this excuse may still have some rhetorical currency, but it will lack tangible use on the ground. And while China may be able to ensure that its security concerns are addressed, its neighbors in Central Asia will expect it to use its weight and gravitas to play a more substantial role in stabilizing the situation. None expect China to replace the United States in military terms, but Central Asia may hope Beijing will play a more forward and substantial role in Afghanistan — a role that actually helps stabilize and calm the situation — rather than hedge and watch while it collapses in on itself.