Cultural Diplomacy as a Key Instrument of China-Central Asia Cooperation
An interview with Chinese diplomacy researcher Giulia Sciorati.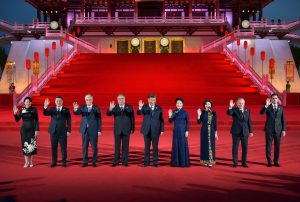 The China-Central Asia summit held in Xi'an last month marked the opening of the "Year of Culture and Art of the Peoples of China and Central Asia." Besides an important occasion to take stock of infrastructure and business deals in the region, the Chinese government has once again focused on cultural exchange, in an effort to combat Sinophobia.
The Diplomat interviewed Giulia Sciorati, a postdoctoral fellow at the University of Trento, where she researches China-Central Asia relations, to better understand the reach of China's cultural diplomacy in Central Asia.
What is the role of cultural diplomacy in China's overall foreign policy?
Sixteen years ago, we could have quickly answered this question by stressing the importance of culture China's vision of soft power. Nowadays, even the notion of soft power is contested. Experts disagree on whether it is still a relevant prism of analysis. The concept of "narrative power" has gained an increasingly important status in international relations and the "new" Chinese soft power falls precisely into this category. Xi Jinping's invitation to "tell the China story well" (讲好中国故事) has resonated widely and clearly. Cultural products make it easier to "tell a good story," especially in a visual world like ours. Cultural diplomacy remains therefore very relevant, at least to this particular strategy in Chinese foreign policy.
Has China's cultural diplomacy in Central Asia changed in recent years?
In Central Asia, China's cultural diplomacy has not particularly changed either region-wise or sector-wise. Indeed, travel restrictions imposed by the COVID-19 pandemic have forced activities in this sector to move into the digital realm. We have seen that more attention has been paid to visuals such as videos, images, and photographs on traditional and social media. However, I would not say that this hints at a change in the whole cultural diplomacy infrastructure, because the core messaging has remained the same with topics such as the "Silk Road" and "Chinese traditional medicine" still under the spotlight. One important aspect to underline here is that these topics are not exclusive to Central Asia but are relatively common to how China uses culture worldwide.
What sort of tools does the Chinese government employ in its cultural diplomacy outreach in Central Asia?
The most important tool that China uses in Central Asia are scholarships for Central Asian students and scholars to travel to China and funds to set up Chinese studies programs around the region. In short, the education sector. This is important because it allows China to brand itself in a very specific way to Central Asian audiences (especially the younger generations). Another aspect that has proven particularly relevant in this domain is media cooperation, including media training for Central Asian journalists and media specialists in China. This is a way to promote the diffusion of a specific "story" on China that would eventually not exclusively be told by Chinese media but also by other outlets in the region.
Is China's cultural diplomacy in Central Asia working? Is it taming the widespread Sinophobia that exists in the region?
The short answer is that it does not work as well as hoped. Several Chinese academic studies point to the shortcomings of China's public diplomacy in Central Asia. However, in my opinion, the identity value system created by China's discursive constructions of the history and culture shared with Central Asian countries (for instance, the "Silk Road nations" identity) is too valuable to set aside. Even if it has limited pull with Central Asian audiences, it has proven to work well among political and diplomatic communities, at least as a broad frame to group several activities, agreements, and interactions.
How do you distinguish between museum cooperation and cultural diplomacy?
There is a lot of debate among specialists on this point, and there is no one-size-fits-all definition. My analysis shows that international cooperation in the heritage sector (including between museums) is generally aimed at marketizing national or transnational heritage as cultural products to engage foreign audiences. In simpler terms, consider traveling museum exhibitions through which heritage unique to a country or culture is displayed worldwide. Although this results from extensive museum cooperation and does not exclusively serve political aims, it still achieves cultural diplomacy goals.