Japan Steps Up Its 'Vaccine Diplomacy' in Southeast Asia
A donation of 1 million jabs to Vietnam could be followed by shipments to Indonesia, Malaysia, the Philippines, and Thailand.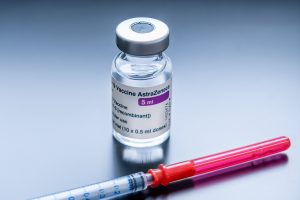 Last night, a shipment of just under 1 million doses of AstraZeneca's COVID-19 vaccine arrived in the Vietnamese capital Hanoi, a gift from the Japanese government designed to help fortify the nation's sluggish vaccine distribution efforts.
The announcement of the donation was made a day earlier by Japanese Foreign Minister Motegi Toshimitsu, who said that Japan is also planning similar shipments to other Southeast Asian nations from next month.
"After considering comprehensively the infection situation [in Vietnam], the shortage of vaccines and relationship with Japan, we have come to that decision," Motegi told reporters. He added that Japan had opted to make the donations independently of "an international organization" – i.e. the World Health Organization (WHO)'s COVAX Facility – because "the procedures in getting approval may take time."
Despite earning international plaudits for its containment of COVID-19 in 2020, Vietnam has been facing a resurgence of infections since April. While the nation had identified just 11,635 infections and 58 deaths from the coronavirus as of yesterday, its health authorities have reported a hybrid coronavirus variant that combines characteristics of strains first detected in India and the United Kingdom.
The Japanese donation to Vietnam followed a similar shipment of 1.24 million AstraZeneca doses to Taiwan at the start of month, to help counter its own surge in infections. Motegi added that Tokyo was considering similar donations to Indonesia, Malaysia, the Philippines, and Thailand from early July. He did not give any details on how many doses the other four countries would receive.
Japan's donations have come from its domestic stock of AstraZeneca vaccine, 120 million of which the government has secured, including 90 million that are set to be produced domestically. But the Japanese health ministry has not yet recommended that it be administered in the country because of concerns over potential side effects.
It is hard to view Japan's donations in isolation from the concerted "vaccine diplomacy" that has been mounted by China's government. Since the beginning of the pandemic, the Chinese government has attempted to position itself as a vital partner of the region, as it attempts to stave off COVID-19 and chart an economic recovery from the pandemic.
Beijing has supplied millions of Chinese-made vaccines, either commercially or free of charge, to nearly every nation in the region. It is Chinese support that has underpinned Cambodia's surprisingly robust vaccine rollout; among Southeast Asian nations, only Singapore has vaccinated a greater proportion of its population. Meanwhile, even Vietnam, congenitally suspicious of China, recently approved the Sinopharm vaccine, in light of the country's worsening outbreak.
Perhaps the real reason that Japan opted to operate outside of the COVAX initiative is that it gives the government the freedom to target the vaccines to where they are most strategically beneficial. More crucially, it also allowed Tokyo to ship vaccines to Taiwan, given that the island is not recognized by the WHO.
Should Tokyo's planned Southeast Asian shipments eventuate, they will help renew and consolidate key diplomatic partnerships in a region where Japanese companies have had long had manufacturing bases and where many nations share Japan's concerns about China's growing power and maritime assertiveness.
In recent years, Japan has proven that it can offer Southeast Asian nations a robust alternative to infrastructure development financing under China's Belt and Road Initiative, building highways, bridges, metro systems, irrigation networks, and power transmission lines from Hanoi to Mindanao. Once Tokyo manages to gets its act together on its domestic vaccine rollout, it has the reach and financial resources to do the same for COVID-19.