Tajikistan Asks CSTO for Assistance on the Afghan Border
With Afghan forces fleeing into Tajikistan and the Taliban managing a border crossing, Dushanbe has reportedly called on its CSTO partners for aid.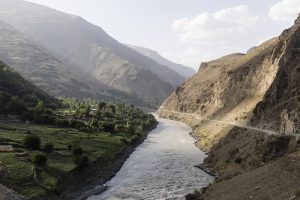 Tajikistan has called on its partners in the Collective Security Treaty Organization (CSTO) to come to its aid in securing the country's long border with Afghanistan.
The past two weeks alone have seen an intensification of fighting in Afghanistan's north, with Afghan government forces fleeing into Tajik territory and Dushanbe mobilizing 20,000 troops to strengthen the border. As Tajikistan repatriates the Afghan forces via flights to Kabul, Dushanbe is turning to its partners for help.
The CSTO, a Russian-led security bloc, also counts Armenia, Belarus, Kazakhstan, and Kyrgyzstan as members. 
RIA Novosti, a Russian news agency, quoted the Tajik representative to the CSTO, Hasan Sultonov, as saying, "Given the current situation in the region, as well as the remoteness and mountainous terrain of some parts of the border with Afghanistan, dealing with this challenge on our own seems difficult." Sultonov then called on CSTO member states to provide assistance on the Tajik-Afghan border under a 2013 resolution in which the members pledged to do so when requested.
According to a 2013 CSTO readout of the Collective Security Council's September session in Sochi that year, the gathered presidents decided that "Based on the request of the Tajik side, the CSTO member states within three months, taking into account their capabilities, will provide free military technical assistance to the Border Troops of the State Committee for National Security of the Republic of Tajikistan."
Dushanbe has reportedly requested that assistance. 
Russia has around 6,000 troops stationed in Tajikistan, as part of its 201st military base, and has said it is prepared to activate its forces in defense of the country. 
"We'll do everything, including using the capabilities of the Russian military base on the border of Tajikistan with Afghanistan, to prevent any aggressive encroachments against our allies," Russian Foreign Minister Sergei Lavrov said.
When asked, however, if Russia would deploy troops to Afghanistan he said the answer was "obvious."
The Soviet Union invaded Afghanistan in 1979 and remained engaged in the country until 1989. In the course of a decade, around 620,000 Soviet troops served in Afghanistan and Moscow incurring more than 70,000 casualties, including 14,000 Soviet forces killed and more than 53,000 wounded. After departing Afghanistan, the Soviet Union continued to financially support the communist regime of President Mohammad Najibullah. Although popular discourse of the day predicted Kabul would be overrun within months, Najibullah's government fell to the mujahideen only in 1992, after the collapse of the Soviet Union and the end of Soviet aid. 
Presumably, Lavrov's "obvious" answer is "no." But the fact remains that Russia, via its deep involvement in Central Asia and worries about the Islamic State, will have serious security concerns regarding Afghanistan long after the U.S. completes its withdrawal. Perhaps the "obvious" answer is "maybe." The overriding concern for Russia and the states of Central Asia is instability, but not necessarily the Taliban, as made clear by the willingness of Russian authorities and others to engage in negotiations with Taliban delegations. 
Precisely what assistance Tajikistan will receive from the CSTO is unclear at this juncture. Besides Russia, Kazakhstan — which has engaged in U.N. peacekeeping activities — would arguably be likely to and capable of sending aid. Kyrgyzstan may be less capable of doing so, given its size and recent political turmoil; in addition, given tensions between Kyrgyzstan and Tajikistan over their contentious border, which erupted into violence this spring, Bishkek may be less motivated to provide military support to its neighbor's border service. Importantly, Uzbekistan is not a member of the CSTO, and thus not subject to Tajikistan's recent call for aid, but has its own border with Afghanistan to monitor.
The Taliban earlier this week tried to reassure Tajikistan, with a spokesman pledging to respect the country's security and borders. On July 7, Eurasianet published a video purporting to show Taliban managing a border crossing between Afghanistan and Tajikistan.