Violent Clashes at the Troublesome Kyrgyzstan-Tajikistan Border 
Last week's violence was some of the worst the border has seen, with more than 40 killed.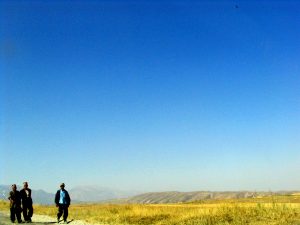 In late March, while prematurely bragging about resolving Kyrgyzstan's outstanding border uncertainties with Uzbekistan via land swaps, the chairman of Kyrgyzstan's State Committee for National Security (SCNS or GKNB) Kamchybek Tashiev proposed land swaps as a possible solution to Kyrgyzstan's similarly thorny border issues with Tajikistan.
A month later, the area Tashiev had suggested swapping for — Vorukh — was the trigger for the worst fighting the Kyrgyz-Tajik border has seen in recent years. 
The recent clashes fit into an worsening pattern in which the unsettled border dovetails with nationalism and poor governance on both sides of the border, erupting into violence. Another facet which has been remarked upon on social media by regional observers is that in the battle for the narrative, the Kyrgyz side has more weight because it has a more active, and more free, press.
As I commented when writing about reports of gunfire along the same border back in May 2020, "As with all previous incidents in the area, there are two slightly different versions of events." While outlets with on-the-ground reporters in both countries, such as RFE/RL's Kyrgyz and Tajik Services and Eurasianet, have strived for balance in their coverage, there's a noticeable divergence in access to information and the scenes of the clashes.
The specific trigger appears to have been a dispute over the installation of surveillance cameras at a water distribution point in the village of Kok-Tash, near Vorukh. In 2015, there were clashes in the same area over a blocked road and blocked canal.
Vorukh is an exclave of Tajik territory, surrounded by Kyrgyzstan. Between Vorukh and the rest of Tajikistan sits the village of Ak-Sai, a road, and a river, which have often been sparks for increasing tensions over the years. In 2019, for example, anger over road construction near Ak-Sai led to clashes in which two Tajik villagers were killed by gunfire. The April 28-29 clashes began near Vorukh but spread to other hotspots along the Kyrgyz-Tajik border. According to RFE/RL, "almost half of the 970-kilometer Kyrgyz-Tajik border has not been demarcated since the collapse of the Soviet Union in 1991."
While the initial clashes last week featured fist-fights and stone-throwing, they escalated quickly to gunfire and unconfirmed reports of heavy machine guns and mortars. (RFE/RL reported that Kyrgyz security officials "at one point accused Tajik forces of using MI-24 helicopter gunships to shoot at Kyrgyz villages." It's not clear whether that's true or not). Videos spread on social media of locals hunkered down, with gunshots ringing in the distance and smoke rising from burning homes. The Kyrgyz dead reportedly include at least two children, a 12-year-old girl and a 5-year-old boy, details that have further inflamed emotions over the unrest.
Kyrgyz authorities quickly offered specific details while Tajik authorities have been more circumspect. According to Bishkek, in the April 28-29 clashes 36 Kyrgyz citizens were killed, 183 were injured, and around 50,000 people fled the areas of violence. The Kyrgyz also offered a detailed accounting of the damages. Per RFE/RL citing Bishkek: "78 private homes, two schools, one medical point, two border checkpoints, a kindergarten, 10 gasoline stations, a police building, and eight shops were destroyed in Kyrgyzstan's southwestern region of Batken." Local authorities in Tajikistan offered some information, such as claims that 14 homes were destroyed and 15,000 people evacuated, but have said little about casualties. RFE/RL's Tajik Service reported at least 16 deaths on the Tajik side, but officially Dushanbe has not released any estimates to that effect.
Of course, government information is only as good as one's trust in the authorities to be truthful. Nevertheless, the issuing of official statements provides a baseline narrative that journalists, if they are able to work freely, can confirm or contest. With the Kyrgyz authorities more outspoken about what happened, their version of events rises to the surface. This also provides the basis for affected local citizens to lobby their government for assistance.
Officially, the two sides declared a ceasefire — with Tajik President Emomali Rahmon speaking via phone with Kyrgyz President Sadyr Japarov. Rahmon reportedly invited Japarov to Dushanbe for talks on border demarcation; no date is set. According to RFE/RL, delegations from both sides met on April 30 at the Kyzyl-Bel checkpoint and agreed to withdraw troops that had been moved into the area. By May 3, both sides had pulled back and the area was calm. But as Eurasianet's reports attest, the damage is serious and it could take years for the affected to recover what they've lost.
The likelihood of future clashes is high, given the history, and the possibilities for unintentional escalation are serious. The extant circumstances — local populations with long-standing grievances against their neighbors competing for access to limited resources, primarily water — will not change. 
On April 7, Rahmon had visited Vorukh and said Tajikistan never had, and never would, discuss swapping the territory. It's difficult to envision a solution that will satisfy the local populations on both sides of the border; it's also difficult to envision Rahmon or Japarov walking back their own nationalistic tendencies, which provide fuel to the fire.