Thailand Reopens Resort Island to International Tourists
The government hopes that the "Phuket sandbox" scheme will lead to the revival of Thailand's tourist industry.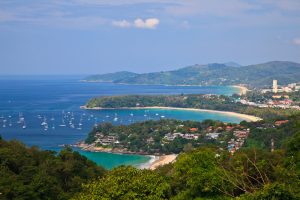 Yesterday, Thailand's Prime Minister Prayut Chan-o-cha arrived on the island of Phuket in the south of the country to mark its opening to foreign tourists, the first step in the planned revival of the massive Thai tourism industry.
Under the "Phuket sandbox" program, vaccinated international visitors will be able to roam the island freely for 14 days rather than spending it in hotel quarantine, after which they will be free to visit other parts of Thailand. About 250 people, mainly from the Middle East, were expected to arrive on four flights yesterday to kick off the scheme.
"We know that there is a risk," Prayut told reporters after arriving on the resort island. "But we have to accept the risk so Thai people can make a living." The Thai leader also made an appearance at a shopping mall to launch the government's "Hug Thais, Hug Phuket" campaign, which aims to promote domestic tourism.
As one journalist pointed out on Twitter, this was perhaps not the slogan for the midst of a global pandemic. But the Thai government is hoping that the reopening of tourists to Phuket will help drag the country out of its pandemic-induced slump.
While Thailand managed to contain COVID-19 with relative success for the first year of the pandemic, it devastated the country's tourism industry, which employs millions and contributes an estimated 20 percent of Thailand's GDP. According to Reuters, Thailand lost around $50 billion when visitor numbers plunged during the pandemic. Phuket is even more dependent on the tourist dollar, with some 95 percent of economic activity focused on that sector.
According to a statement from the Tourism Authority of Thailand, the resort island is expecting around 426 international flights this month, and that 8,281 inbound passengers would arrive on the island.
The "Phuket sandbox" scheme is open to visitors from 63 countries and three territories rated by Thailand as low or medium risk for COVID-19. Visitors will need to be fully vaccinated against COVID-19 and provide proof of a negative test before entry to Phuket. They will then be required will themselves undergo screening procedures before being allowed out onto the island.
Their movements will then be monitored by an app they must download on arrival. Those who want to travel more widely in Thailand will be able to do so after 14 days, as long as they have three negative coronavirus tests. If successful, Thailand will extend the scheme to the islands of Koh Samui, Koh Phangan and Koh Tao, and then to other islands and tourist destinations across the country. It plans to reopen the country's borders fully by October.
However, the program faces some headwinds. Despite its initial efforts at containment, Thailand is now battling a third wave of COVID-19. Yesterday, health authorities announced a record 57 deaths and 5,533 new cases, followed by another record of 61 deaths and 6,087 infections today.
While more than 70 percent of Phuket's population has been vaccinated in preparation for its opening to international visitors, and daily infections in Phuket have been in single digits for most of the past month, the continuing outbreak is likely to hamper the extension of the "sandbox" scheme to other parts of the country.
Perhaps a greater immediate challenge is posed by the various bureaucratic hurdles. First prospective visitors must obtain a certificate of entry at the Thai embassy in their country of origin. Then, within 72 hours before flying to Thailand, they need to get a certificate showing negative COVID-19 test results.
"There's a lot of documentation required now with certificates of reentry. I think the process is cumbersome," Bill Barnett, managing director of C9 Hotelworks, a Phuket-based consultancy, told NPR. "There's a lot of bureaucracy to fight your way into the Sandbox."
That said, Thailand's recovery has to start somewhere, and despite the incurably picky nature of the Thai bureaucracy, the "Phuket sandbox" is a creative solution to the challenge of restoring an industry that is central to the livelihoods of millions. With some luck, it could be the first step on the country's long road back to normalcy.