US Deputy Secretary of State to Visit China After All
With Sherman already in the region, the U.S. confirmed she is adding China to her itinerary.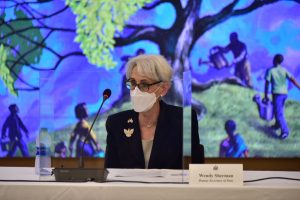 U.S. Deputy Secretary of State Wendy Sherman will be visiting China as part of her ongoing tour of East Asia after all. In a statement released on June 21, the State Department confirmed that Sherman will travel to Tianjin on July 25 and 26 "to meet with PRC officials, including State Councilor and Foreign Minister Wang Yi."
Earlier this week, the trip looked unlikely. A stopover in China did not make it onto Sherman's official itinerary. But a State Department spokesperson refused to rule such a trip out in a press conference on July 19, despite the best efforts of a reporter to force a yes-or-no answer.
The Financial Times had reported earlier that the uncertainty over Sherman's trip was due to a disagreement over who her host would be: the U.S. wanted Vice Foreign Minister Le Yucheng, while China was offering Xie Feng, the fifth-ranking member of the Foreign Ministry. The two sides seemed to have finessed that deadlock with an arrangement for Sherman to primarily hold talks with Xie, but be afforded a meeting with Wang. China's Foreign Ministry spokesperson Zhao Lijian made that clear in his press briefing on July 22.
The trip looks set to be a rocky one, as might be expected given the current state of tensions. A previous meeting in March between Secretary of State Antony Blinken, National Security Advisor Jake Sullivan, Foreign Minister Wang Yi, and China's top diplomat Yang Jiechi devolved into the diplomatic equivalent of a shouting match at the opening. Notably, Yang took great offense at the Biden line – repeated in the explanation of Sherman's trip to China – that the U.S. was engaging with China "from a position of strength" due to its consultations with allies and partners.
In a press briefing on July 21, State Department spokesperson Ned Price said, "I think broadly speaking, the deputy intends for this engagement to show and to demonstrate to the PRC what responsible and healthy competition can look like." He emphasized again later: "This is a relationship that is fundamentally predicated on competition, it's fundamentally competitive at its core."
There were numerous mentions of the importance of "candid" and "constructive" exchanges with Chinese officials – essentially, talking for the sake of talking – but not much indication of any potential for progress or agreement.
"[I]n the context of relationships that are complex, that are challenging, that are dynamic, we believe it's important to maintain open lines of communication between high-level officials," Price said, "…even when the PRC is taking actions that challenge our interests, that challenge our values."
Meanwhile, Zhao said that during Sherman's visit, "China will make clear to the US its principled position on developing China-US relations and its firm attitude in safeguarding its sovereignty, security and development interests, and demand the US to stop interfering in China's internal affairs and harming China's interests."
There were some initial reports that Sherman would be discussing a potential meeting between Blinken and Wang, and possibly laying the groundwork for a summit between the Chinese and U.S. presidents. But given the difficulties in arranging a visit by Sherman, don't expect any formal announcements anytime soon.
Sherman is currently in South Korea, following a stop in Japan. She will travel to Mongolia before her arrival in China. Sherman will be just the second Biden administration official to visit China, following a trip by climate envoy John Kerry in April.