US Firms Cannot Ignore the Growing Risks of a Possible China-US Military Conflict
U.S. businesses need to consider the impact of a physical conflict on their Chinese production and distribution bases.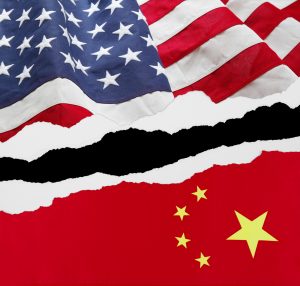 As if the China-U.S. trade war wasn't enough, tensions between the two nations continue to rise. The specter of China-U.S. conflict over Taiwan is looming larger than ever. This does not mean that military engagement will result in a war, but there are signs that risks are escalating. Businesses cannot afford to ignore them.
What are the signs of rising risks? In a speech marking the 100th anniversary of the Chinese Communist Party, Xi Jinping stated that China has an "unshakeable commitment" to reunification with Taiwan and that he would "never allow anyone to bully, oppress or subjugate China." Xi went on to state, "Anyone who dares try to do that will have their heads bashed bloody against the Great Wall of Steel forged by over 1.4 billion Chinese people."
This rhetoric may have teeth. China carried out live fire military exercises that it termed "combat drills" around Taiwan in April and has been ramping up the flight of warplanes into Taiwan's Air Defense Identification Zone in recent months. A Japanese defense official warned the United States of a potential Chinese attack on Hawaii based on evidence of joint Russian and Chinese military exercises in the region. Meanwhile, the U.S. and Japan have been conducting joint military exercises in order to counter a Chinese takeover of Taiwan.
While the China-U.S. trade war continues, and U.S. businesses continue to bear higher costs due to ongoing tariffs, they may also need to consider the impact of a physical conflict on their Chinese production and distribution bases. It can be safely assumed that, in an attempted takeover of Taiwan by China, the sea surrounding Taiwan will be occupied by war ships or amphibious buildup zones. This will create a major challenge to maintaining international seafaring cargo trade, which may be blocked or even attacked. Major economic zones in which foreign enterprises operate, such as Xiamen and Fuzhou, are likely to be engaged in the conflict.
In addition, if the conflict is not limited to the Taiwan Strait, and includes engagement of Taiwan's missile systems and/or U.S. bombers, the entire coast and inland China are also vulnerable. China's eastern coastal region, including Guangzhou through Shanghai and even Qingdao, would be imperiled by the conflict. This encompasses the major production regions of the Pearl River Delta and the Yangtze River Delta as well as numerous local production areas. Inland areas such as Nanjing and Wuhan would also be at risk of attack.
What this means for U.S. businesses producing in China is that, given a military conflict between the United States and China, most likely over Taiwan, production and/or logistics are likely to slow dramatically and face major bottlenecks. This disruption of normal economic activity will force foreign firms to rapidly move to other countries as production bases. The impact on Chinese production would be greater than COVID-19, and the effects of a military showdown are likely to be lasting.
As U.S. firms have discovered during the China-U.S. trade war and COVID-19 pandemic, it is challenging to find another production base comparable to China. This is because China is well-integrated into Asian supply chains, has well-developed infrastructure, and has a large and growing market. Alternative production sites, such as Vietnam and Thailand, do not represent the production power that China possesses.
A military engagement between the United States and China would be highly unfortunate, given the decades both nations have spent in building economic and diplomatic ties. Many years have been spent by U.S. firms relocating and setting up manufacturing and distribution centers in the Asian nation, sourcing inputs from countries such as Japan and Indonesia, and pinpointing the most efficient shipping routes. Perhaps most challenging to replace, U.S. firms have hired talented foreign and domestic employees in order to ensure that operations run smoothly.
However, heavy U.S. investment in China does not negate the real threats arising from potential Chinese military maneuvers in Taiwan. This means that U.S. firms need to shift their strategy to diversification of production away from China. Many firms have already been engaging in this strategy under the "China Plus One" trend, in which companies maintain a production base in China but also move some production to another country, such as Vietnam or Mexico. Given the rising risks, firms should consider this a basic requirement for doing business in China.
At the bare minimum, U.S. and foreign firms operating in China should play close attention to the unfolding conflict between the two countries and have a well-considered Plan B if Chinese production is disrupted. Hopefully, the nations will be able to resolve any conflict without military confrontation, but as long as this remains a mere hope, a strategy to preserve business operations as usual is essential.