ASEAN Still Stalemated Over Choice of Myanmar Envoy
A candidate was expected to be announced at yesterday's Foreign Ministers' Meeting, but the bloc appears deadlocked on a number of issues.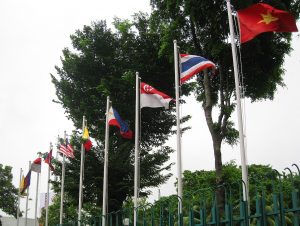 As the Association of Southeast Asian Nations (ASEAN) kicked off a week of summitry-by-videolink, it remained deadlocked on the appointment of a special envoy to address the political crisis in Myanmar.
Alongside a discussion of COVID-19 and the South China Sea, yesterday's 54th ASEAN Foreign Ministers' Meeting was expected in some quarters to feature the announcement of an ASEAN envoy to shepherd Myanmar's military junta and its opponents toward the negotiating table.
But as the meeting came to an end, its initial two-hour span dragging out to five, there was still no word on who would be chosen to fill the post. According to Indonesian Foreign Minister Retno Marsudi, who held a press conference yesterday evening, the discussion was "very open," but she offered no indication of any substantial progress on the questions of resolving the crisis that has gripped Myanmar since the country's armed forces seized power in February.
During the meeting, "the issue that took a lot of time was the implementation of the five points of consensus, especially regarding the issue of [appointing] a special envoy," said Marsudi, who has taken an active role in driving ASEAN's response to the crisis.
The appointment of an ASEAN envoy on Myanmar was one of the five points of consensus that the Southeast Asian bloc arrived at during a special summit on April 24. Since then, ASEAN has been unable to agree on a candidate; nor has it made any progress on the other four points of consensus, which included calls for a peaceful solution to the crisis via "constructive dialogue," an immediate end to the violence in Myanmar, and ASEAN's coordination of humanitarian aid to the country.
The meeting came a day after coup leader Sen. Gen. Min Aung Hlaing announced the formation of a caretaker government, with himself as prime minister, and said he "is ready to work on ASEAN cooperation within the ASEAN framework, including the dialogue with the ASEAN special envoy in Myanmar."
What accounts for ASEAN's inability to name a candidate? First, there appears to be some division between those member states in favor of major actions, and those concerned that this would contravene the bloc's principle of non-interference in member states' internal affairs.
Second, there is clearly some disagreement over candidates. Last month, Kyodo News reported that ASEAN member states were unable to choose between three proposed nominees – Virasakdi Futrakul, a veteran Thai diplomat and former deputy foreign minister; Hassan Wirajuda, a former Indonesian foreign minister; and Razali Ismail, a Malaysian who was a U.N. special envoy for Myanmar in the 2000s – with each nation bent on backing its own candidate.
Third, there is the necessity of securing the military junta's support for any proposed candidate. In his speech over the weekend, Min Aung Hlaing said his administration's preferred option was Virasakdi, likely due to the Thai government's reluctance to say anything critical about the military's seizure of power (unsurprising, given the fact that Prime Minister Prayut Chan-o-cha's political career also started with a coup d'etat.)
Some media reports have suggested that Virasakdi is the candidate most likely to be chosen, while others suggest that a fourth possibility – Brunei's second Minister of Foreign Affairs Erywan Yusof, who visited Myanmar along with ASEAN Secretary General Lim Jock Hoi in June – is the frontrunner.
In her press conference, Marsudi urged Myanmar to immediately approve the bloc's proposed special envoy, suggesting that one had been chosen, though she did not reveal their identity. While she did not reveal the name of the envoy proposed, she stressed at the meeting that the envoy should be able to start work immediately, and be guaranteed access to the relevant parties within Myanmar. "The special envoy must also be assured of full access to meetings with various parties as well as (the right) to move from one place to another while performing his duties in Myanmar," she said.
Even if ASEAN manages to finalize the appointment soon, it will be just the first step in what even in the most auspicious circumstances will be a long road strewn with moral and political obstacles. The sobering thing about the emergency in Myanmar is that ASEAN's sclerotic, consensus-based process presently remains the best – perhaps the only – chance of a diplomatic solution.