Can the Taliban Play China and Russia Off the United States?
The consensus is that negotiation is the only way out of the conflict for Afghanistan, but that only holds true if the international community is united. It's not.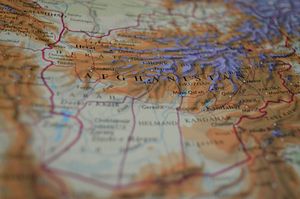 Concluding her remarks at a special session of the Joint Coordination and Monitoring Board (JCMB), a platform for strategic coordination between the Afghan government and international donors on which Afghanistan continues to rely, the United Nations Secretary General's Special Representative for Afghanistan Deborah Lyons said that at a time when half of the Afghan population faces extremely dire circumstances, "Afghan leaders with us need to decide whether to subject Afghanistan to further generations of war, or to reach political compromises that will allow the country to breathe again, to rest, and to rebuild."
Earlier in July, after giving remarks about the U.S. withdrawal from Afghanistan, U.S. President Joe Biden responded to a question regarding how serious a factor Afghan government corruption was in "this mission failing there" by first pushing back — "Well, first of all, the mission hasn't failed, yet" — before noting that there's been corruption in all parties to the Afghan conflict. "The question is, can there be an agreement on unity of purpose?" Biden also commented that the negotiations between the Afghan government and the Taliban hadn't quite worked out as planned, "So the question now is, where do they go from here?"
Talks between Afghan government and Taliban negotiating teams, which began last September, have made scant progress beyond what media heralded as a "breakthrough" in December 2020 setting rules and procedures for the talks. Since then, while the sides have met several times, a mutual agenda has not been agreed upon and the Taliban have continued to make military gains. Last week, representatives from the Afghan government and the Taliban met again in Doha and once again failed to make progress. 
Yet consensus seems to remain that negotiation is the only way out of the conflict for Afghanistan. If only the Afghan government can attain Biden's "unity of purpose" and translate that into some kind of unity with the Taliban. But questions of unity apply to the international community, too.
Lyons, in her recent remarks, said that to "address Afghanistan's longer term issues peace negotiations must proceed in earnest and with real sincerity so that a sustainable, inclusive, and equitable peace can be reached." She went on to note that the "world has now recognized that the Taliban must be a partner in Afghanistan's transition to self-reliance" but that no major international donor would finance the repression of women. 
Earlier in her remarks, Lyons had commented that while the Taliban had gained "a certain legitimacy" by participating in negotiations with the Afghan government, "legitimacy is premised on their commitment to a political negotiation with the Government of Afghanistan, a commitment which their battle-focused strategy casts into doubt."
But the international community isn't necessary unified with regard to Afghanistan. The United States and its allies may be, but it's not really a unipolar world anymore. There are plenty of cleavages for the Taliban to exploit, most prominently between the United States and China.
Talks in Doha have taken a backseat to Taliban delegations jetting around the region for other discussions. As Lyons was making her remarks, the Taliban's chief negotiator Mullah Abdul Ghani Baradar met with Chinese Foreign Minister Wang Yi in Tianjin. Baradar's meeting with Wang came two days after U.S. Deputy Secretary of State Wendy Sherman visited the city for what turned out to be fairly contentious talks, after some drama over whether they'd happen at all. Sherman went back to Washington with two lists of Chinese "grievances." 
Baradar, meanwhile, was told (according to a Chinese foreign ministry press conference) that "The hasty withdrawal of the US and NATO troops from Afghanistan actually marks the failure of the US policy toward Afghanistan." Wang "pointed out that the Afghan Taliban is an important military and political force in Afghanistan and is expected to play an important role in the country's peace, reconciliation and reconstruction process."
In turn, Baradar reportedly assured China that the Afghan Taliban would "never allow any force to use the Afghan territory to engage in acts detrimental to China."
Earlier in July, a Taliban delegation visited Moscow making similar promises. Swap Beijing's worries about the East Turkestan Islamic Movement (ETIM) for Moscow's concerns about the Islamic State threatening Central Asia. Russian diplomats, like their Chinese counterparts, have made a habit of never missing an opportunity to call the U.S. mission in Afghanistan a failure.
Across the board, the language endorsing an Afghan-led, Afghan-owned peace process remains standard, but the Taliban's willingness to meaningfully engage with the Afghan government seems more like a wishful hope than a concrete reality. While China, Russia, and the United States characterize their interests in Afghanistan similarly, their individual political preferences certainly differ, as do the range of tactics they view as acceptable. China's boilerplate policy of non-interference in domestic affairs of other countries (as flimsy as that may be in reality) provides an avenue for Beijing to deal with a future Taliban-controlled Afghanistan without much difficulty. The same holds true for Russia. And this undercuts Lyons' warning about the Taliban's "legitimacy" in the eyes of the international community.