Deadly COVID-19 Variant Migrates to Indonesia's Outer Islands
Just as cases are beginning to ease in densely populated Java and Bali, they are rising elsewhere.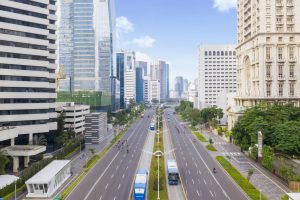 Indonesia's runaway COVID-19 outbreak is beginning to reach the archipelago's outer islands, prompting President Joko Widodo to announce that further movement restrictions may be needed to stem its advance. In a video released Saturday, Jokowi, as he is known in Indonesia, said that infections were on the rise outside Java and Bali, densely populated islands that have formed the epicenter of Indonesia's current COVID-19 surge.
Noting that cases are on the rise in western Sumatra and East Nusa Tenggara province, a collection of islands to Bali's east, he ordered law enforcement and local officials to take immediate actions to stem an increase in infections. "The people's mobility needs to be stemmed. For at least two weeks," the Indonesian leader said, as per Reuters.
As of August 6, new infections in areas outside Java and Bali accounted for 54 percent of the nationwide total, up from 44 percent at the start of the month and 34 percent on July 25.
Jokowi did not specify where and when such restrictions would be introduced. Indonesia's current lockdowns, which are confined to the most affected regions of the country and include online schooling, a prohibition on dining in restaurants, and mandatory working from home for non-essential sectors, are scheduled to end today.
For the past few months, Indonesia has been battling Southeast Asia's most severe coronavirus outbreak. Last week, the country's death toll from COVID-19 surpassed 100,000, around 40 percent of which have occurred in the past five weeks alone. The country's total infections stand north of 3.5 million, and many experts believe that the real numbers could be several times higher, due to limited testing and contact tracing.
While cases are finally beginning to ease off in Java and Bali after reaching a peak in mid-July, a similar rampage through the outer islands, where health infrastructure is much less well-equipped than on Java and Bali, could have disastrous consequences.
The Financial Times quoted Fansca Titaheluw, acting director at Provita Hospital in Jayapura, the capital of Papua province in eastern Indonesia, as saying three COVID-19 patients and a baby in intensive care had recently died due to oxygen shortages. "If the outbreak caused by the Delta variant continues, and there is no change in attitude from the community, Jayapura will be in chaos," she told the newspaper.
Vaccination rates in many of these far-flung provinces also lag far behind the rates on Java. Only about 8.54 percent of Indonesia's population of 270 million are now fully vaccinated, due to limited supply, logistical challenges, vaccine hesitancy, and public wariness about the Chinese-made shots on which the government has heavily relied. And of these the majority have taken place in areas like Java that have been most affected by the virus.
In the capital Jakarta, which has been prioritized for vaccine distribution, around 78 of population have received at least one dose of vaccine, according to Bloomberg. The same figure stands at just 15 percent in in East Kalimantan, on the island of Borneo. In East Nusa Tenggara, it stands at just 11 percent. Meanwhile, vaccine shortages, along with the greater difficulties administering them in more remote regions, mean that these parts of Indonesia face much greater hurdles to quickly boosting their inoculation rates.
The situation was demonstrated by the disarray that took place at a vaccination center last week in Medan, North Sumatra, where people rushed for the entrance after rumors spread that the center had run out of vaccines. A number of people passed out in the ensuing press, the Jakarta Post reported.