How Rodrigo Duterte Permanently Changed Philippine Elections
The Philippine president's barnstorming run to the presidency has inspired a raft of imitators. Can any succeed?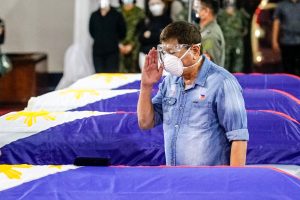 Rodrigo Duterte's candidacy in 2016 and the methods he used to win as Philippine president may have been unconventional at that time, but it appears that the major contenders in the 2022 elections are aiming to replicate his winning strategy.
Duterte's victory in 2016 was simply phenomenal. He was the first city mayor from Mindanao island to become president. Before 2016, presidential hopefuls would first run for national positions like the senate in order to boost their popularity. But Duterte, who was the mayor of Davao City for almost three decades, changed the game by running for the country's highest elected position despite his relatively unknown stature compared to other candidates.
His bold decision has opened the way for other local chief executives to jump start their presidential ambitions even if their initial political base is quite small. Duterte's success has made it possible for the electorate to welcome the presidential bid of local officials. This is reflected in recent surveys which showed that the leading presidential candidates in 2022 are both city mayors.
That Duterte hails from Mindanao is another fact that should be highlighted because of its social and political impact. Despite being the second biggest island in the country, no president had come from Mindanao before Duterte's victory. It is geographically remote from the capital Manila, the poorest regions are located here, and conflict has plagued the land for centuries because of the displacement and dispossession of its ethnic and Muslim natives.
Before 2016, Mindanao-based politicians who wanted to run for higher positions would often settle in Manila to broaden their political connections. Duterte was different because he chose to remain in Mindanao and launched his candidacy without leaving Davao City. This has immense political consequences, since it means other public officials whose origins are in Mindanao and other peripheral islands can finally consider the presidency without fear of being rejected outright by voters.
But Duterte's infamous way of public speaking could also embolden candidates to rely on outrageous sound bites to get the support of voters. In 2016, Duterte repeated several times that he would end the drug problem in three to six months and even promised to resign if he failed to do this. During a presidential debate, he boasted that his solution to China's maritime aggression was to ride a jet ski and wave the country's flag in the West Philippine Sea, as Manila refers to its portions of the South China Sea. Duterte elicited not just the laughter but also the widespread acclaim of voters who were impressed with his simple but strong message. When he became president, he ridiculed the people who believed in his campaign promises. He also admitted that his drug war was a failure.
Duterte may have lied his way to Malacañang presidential palace but he proved that the use of shock and awe sound bites was effective in getting the public's attention. And this kind of "Duterte-speak" is evident today in the pronouncements of some of the politicians who are planning to run in 2022. For example, some are promising to end homelessness in four years, another candidate plans to give a regular allowance to mothers, while another official is branding himself as a Duterte-like crime buster who will end criminality and corruption. These are sensational proposals that may have worked in 2016 but it remains to be seen whether voters will still fall for them next year.
Another notorious Duterte legacy was his decision to file his candidacy at the very last minute. In fact, the deadline for the filing ended without Duterte's name in the list of candidates. He only became an official candidate through "substitution" before the end of 2015. This worked well for him because other political forces underestimated his candidacy and did not actively campaign against him during the early part of the election season. This Duterte style of campaigning is reflected today in the statements of presidential contenders who are apparently opposed to the idea of running for a higher position in 2022. The filing of candidacies will start in October but so far only one has officially made an announcement that he will run for president. The rest are either uninterested or simply repeating what Duterte did in the previous election.
Proof of Duterte's serious intent to run for president was only confirmed when an international study revealed that he hired a cyber army during the 2016 campaign period. Duterte did not deny this but  claimed that his keyboard warriors were no longer working for him when he became president. This is doubtful because pro-Duterte trolls have been consistent in manipulating online support for the government while spreading disinformation against the president's critics and rivals. But whether or not state-backed trolls are still operating today, it is clear that Duterte maintained a cyber army as part of his election machinery in 2016. This fact is not lost on other political parties which seek to reach a wider audience through social media, especially during the pandemic. Creating a team of online campaigners was surreptitiously done in 2016 but it could become an integral component of the election campaign in 2022.
The "Duterte effect" at the 2016 election offers a mixed bag of political lessons. He became a symbol of the common Filipino from the provinces who wanted to make a change in society. He tested the limits of the election process, he was astute enough to understand the role of the internet in spreading his message, and he understood what voters wanted to hear. He thinks of himself as a maverick even if he is first and foremost a traditional politician backed by political dynasties, big business, and the security sector. Despite his underwhelming presidency, he seems poised to extend his legacy either by endorsing the candidacy of his daughter or by running as vice president in 2022.