Japan Confirms New Missile Deployments to Ryukyu Islands
Anti-air and anti-ship missiles will be sent to Ishigaki-jima in 2022.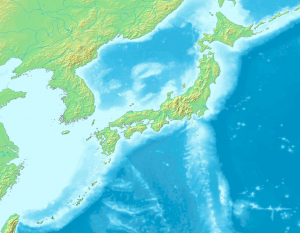 Japan's defense minister confirmed plans this week to deploy several hundred Self-Defense Force personnel and missiles to another of its southwestern islands to deter and defend against a potential threats from China's growing military.
Kishi Nobuo told reporters that anti-aircraft and anti-ship missiles will be emplaced on Ishigaki-jima sometime in 2022, Japanese defense ministry sources told the Yomiuri Shimbun.
Japan has been laying the groundwork for emplacing missile batteries on Ishigaki since at least 2017.
Japan has accelerated plans to fortify its southwestern islands against potential trouble from China's military. Since Prime Minister Suga Yoshihide's summit with U.S. President Joe Biden this year, Japanese leaders have become more explicit about the relationship between Taiwan and Japan's own geopolitical security, with the Ryukyu islands playing a key geographic role.
Kishi visited another key island in the Ryukyus last April. Speaking on Yonaguni, the western-most of those islands, where the Self Defense Force maintains a radar and surveillance station to monitor Chinese ships and aircraft, he told reporters that "[w]hen I come to Yonaguni, I can see that Taiwan is very close [about 60 nautical miles away], right on the opposite shore" and that "[t]he peace and stability of Taiwan is linked to the peace and prosperity of the region and the international community."
Yoji Koda, a retired senior Japanese admiral with close U.S. defense ties, has said he expects Japan to draft a combined operational plan for a potential conflict over Taiwan with the United States; if it fails to, then he believes it "would be called the most stupid government in Japanese history."
Missiles on Ishigaki would be positioned to defend the disputed Senkaku islands, which China claims as its own and regularly patrols with warships, coast guard vessels, and paramilitary militia boats, as well as Japan's surveillance facilities on Yonaguni and missile batteries on nearby Miyako-jima. Miyako guards the southern end of the strategic Miyako strait, which Chinese warships and planes regularly use to transit beyond the so-called "first island chain" that encircles China's eastern coast into the wider western Pacific ocean.
If the U.S. and other partner forces headed to reinforce Taiwan in the event of a conflict with China, the PLA Navy would likely need to "break out" beyond the first island chain to interdict them. Earlier this year China's aircraft carrier Liaoning and its escorts passed through the strait to conduct exercises in waters northeast of Taiwan.
Rather than deepen its reliance on U.S. defense equipment, Japan is also increasingly producing new advanced missiles and capabilities domestically, including two hypersonic missile designs with both fixed-target and anti-ship variants.
Reportedly, Japan will likely cancel plans to buy the new long-range anti-ship missile (LRASM) produced by Lockheed Martin for the U.S. Navy and U.S. Air Force, citing cost concerns, and will instead upgrade its own Type 12 anti-ship missile.