An End To Winner-Takes-All In Malaysian Politics?
Malaysia's political leaders sign a landmark deal as Prime Minister Ismail Sabri Yaakob pledges a slew of reforms. But will his government follow through?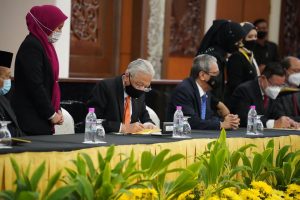 Malaysia's parliament sat on Monday for the first time since July's disrupted sitting marked the beginning of the end of Muhyiddin Yassin's short-lived tenure as prime minister.
Muhyiddin's fear of the parliamentary arena, masked by a flimsy COVID-19 state of emergency, resulted in the legislature being suspended for a much longer period than it convened in the 17 months that he was in power.
His attempts to avoid parliamentary votes that could be used as a substitute for a no-confidence vote in his leadership backfired in the end, after a desperate bid to disallow a debate on the emergency led to a royal rebuke, which ultimately pushed Muhyiddin to resign on August 16.
With his predecessor's botched maneuvers fresh in mind, Prime Minister Ismail Sabri Yaakob, who succeeded Muhyiddin on August 21, will do well to avoid repeating the same errors.
On Monday, Ismail signed a cooperation pact with the main opposition bloc led by People's Justice Party leader Anwar Ibrahim, in a move seen primarily as an effort to thwart challenges to his leadership ahead of general elections due in two years.
The "political stability and transformation" agreement, dubbed a historic accord, will theoretically expand Ismail's support base by an additional 88 MPs in Anwar's bloc, on top of the 114 that support him in the 222-seat parliament, where two seats are currently vacant.
The bipartisan deal covers six areas including the strengthening of the country's COVID-19 plan, transformations in governance, parliamentary reforms, and freedom of the judiciary, Ismail said in a statement.
The pact came after Ismail last week offered reforms including the creation of anti-party hopping laws and measures to limit the prime minister's tenure to a decade. He further pledged to immediately lower the minimum voting age to 18 and ensure that bills will be jointly agreed upon before being tabled in parliament. The deal also included elevating the position of the opposition leader to the same rank as a cabinet minister.
The move was in line with the call that King Sultan Abdullah Sultan Ahmad Shah made at the opening of Monday's parliamentary session, when he called for an end to political bickering. The monarch warned lawmakers against a "winner-takes-all" mentality and reminded them of their status as representatives of the people.
"My advice to all MPs is to not put the future of my country and my people at stake to achieve a certain agenda," state news agency Bernama reported the king as saying.
Despite signing the deal, MPs from the opposition Pakatan Harapan coalition remain reluctant to describe the pact as a confidence-and-supply agreement (CSA), as the coalition did not want to be seen as being less critical of Ismail's government.
However, political analyst Wong Chin Huat told The Straits Times that "as long as it is a deal between the government and opposition that guarantees the government's survival on votes on confidence or the budget et cetera, it is a CSA, even if it's called a love letter."
While some welcomed the cooperation agreement as a way forward for Malaysia, which has had three prime ministers since 2018, others say it will leave the country without an effective opposition at a critical time.
"The ruling coalition is made up of elements that are extremely corrupt and have proven themselves to be so over the past 50 years," said analyst Oh Ei Sun, as quoted by Al Jazeera.
"There are elements that are also extremist and want to turn the country into a theocracy and there are others who are simply incompetent and have proven themselves to be so over the last one and a half years. In such a situation, entering into a cooperation agreement means there is no check against the potential abuse of power. At this point in time, it's very bad for Malaysia."
Prof. James Chin, director of the Asia Institute at the University of Tasmania, noted that while the pact represents a truce until the next election, it is "not going to change politics permanently."
"As I said many times, Ismail is not a reformer," he said in a recent tweet. Chin said the coming together of lawmakers across the political divide is a result of specific circumstances including active palace interventions, a raging COVID-19 pandemic, and a national economic crisis.
In short, desperate times call for desperate actions. The immediate goal is to create stability until the next general election and for Ismail's government to prove its worth. As for how many of these reforms will actually be implemented, only time will tell.