Parsing Japan's Support for Taiwan
The Japan-Taiwan renaissance seen in 2021 may not last, but one element will certainly stay: the public acknowledgment that Taiwan and Japan's security are linked.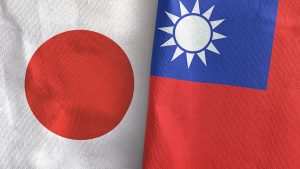 In the last week of August, four lawmakers from Japan's Liberal Democratic Party (LDP) and Taiwan's Democratic Progressive Party (DPP) held virtual talks to discuss shared security concerns, including Chinese activities in the East China Sea. The unprecedented talks between Japan's and Taiwan's ruling parties floated the possibility of joint coast guard drills and may serve as a format for closer communication between the leaders of the two governments, despite protests from Beijing.
The talks are the latest development signaling that Japan-Taiwan relations – though still unofficial – are shifting quickly in 2021. There are plenty of other examples: a Japan-Taiwan-U.S. trilateral meeting in July, Japan's defense white paper discussion of Taiwan, and several statements in support of Taiwan by Japanese political leaders, Japan's public support for Taiwan reflects a growing consensus in Tokyo that Taiwan's security has a direct impact on Japan and that Japan should consider Taiwan in its regional security calculus. Japan, as a regional power, can use its domestic discourse on its Taiwan policy to strengthen deterrence and emphasize the importance of stability in the Taiwan Strait.
The public discourse in Japan about Taiwan is driven by the perception that China's coercive activities that threaten Taiwan also threaten Japan by extension. In recent years, Beijing has increased the variety and frequency of coercive activities designed to deter interference in cross-strait relations and to convince Taiwan that unification with the mainland is inevitable. The coercion is not only aimed at Taiwan – which sees regular disinformation campaigns and Chinese military exercises around the island – but at Taiwan's international partners, like Japan. China has criticized Japanese statements as interfering in China's internal affairs and damaging China-Japan relations and accused the LDP-DPP dialogue of blurring the line between official and unofficial engagement. However, Japanese officials have stated that there is no change to Japan's one China policy and the unofficial nature of the relationship with Taiwan, and criticism from Beijing did not stop the talks from moving forward.
It is not a coincidence that Japanese officials' willingness to discuss Taiwan publicly comes at a time when relations with China have cooled following the Japanese government's criticism of Beijing's handling of Hong Kong and other human rights issues, in addition to Tokyo's advocacy for the free and open Indo-Pacific (FOIP). The timing also matches the shift in Japan's close ally, the United States, which itself has shown a flowering of support for Taiwan while also deepening competition with China. The U.S. has had friendly ties with Taiwan for years, but the increase in Taiwan-related legislation recently and higher profile visits by U.S. officials to Taiwan – as well as the ongoing debate on the U.S.'s policy of strategic ambiguity toward Taiwan – have further incentivized Japan's leaders to assess their Taiwan policy and Japan's role in deterrence.
Whether the Japan-Taiwan developments in 2021 will have a long-term impact depends on future political leadership. While experts generally agree that relations will remain friendly, the extent of party-to-party talks and the willingness of sitting officials to discuss cooperation is likely to fluctuate as power changes hands. With Suga's term ending and the LDP leadership election approaching at the end of September – followed by general elections in October – Japan's expansive ruling party has several factions with nuanced views on the approach to China and Taiwan.
A change of power from the DPP and the Kuomintang in 2024, meanwhile, would likely lead to a significant shift in Taiwan's foreign policy, with the potential for cross-strait reengagement causing a recalibration of how Taiwan manages its partnership with Japan. The KMT, currently Taiwan's opposition party, will elect its chair later this month, an important signal for the party's future foreign policy trajectory.
The Japan-Taiwan renaissance seen in 2021 may not last, but one element will certainly stay: the public acknowledgment that Taiwan and Japan's security are linked, most prominently in Japan's defense white paper. Now that the Ministry of Defense has emphasized the importance of Taiwan as a factor in Japan's defense policy, the inclusion of Taiwan in security considerations is likely to continue so long as the East China Sea security environment remains tense. How closely Tokyo and Taipei decide to work on safeguarding the stability of the region will depend on future political cycles and will inevitably undergo changes. But with a clear-eyed assessment of the current security environment, for now Japan and Taiwan are in a position to explore effective security cooperation within the boundaries of their relationship.