Former Japan PM's 'Resolve to Fight' Remark Over Taiwan Causes Ripples at Home and Abroad
Aso Taro, currently the VP of Japan's ruling party, stoked controversy by calling for Japan to show "strong deterrence" at a forum in Taipei.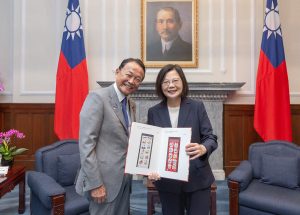 Former Japanese Prime Minister Aso Taro has caused a considerable stir both at home and abroad, by saying that Japan, the United States, and Taiwan need to show "the resolve to fight" to defend Taiwan amid China's growing assertiveness around the island.
"There has never been a time like now when Japan, Taiwan, the United States and like-minded countries need to resolve to put into action a strong deterrence. This is a resolve to fight," Aso, who currently serves as vice president of Japan's ruling Liberal Democratic Party, said during the Ketagalan Forum in Taipei on August 8.
By saying so, Aso apparently intended to show Japan's strong determination to maintain peace and stability across the Taiwan Strait through an effective deterrent. His LDP supporters and online right-wingers have lauded Aso because they believe his remark accurately reflected the need for Japan to make preventive moves against Beijing.
Critics, however, say his remark was an unnecessary provocation against China, departing from the path of a peace-loving nation since the end of World War II.
Asked about Aso's comment, Japanese Chief Cabinet Secretary Matsuno Hirokazu, Tokyo's top government spokesperson, said on August 9 that the government refrains from commenting on the activities of lawmakers and political parties.
When asked if Japan would intervene militarily in the event of an emergency in Taiwan, he said, "I will not answer hypothetical questions."
Matsuno emphasized that peace and stability in the Taiwan Strait are important not only for Japan's security but also for the international community as a whole.
Meanwhile, Suzuki Keisuke, an LDP lawmaker who accompanied Aso's Taiwan visit, said on a BS Fuji television program on August 9 that Aso had discussed the issue with Japanese government officials in advance, indicating the former prime minister's view is in line with Japan's official stance.
The LDP's junior coalition party, Komeito, which is typically more pacifist than the LDP, defended Aso by expressing understanding of Aso's remark.
"I think what he wanted to say the most was not to cause an emergency in Taiwan," Kitagawa Kazuo, vice president of Komeito, said on August 10.
Yamaguchi Natsuo, president of Komeito, is scheduled to visit China from August 28 to 30. Asked whether Aso's remark would affect Yamaguchi's visit to Beijing, Kitagawa said, "I don't think there will be an impact."
That said, Aso's remark has drawn harsh criticism, especially from the opposition parties, for being out of step with Japan's war-renouncing constitution.
Okada Katsuya, secretary general of the Constitutional Democratic Party of Japan, the country's largest opposition party, criticized Aso for being "very careless" to say such a thing.
"What we need to do diplomatically is to prevent an emergency in Taiwan. The United States has not clearly said that it will intervene militarily [in the event of an emergency in Taiwan]. It leaves some room on it. That is diplomacy," Okada, a former foreign minister, said at a press conference on August 8.
"We politicians are ultimately in charge of the lives and livelihoods of the people, so it's not a matter to be taken lightly," Okada added.
Being a close neighbor to Taiwan, Okinawans also criticized Aso.
"The majority of the Japanese public must have been taken aback by his remark. This is a major departure from the 'exclusively defense-oriented' policy, and it is a provocation to China. Forcing people to be prepared to fight is unacceptable," the Ryukyu Shimpo, an Okinawan daily, said in an editorial on August 10.
As expected, Aso's remark also has triggered a fierce backlash from China, which regards Taiwan as an "inalienable part" of its territory that must be united with the mainland, by force if necessary.
The Chinese Embassy in Tokyo lodged a protest with the Japanese government. A spokesperson for the embassy said on August 9 that Aso "got out of his depth and talked nonsense."
"If some people in Japan insistently link China's domestic affairs with Japan's security, it will lead Japan down the wrong path," the spokesperson said.
China's Foreign Ministry also criticized Japan, saying in a statement on the same day that a "certain Japanese politician… made irresponsible remarks that sought to hype up cross-strait tensions, stoke antagonism and confrontation, and blatantly interfere in China's internal affairs. This seriously violates the one-China principle and the spirit of the four political documents between China and Japan and tramples on the basic norms governing international relations."
"… We seriously urge Japan to deeply reflect on its history of aggression, abide by the one-China principle and its commitments regarding the Taiwan question, and stop meddling in China's internal affair and lending support to the 'Taiwan independence' separatist forces in any form," the statement continued.
It seems that behind the recent growing confrontation between Japan and China is a security dilemma. For Tokyo, in order to maintain regional peace and to uphold Japan's own security, a certain level of deterrence is essential. But if Japan goes all-in on strengthening deterrence, it will be forced into an endless arms race with China.
"For deterrence to be effective, it is necessary not only to properly develop defense capabilities, but also to provide some assurance to potential adversaries that their core interests will not be threatened," a group of experts on international relations said in a recent report titled "Asia's Future at a Crossroads: A Japanese Strategy for Peace and Sustainable Prosperity."
Reportedly, Japanese Prime Minster Kishida Fumio and Chinese Premier Li Qiang will hold talks on the sidelines of the Association of South East Asian Nations (ASEAN) meeting in Indonesia in September. They are likely to discuss the Taiwan issue and Japan's planned release of treated radioactive water from the Fukushima nuclear power plant, among other issues.