Rethinking Social Protection Programs: Cambodian Migrant Workers Deserve Better
COVID-19 has imposed a particularly heavy burden on Southeast Asia's thousands of undocumented migrant workers.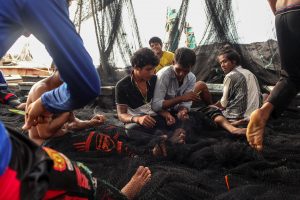 The COVID-19 pandemic has thrown the life of labor migrants in Southeast Asia into chaos. Pandemic-related restrictions, business closures, government lockdowns, and mandatory quarantines have all impacted the livelihoods of migrant workers.
One statistic in particular makes this interruption abundantly clear. As the outbreak continues on, many labor-exporting countries have experienced a sudden drop in remittances sent by migrant workers. Cambodia is no exception.
In its report on the subject, the National Bank of Cambodia revealed that the remittances sent by Cambodian migrant workers in 2020 came to just $1.2 billion, a drop of 17 percent compared to 2019, when remittances totaled about $1.5 billion.
The disruptions caused by the pandemic have revealed many structural challenges. When it comes to labor migration, COVID-19 has shed light on how drastic and unprecedented measures taken by states to fight the virus have potentially imposed additional challenges for migrant populations.
And while many countries have adopted social programs that aim to secure their citizens' health and economic well-being within their borders, vulnerable, mobile groups like migrant workers have not been included in these designated policies.
A 2020 United Nations Report assessing the social and health impacts of COVID-19 on Cambodian migrant workers who had returned from Thailand illustrates the gaps in the provision of social assistance and services to this specific group. It shows that of the 1,054 participants in the study, only 25 percent of these returned migrants had IDPoor cards, which enabled them to receive emergency cash support from the Cambodian government during the pandemic. Meanwhile, over 49 percent had problems in accessing healthcare services back home due to financial constraints or long distances from service providers.
Access to social protection is an emerging issue, especially for those employed in overlooked sectors, including the informal economy. Exclusion from such benefits increases vulnerability to economic shocks, particularly during challenging times like these.
Existing social benefits for migrant populations are uneven, uncertain, and vague, particularly in destination countries, and particularly for low-skilled workers. High-skilled workers may have less difficulty accessing social benefits because they have access to better education, are usually more familiar with the culture of their host country, and generally receive greater acceptance from local people.
Low-skilled workers, on the other hand, are often subject to prejudicial treatment and have unequal access to social benefits based on factors like migration status, employment status, or residence status. Lack of documentation, in particular, prevents many migrants from receiving assistance overseas because of the added fear of getting arrested or deported. Migrant workers also suffer from discrimination and xenophobia, something that has been especially true during the COVID-19 pandemic.
Governments often intentionally restrict migrant workers from accessing social benefits in an attempt to discourage immigration flows and maintain social cohesion within their own countries.​
Moreover, destination countries have been known to adopt overarching social protection policies that only cover specific sectors, mainly distinguishing between formal and informal sectors. Migrant workers in informal sectors do not receive the same entitlements as those who work in the formal sectors and undocumented workers are disqualified altogether from receiving such benefits due to their irregular status.
In Thailand, we can find an example of a system that discriminates between formal and informal workers. Migrant workers who migrate to Thailand through a memorandum of understanding with their home governments are considered formal workers. This type of group mainly works in the textile and manufacturing industries on a two-year contract basis. According to the Thai Social Security Act 1990, formal workers are covered under social security schemes because employers must contribute to this scheme.
In contrast, for low-skilled workers in informal sectors, their employer does not pay into the system. Since the majority of Cambodian migrant laborers work in informal parts of the economy, ranging from the construction sector and agriculture to fishing and domestic work, it is likely that they are among those who are not covered by existing social policies.
It's possible that Thailand's social protection scheme, which prevents this large population of low-skilled workers from gaining access to assistance, has worsened their well-being, as well as increasing their risk of exposure to COVID-19. During the second and third wave of the coronavirus in Thailand, a high number of positive cases were found within migrant worker communities.
Late last year, Thailand was hit hard by a COVID-19 outbreak linked to a seafood market in southern Thailand that employed many migrant workers from Myanmar. It was also reported that anti-migrant sentiment became prominent on social media platforms in the wake of the outbreak. Local people accused migrant workers of "importing" COVID-19, potentially decreasing the likelihood that these workers would present themselves to authorities if they had been exposed, or worse yet, were experiencing symptoms. As a result, it made the outbreak that much harder to bring under control.
Thailand is currently experiencing its worst COVID-19 outbreak yet, and once again the situation bears directly on the lives and livelihoods of migrant workers. A cluster of locally transmitted Delta variant cases were found among workers in a construction site in Bangkok, prompting the Thai government to close down construction sites and seal off migrant camps for a month.
As a result, thousands of low-skilled Cambodian migrant workers, especially construction workers, are in a position where they are trapped by the pandemic, with no access to social benefits. Many of these migrants obviously have no option but to make the risky return home to Cambodia, putting themselves and others at risk of COVID-19 in the process.
In a regional context, the Philippines is the only country that has designed a social protection policy to cover its overseas workers.
The country is known for being the largest labor exporting country in the world. Filipino migrant workers are viewed by their homeland as agents of change, and remittances sent by them alone contributed about 9.6 percent of the country's GDP in 2020.
The Philippines has also become a leading nation globally when discussing the roles of sending countries in protecting their migrant workers abroad, providing a model that other countries in the region should consider adopting as they send even more of their workers to other nations.
Equal access to social protection for overseas workers is ensured through the adoption of bilateral labor agreements between the Philippine government and the destination countries that host the majority of Filipino workers.
Welfare funds and other benefits for overseas Filipino workers and their families are governed by the Overseas Welfare Worker Administration (OWWA). Established in 1977, this government agency now has 31 offices in 27 destination countries. The sustainability of the OWWA derives from its membership contribution of $25 per worker, as well as funds from foreign employers and other sources.
More than just offering social benefits in case of sickness, injury, disability, or death, the model developed by the Philippines provides various types of support and assistance to migrant workers throughout their migration cycle: predeparture, foreign employment, and reintegration. It covers multiple educational training programs to enhance workers' skills, assists distressed migrants, and mediates with employers in destination countries, handling the repatriation of migrant workers under normal or emergency circumstances, as well as providing income security for returned migrants.
Since the beginning of the pandemic, the OWWA has assisted thousands of overseas Filipino workers to return home and provided additional support to children of migrant workers, including access to education.
But as a membership institution, OWWA has also faced challenges in terms of funding, membership contributions, and crisis management. In April 2021, the head of OWWA requested that migrant workers to postpone their return due to fund shortages in supporting returned workers at state quarantine facilities.
Cambodia has no means of assisting migrant workers in a similarly multifaceted way. Although the government has adopted some social protection schemes to mitigate the negative impact of COVID-19, including cash transfers to poor households, such benefits have not yet been made widely accessible to returned migrants and their families. One reason is that the identification of poor households in Cambodia was previously implemented on a three-year basis. As a result, migrant workers who have been working for a long time abroad often miss the opportunity to register for IDPoor cards.
With the outbreak accelerating, the government has revised the implementation of this system, allowing poor families to register at any time upon request. Yet many returned migrants lack access to such information or do not have proper documentation to be eligible for registration.
Meanwhile, civil society groups and international organizations, such as CENTRAL and the International Organization for Migration, can only provide immediate assistance, including food relief packages and health assessments for returned migrant workers.
Extending social security for migrant workers should not be viewed as creating additional burdens on the state; rather, it should be understood as the Cambodian government's obligation to respect and protect the fundamental rights of this vulnerable and economically critical group.
Both origin and destination countries should design inclusive social protection mechanisms that cover all migrants, including those who work in the informal economy, regardless of their migration status. Cambodia and other countries in the region – both those that send migrant workers and those that receive them – must take the pandemic as a lesson.
The interconnectedness of this region and our wider world demonstrates the need for more robust policies and more responsive strategies that can adapt to and support the long-term needs and well-being of migrant workers. COVID-19 has taught us that these decisions are not just a matter of politics or economics, they are often a matter of public health.