Is Or Vandine Cambodia's Future?
The U.S.-educated Health Ministry official has shot to prominence as the public face of Cambodia's COVID-19 response.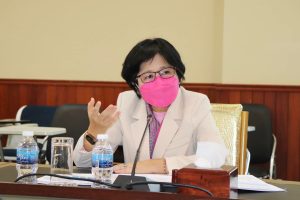 In late December, Prime Minister Hun Sen's eldest son, the military chief Hun Manet, finally got the ruling party's nod of approval to become the country's next premier, a dynastic succession Hun Sen has long envisioned. When the handover will actually happen is a matter of speculation. I've suggested at some point between the 2023 and 2028 general elections (not a very exact guess, I grant). In anticipation, the sons and daughters of other political bigwigs are already on the move, and Hun Sen has instructed his son to start building a "reserve cabinet" of more youthful politicians. But what about those in the bureaucracy unable to pull themselves up by familial patronage?
Since the beginning of the pandemic, the Cambodian people have been fully acquainted  with the Health Ministry spokesperson, Or Vandine, who is also a secretary of state at the ministry. She has been the "face of the pandemic" and public perception of her is "very positive," one commentator told me. "She's not out there saying crazy things and intimidating people," I was told by another source. "She's out there advising public health measures, like getting your booster shot so that you won't get too sick from a COVID infection." The commentator noted that she has been the "international face" of public health in Cambodia for years. When the health ministry wants to talk to a foreign agency, such as USAID, Vandine is sent.
To date, Cambodia has recorded 177 confirmed COVID-19 deaths per million people, compared with 319 in Thailand, 392 in Vietnam, and 978 in Malaysia, according to Our World in Data. Only Laos and Singapore have a lower ratio in ASEAN. It also has one of the world's highest vaccination rates, with more than 82 percent of the population fully-vaccinated, and a large percentage already boosted. Or Vandine has played a leading role in both achievements. Throughout 2020, she was the government's public face, instructing the masses of the lockdowns they would have to endure and of the responsibilities they would have to take. In March 2021, she was appointed chairperson of the hugely-successful vaccination committee.
Her father was a doctor, which inspired her to follow in his footsteps, said a source. "She quit school half way through to become a nurse, and then returned to school to take up education again," they added. In 1996, the Phnom Penh Post listed her as one of the 18 Cambodians awarded Fulbright scholarships since the competition resumed two years earlier. In 1994, she won the scholarship to study public health at Yale University. (She was the first Cambodian woman to do so.) A source said that when he met her a few years ago, he noticed that "she held her head high," which he took to signify her upright character and good education. By 2008, she had become director of the Health Ministry's International Cooperation Department. From there, she appears to have risen to director general for health at the ministry, as well as its spokesperson, by the mid-2010s.
Unmistakably, she is one of the most prominent technocrats that Cambodia's ruling party says it needs and respects. "She very much is an embodiment of technocracy, and well viewed by her peers," I'm informed by one analyst. Another tells me: "I think she's minister material."
Is she? Her natural progression would be Minister of Health, a post currently held by Mam Bunheng, 72, one of the oldest ministers in the cabinet. One commentator described him to me as having neither Vandine's "charisma nor the telegenic appearance." Plus, they added, "everything that's gone wrong was blamed on him in 2021… so his public perception has taken a hit. Surprised he survived politically, but people only fail upwards in the ruling party." Nonetheless, he could be one of the ministers who retires after the 2023 general election, probably along with Defense Minister Tea Banh, whose job will likely go to Hun Manet. (Banh was given the retiral post of party vice president in December.)
According to one analyst, Or Vandine occupies a role similar to that of Hang Chuon Naron before he became minister of education in 2013, with him having previously worked his way up through the Ministry of Economy and Finance apparatus. Like Vandine, he is also the child of an academic professional, in this case Hang Chuon, a professor at the Royal University of Fine Arts in the Dance Faculty, a source tells me.
On the other hand, not being the daughter of a prominent official or politician, the usual route for progress in Cambodia's bureaucracy, could hold Or Vandine back. "Nepotism, of course, is helpful in Cambodia for the incompetent but loyal," said a source. "I think it's the same rule here: any sign of disloyalty and you are finished. Or Vandine's challenge must be that if promoting her to ministerial material benefits the ruling party, it will happen." On the face of it, her promotion would bring benefits. Equally important, while Vandine is a respected technocrat, she isn't above party politics, which a source says she started engaging in around 2014. In public interviews, such as when she was recently selected as one of three Fulbright alumni for acclaim, she was careful to thank Hun Sen and his support. "To have even risen to her current level, she has to do a loyalty oath and be totally trusted," said a source. "Nobody gets to Secretary of State without being totally in the ruling party."
If there is to be a technocratic shift in the heart of government bureaucracy, Manet – who received an expensive education in the West and who is seemingly a little more cerebral and cosmopolitan than his father – would appear to be the person to lead it. He is already surrounding himself with younger officials and trustworthy grandees, his "reserve cabinet," in anticipation of his succession. As director of the Samdech Techo Youth Volunteer Doctor Association, a supposedly independent group, which has played a major role in the pandemic, Manet has worked closely with Vandine. He also chaired a Health Ministry sub-committee setup in February 2021 to manage security and public order control at quarantine centers. Time will tell whether it's not just the "pricelings" and "princesslings" who will rise through the ranks alongside Manet.