Sri Lanka: Where Generals Fight the Coronavirus, Food and Fuel Shortages
The country's heavily militarized COVID-19 response has failed to stem the advance of a deadly third wave.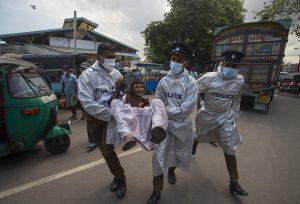 Sri Lanka is in the grip of multiple crises. In addition to a worsening COVID-19 situation, the country is grappling with an economic crisis, and food and fuel shortages.
The military is at the forefront of President Gotabaya Rajapaksa's efforts to tackle these problems. This isn't at all surprising given that Rajapaksa, a former defense secretary, is a military man himself.
A 25-year-long civil war left Sri Lanka highly militarized. Worryingly, this militarization persists more than a decade after the end of the civil war; indeed, it has grown under the Rajapaksa brothers' rule.
On August 31, Rajapaksa declared an economic emergency after a shortage of essential commodities led to a spike in prices. Foreign exchange reserves have been dwindling: Sri Lanka's forex reserves have shrunk from $7.5 billion in November 2019 when Gotabaya took charge as president to just $2.8 billion as of the end of July this year.
With banks unable to pay for food and other imports, a shortage ensued. People have been queuing up for milk, sugar, potato, onions, cooking gas, and kerosene.
To prevent hoarding and a further spike in prices, Rajapaksa issued emergency regulations under the Public Security Ordinance and appointed Maj. Gen. Senarath Niwunhella as commissioner general of essential services. Niwunhella is mandated to seize food stocks held by traders and retailers, and arrest hoarders with a view to regulating prices.
The food crisis comes at particularly difficult time for Sri Lanka, as the island nation of around 21 million people is struggling to manage the third wave of the COVID-19 pandemic. On August 31, Sri Lanka reported 4,221 new cases of COVID-19 and 196 related fatalities.
Since the detection of the first COVID-19 case on the island on January 27, 2020, Sri Lanka has registered a total of 440,302 coronavirus infections and 9,185 deaths as of August 31.
Amid a continuing surge in infections and fatalities, the Rajapaksa government last week decided to extend the nationwide lockdown by 10 days.
"The current #COVID19SL curfew will continue till Monday 4am (06/09)," Sri Lanka's recently appointed Health Minister Keheliya Rambukwella tweeted, calling on Sri Lankans "to refrain from unnecessary travel, work from home & abide by the curfew."
Sri Lanka was successful in containing the first wave of the pandemic and managed the second wave less well. But its handling of the third wave has been disastrous.
The third wave hit Sri Lanka in April this year, triggered by the crowding of markets and other public places in the run-up to and during the Sinhala and Tamil New Year celebrations in mid-April. There were 263 new cases on April 12. This rose to 1,662 new infections on April 30 and 6,373 on August 26.
Particularly concerning is the sharp rise in the number of COVID-19-related deaths, which rose from 9 on May 1 to 216 on August 30. Incidentally, Sri Lanka is among the countries with the highest death rates in the world. It recorded 9.65 deaths per million people on September 1 compared to the U.S.' 4.21 or India's 0.27 on the same day.
The Rajapaksa government has come in for criticism for its mishandling of the pandemic.
Analysts have mocked the unscientific approach of the government. Former Health Minister Pavithra Wanniarachchi, for instance, poured "blessed water" into a river on the advice of a self-styled godman in order to end the pandemic, and publicly endorsed magic potions and sorcery to fight the coronavirus.
Such public advocacy of unscientific treatment would have prompted thousands to drink untested concoctions to cure themselves rather than avail timely treatment from experts at hospitals. It was only a fortnight ago that Wanniarachchi was removed from her position at the helm of the health ministry.
Critics have also drawn attention to the Rajapaksa government's militarized response to COVID-19. While militaries can play a useful role in natural and other disasters with rescue operations or in providing logistical support and even in a pandemic situation to swiftly build infrastructural capacity or ferry medical equipment, in Sri Lanka it is visible at every stage of the COVID-19 response.
At the onset of the pandemic, President Rajapaksa set up the National Operation Center for Prevention of COVID- 19 Outbreak with the Sri Lankan Army chief, Gen. Shavendra Silva, at its helm. Several of its members were military men. In January this year, 25 major generals were appointed to coordinate COVID-19 control operations in each of the country's districts.
Army personnel are not just coordinating logistical operations; they are crafting the pandemic strategy and implementing it. Intelligence officials are engaged in contact tracing and soldiers are marching people off to quarantine centers.
Sri Lanka has a long history of tackling epidemics. Effective public health interventions, a well-developed health infrastructure, and experienced epidemiologists helped it fight and win against diseases like malaria.
Instead of heeding the expert advice of virologists, Rajapaksa has put the battle against the coronavirus in the hands of the generals. Had he heeded the advice of public health experts and imposed a lockdown during the New Year celebrations, the third wave may not have been as intense as it is. Hospitals and morgues would not have been inundated.
It is still not too late to change course. Rajapaksa should bring in the public health experts to lead and drive the pandemic strategy. The generals can help with logistics.