Vietnam Welcomes Top Officials From China, Japan
The concurrent visits offered a classic example of Vietnam's all-inclusive diplomatic approach.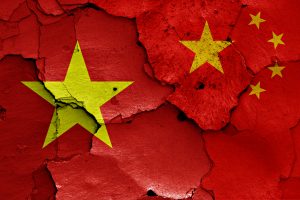 Vietnam's all-inclusive, omnidirectional foreign policy was on clear display over the weekend, as the country hosted concurrent visits by senior officials from both China and Japan.
The first caller was Chinese Foreign Minister Wang Yi, who arrived in Hanoi on Friday on the first stop of a diplomatic tour that will take him to South Korea and three Southeast Asian nations this week.
During the visit, Wang held talks with several leaders including Prime Minister Pham Minh Chinh and Deputy Prime Minister Pham Binh Minh, in addition to calling on Vietnamese Communist Party chief Nguyen Phu Trong.
Wang and Chinh co-chaired the 13th meeting of the Steering Committee for Vietnam–China Bilateral Cooperation, which served as the forum for ritual affirmations of the special relationship between the two communist nations, which parallels the tension between them, particularly in the South China Sea.
As paraphrased by the Chinese Ministry of Foreign Affairs, Wang said that "in a world experiencing changes and a pandemic both unseen in a century, working together to overcome the difficulties is a natural strategic choice for China and Vietnam, two socialist neighbors, and has given the bilateral ties more profound and special meaning." Wang Yi repeated China's stance that the two nations should not magnify their disputes, while Chinh said that the two countries should use dialogue to work out any differences, state broadcaster VTV reported.
Prior to wrapping up his visit on Saturday, Wang pledged 3 million doses of coronavirus vaccine to Vietnam.
All told, Wang's visit was a clear tit-for-tat response to last month's visit to Vietnam of U.S. Vice President Kamala Harris, during which she donated 1 million doses of COVID-19 vaccine to Vietnam and urged Vietnam to stand up against China's "bullying" in the South China Sea.
But Wang's visit also took place concurrently with the visit of Japanese Defense Minister Kishi Nobuo, who signed a landmark defense transfer deal allowing the sale of Japanese military technology to the Vietnamese government. Japan and Vietnam are stepping up military cooperation amid worries about China's growing military influence.
While Kishi's visit had been postponed from an earlier date due to COVID-19, the fact that it lined up so perfectly with Wang's visit offered a textbook display of Vietnam's foreign policy approach, born from its fraught history of relations with China, which since the end of the Cold War has been based on an approach of establishing good relations with as many nations as possible in order to maximize its strategic room for maneuver.
In particular, the 2019 defense white paper placed an emphasis on "promoting defense ties with other countries to boost its capabilities in sovereignty protection and in settlement of common security challenges." At the same time, the country adheres to what it refers to as the "four no's": no military alliances, no affiliations with one country to counteract another, no foreign military bases on Vietnamese territory to act against other countries, and no force or threats to use force in international relations.