North Korea Reiterates Preconditions for Inter-Korean Thaw
Kim Yo Jong welcomed Moon's outreach in his U.N. speech, but made clear that Seoul will have to end its "hostile policies" first.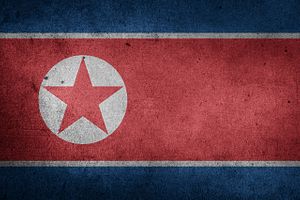 South Korean President Moon Jae-in proposed making a breakthrough between the two Koreas by "declaring the end of the Korean War" in his address at the United Nations General Assembly last week. Kim Yo Jong, the sister of North Korean leader Kim Jong Un and also Pyongyang's main mouthpiece on inter-Korean relations, responded to Moon's speech in two statements published on Friday and Saturday.
In her statement published on Saturday, Kim said North Korea has the same desire as the South Korean public "to recover the inter-Korean relations from a deadlock and achieve peaceful stability as soon as possible." She mentioned several steps that could improve inter-Korean relations: "the reestablishment of the north-south joint liaison office and the north-south summit, to say nothing of the timely declaration of the significant termination of the war."
However, all these potential moves were highly conditional on the South meeting certain demands. Thus, Kim's main message was to urge Seoul once again to achieve what the North has consistently demanded from South Korea as well as the United States: remove so-called "hostile policy" and "double standard" on military activities.
"The U.S. and South Korean-style double standards towards the DPRK [the official name of North Korea] by which the DPRK's actions of self-defensive dimension to cope with the military circumstances and possible military threats existing on the Korean Peninsula are dismissed as threatening 'provocations' and their arms buildup are described as the 'securing of a deterrent to North Korea' are illogical and childish, and are a blunt disregards of and challenge to the sovereignty of the DPRK," Kim said in the statement.
Since the Trump era, Washington and Seoul have mostly downplayed North Korea's missile tests, especially as Pyongyang has refrained from testing long-range intercontinental ballistic missiles or nuclear missiles since 2017. Instead, the Biden administration treated the North's tests of cruise missiles and shorter-range ballistic missiles as "business as usual," in a bid to leave space to talk. But it was not enough for Pyongyang to overcome its bitterness over the "no-deal" Hanoi summit in 2019 and find a justifiable reason to come back to the negotiating table.
"I only hope that the South Korean authorities' moves to remove the tinderbox holding double standards bereft of impartiality, the hostile policy toward the DPRK, all the prejudices and hostile remarks undermining trust are shown in visible practice," Kim said.
Her Friday statement conveyed a similar message. "The declaration of the termination of the war is an interesting and an admirable idea… There is nothing wrong in the declaration of the termination of the war itself," Kim declared.
"But it is necessary to look into whether it is right time now and whether there are conditions ripe for discussing this issue," she continued.
"Now double-dealing standards, prejudice and hostile policies toward the DPRK and speeches and acts antagonizing us persist. Under such situation it does not make any sense to declare the end of the war with all the things, which may become a seed of a war between parties that had been at odds for more than half a century, left intact."
Usually, Kim Yo Jong has made statements toward Seoul on behalf of the top authority in Pyongyang, which indicates Kim Jong Un. However, Saturday's statement was explicitly stated to be her "personal view." That distinction could be seen as a way to prevent her hawkish tone from blocking a more diplomatic approach.
Before Kim's statements, a foreign affairs official of North Korea had also made a statement on Moon's U.N. address, saying that "it is too early to declare the termination of the war" as long as U.S. troops remain on the South's soil.
Through Kim's response, the North has now explicitly demanded that South Korea remove its "hostile policy" first as a condition to reengage in dialogue for the denuclearization on the Korean Peninsula. Now it's up to Seoul and Washington to respond.
"Kim Yo Jong may be laying a trap by offering dialogue conditioned on Seoul not criticizing what she portrays as Pyongyang's righteous self-defense measures," Leif-Eric Easley, a professor at Ewha University in Seoul, told The Diplomat.
North Korea might conduct a provocative military test around October 10, the 76th anniversary of the Workers' Party. Easley pointed out that the North's possible missile test or military activities next month could pose a difficult dilemma for Seoul.
"If Seoul remains silent, that could somewhat normalize the Kim regime's nuclear and missile development and cause friction in the alliance with the United States. On the other hand, if Seoul criticizes North Korea's next provocation, Pyongyang would again cut communications and blame the South for strained inter-Korean relations," Easley said.
Demanding unachievable goals – such as the withdrawal of U.S. troops in South Korea and an end to joint South Korea-U.S. military exercises – as a precondition of negotiations is a way to justify Pyongyang's hardline stance. North Korea has repeatedly rejected offers from Washington and Seoul to reengage in dialogue for the denuclearization negotiation.
However, as Kim mainly criticized Seoul's hostile rhetoric told North Korea in her recent statements, Pyongyang could seek momentum for inter-Korean engagement during or after the Beijing Winter Olympics next year.
"It could be seen that North Korea has accepted a request of the Chinese government to defuse the tension on the Korean Peninsula over the Beijing Winter Olympics, just as the inter-Korean dialogue reengaged following the Pyeongchang Olympics in 2018," Cheong Seong-chang, a senior fellow at the Sejong Institute think tank in South Korea said in an interview with The Diplomat.
Although China has limited power and influence over North Korea, Cheong mentioned that Pyongyang's could be cooperating in China's peace-making plans as it is the North's biggest trading partner. North Korea could receive food and fertilizer from China in return.