Central Asia's FemAgora Festival Embraces Cyberfeminism
In its fourth year, the FemAgora festival adopts an unabashed cyberfeminist approach to activism.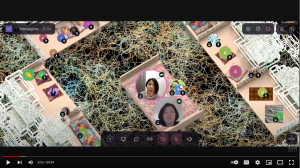 FemAgora, a feminist festival organized in Central Asia, wrapped up its fourth annual series of events on October 24. The festival was first spearheaded by civic activist Leyla Makhmudova in 2018.

Like last year's edition, FemAgora's programing was entirely online; while the pandemic forced sessions online last spring, this year organizers made a conscious choice to host the festival on digital platforms. The 2021 FemAgora festival was defined by an unabashed cyberfeminism, recognizing the internet's role in raising voices of girls, women, nonbinary, and trans people around the world. Indeed, the theme, "We're on the air! Online about online: Resources of our Feminisms," marked a departure from previous years' programming, which featured more mainstream discussions of gender equality in politics, business, and science.
This was not your run-of-the-mill Zoom conference, shuffling participants from link to link. Rather, participants attended events on Spatial Chat, a digital platform that gave FemAgora the chance to customize the environment. FemAgora's digital meeting spaces – including a teahouse adorned with traditional textiles and yurts that became cluttered with gifs, smileys, and images uploaded by participants throughout the festival – were designed by architects Aida Issakhankyzy and Altynai Imanbekova. The design team wanted to create an environment that was "abstract but recognizable" to those from communities across Central Asia.
Thinking through the design of the digital space was central to the goals of FemAgora as a festival that is not only feminist, but explicitly Central Asian. Kamila Zakhidova, FemAgora's creative director, explained, "It was important that we moved away from the visual markers of feminism."
FemAgora kicked off on October 14 with a standup set from sisters Zarina and Madina Baibolova, who joked about the gap between their success as comics and their parents' expectations for respectable daughters. Further sessions held over the next week included discussions of feminist community-building online in the face of harassment and trolls, the ethics of hybrid reality, and possibilities for activist organizing online and off.
At a panel on women in esports and gaming, Kyrgyzstani artist Tatyana Zelenskaya spoke about the interactive game she helped produce, Spring in Bishkek, which aims to raise awareness of bride kidnapping. Spring in Bishkek walks players through the legislation on the books to protect the rights of women and girls and guides them to various legal and psychological resources available to victims of bride kidnapping in Kyrgyzstan. Zelenskaya joked that the games' visuals, which she designed, make it seem like a frilly story of love and friendship, but underscored that "one of the important ideas of the game is that women can also save each other or themselves."
"Scrolling the Feed of Central Asia," a panel on feminist media in Central Asia, had a simple message: Women need to create the content they want to see and hear in the world. Begaiym Zamirbek, a Kyrgyzstani activist, explained the origin story of her podcast Vtoraya Smena (Russian for "second shift," a reference to unpaid household labor done by women). "I'm a gender researcher, but I don't like reading books about feminism – sorry, but they're so boring," Zamirbek laughed. Noticing a lack of audio content geared toward feminist listeners in Kyrgyzstan, she decided to make her own.  
Other panelists described a similar sense of inspiration. Vera Sukhina, a civic activist from Tashkent, explained that she founded micromedia outlet Sarpa after organizing a two-week long festival geared at raising awareness of domestic violence in Uzbekistan in 2020. "I wanted to deconstruct our national mentality, a hard thing to do," she said. "I wanted to show how these political and cultural and social issues interact and affect women and young girls." Sarpa's content ranges from explainers on legislation regulating women's rights in Uzbekistan to playlists of political music produced by Central Asian artists.
Aisana Ashim, an Almaty-based journalist and the founder of Masa Media, described her motivation for starting Batyr Jamal, a feminist e-journal. In March 2020, public figure and academic Omar Zhalel gave a lecture at a high school in southern Kazakhstan where he said, "A marker has one goal: to write. And when a marker stops writing, we throw it away. And the same with women," whose only goal, according to Zhalel, is to give birth. This scandal pushed Ashim to create a platform to educate young women about their rights. "Rather than just saying that these guys are morons, let's bring in experts who can explain why exactly they're morons."
Elena Nazhmetdinova, a blogger from Tajikistan, described the spontaneity of her Instagram project "Tell Me Sister," which gathers anonymous accounts of harassment in Tajikistan. "Tell Me Sister" is less about educating followers on their rights or the state of Tajikistani legislature, and more about helping women who experience harassment and sexual violence understand that they are not alone, and that they are not to blame.
It is telling that the women featured on "Scrolling the Feed" mentioned both International Women's Day and the pandemic as motivators for creating feminist outlets. The same week that Ashim launched Batyr Jamal from Almaty, police detained some 70 activists who had gathered for a rally in Bishkek organized in honor of Women's Day. Just days later, and much of Central Asia was on lockdown due to COVID-19. The pandemic has widened political, economic, and social gender gaps in Central Asia, with research showing a spike in domestic violence during lockdown and a sharp drop in women's participation in the labor force.
Despite the challenges that have emerged throughout the pandemic, women around the world have continued to organize and mobilize in defense of their rights. The largest International Women's Day march in Kazakhstan's recent history proves that Central Asian women are no exception, and FemAgora continues to foster a network of activists and artists who can pull that thread further.