China Is Manufacturing Vaccines in Africa. The Quad Should Too.
The implications of Beijing's progression from donating vials of the vaccine to setting up production in the continent are hard to ignore, especially for the leaders of the Quad.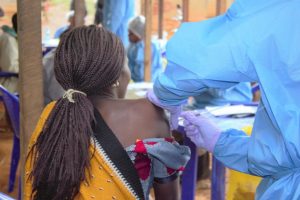 In eastern Algeria, in the province of Constantine, a production line has started manufacturing COVID-19 vaccines. The result of a joint venture between China's Sinovac Biotech and Algerian pharmaceutical group Saidal, it is expected to produce 1 million doses in October, ramping up to 5 million doses per month by January. The vaccine manufacturing project is being touted as a milestone in Algeria-China relations, coming after China signed a contract to supply 15 million doses, becoming Algeria's largest vaccine supplier.
Earlier this year, in April, China's Sinovac signed another agreement with Egypt's Holding Company for Biological Products and Vaccines (VACSERA) to manufacture its COVID-19 vaccine. In three months, by July 2021, Egypt's Prime Minster Mostafa Madbouly announced that they had produced a million doses. With plans to manufacture a billion annually, Egypt could become the region's biggest vaccine producer.
Similarly, the Moroccan pharmaceutical firm Sothema signed an agreement with China's Sinopharm to produce 5 million doses a month.
The implications of Beijing's progression from donating vials of the vaccine to setting up production in the continent are hard to ignore, especially for the leaders of the Quad.
They could take a cue from the African Union and the Africa Centers for Disease Control and Prevention (CDC), which recently launched the Partnerships for African Vaccine Manufacturing (PAVM) framework calling on global partners to boost production in Africa.  African leaders have committed to creating an indigenous vaccine industry, with the goal of boosting the share of global vaccines manufactured in Africa from 1 percent in 2021 to 60 percent in 2040. This is crucial development, and there are many avenues for international partners to support Africa's efforts.
This is especially relevant to the Quad as two of its members, the United States and India, are home to some of the world's biggest vaccine makers. In contrast, six African countries currently have or plan to set up a total of just 12 COVID-19 vaccine production facilities. There is, therefore, a strong case to be made for Quad countries to license production of their COVID-19 vaccines in Africa, based on three important arguments.
First, the Quad already has in place the "Quad Vaccine Partnership" with pledges to "donate more than 1.2 billion doses globally of safe and effective COVID-19 vaccine." The September 24 joint statement from the Quad leaders outlined the scope of the newly launched  "Quad Vaccine Experts Group," recognized the global supply gap and the need to secure supply chains and highlighted the aim of financing additional production in India, with roadmaps to support countries in the Indo-Pacific with procurement, readiness, and rollouts. By expanding its vision to include Africa as well, the grouping could have an immediate impact.
Of course, the success of the Quad in Africa in the post-pandemic era is contingent on overcoming several differences within the strategic grouping. Skeptics have underlined the "foundational contradictions and deliberate ambiguity" of the Quad, as a result of the many factors that could potentially hinder effective cooperation – from differing threat perceptions, strategic priorities, and constitutional imperatives to cultural dissimilarities and even bilateral relations between New Delhi and Washington. Others, however, are more hopeful about the Quad's ability to shape the new global order and serve as an effective force for public goods.
Prioritizing vaccine manufacturing in Africa, would not only emphasize the non-military nature of the grouping but would also bolster its credibility. It would be an important collective effort as individual countries of the Quad reconfigure their relationships with various African countries. Experts have been calling for the United States to demonstrate its commitment to Africa-owned regional priorities; for Japan to take a more pragmatic approach and build a long-term, solid investment base in Africa; for Australia to recalibrate its strategy toward the continent from being "episodic with geostrategic indeterminacy"; and for India to build upon its renewed momentum in African diplomacy with more layered engagement. Supporting African recovery from the pandemic provides a unique opportunity for the Quad to collectively present themselves as viable partners in development.
Second, setting up joint production hubs could be a tangible deliverable, leveraging the strengths of each country. The United States and its partners in the EU are already building a vaccine manufacturing facility in Senegal and the United States' International Development Finance Corporation (DFC) is collaborating with the World Bank Group, Germany, and France to provide financial packages for pharma companies in South Africa, to compound, finish, fill and package doses of Janssen vaccines (a Johnson & Johnson company). Pfizer also has a "fill and finish" agreement with Biovac Institute in South Africa, with ingredients imported from Europe.
According to Emmanuel Mujuru, chairperson at the Federation of African Pharmaceutical Manufacturers Associations, beyond building facilities and making political announcements, producing vaccines in Africa requires heavy long-term financing, bolstering research capacity, providing regulatory support, and ensuring commitments from key government stakeholders to purchase vaccine doses. Additionally, it will also require building logistics and data systems as well as robust supply chains, including facilities to store, transport and package the vaccines. That means there are several opportunities in allied industries along the pharma value chain, which the Quad can support.
Third, it makes astute business sense for pharma companies in the Quad countries, looking to expand overseas, to partner with African companies and make use of the many incentives offered by different African governments to strengthen their manufacturing ecosystems in tune with the Pharmaceutical Manufacturing Plan for Africa. This is especially true since the African Continental Free Trade Area (AfCFTA), launched earlier this year, now connects over a billion people and markets across 54 countries, eliminating long standing concerns about a fragmented market. As the world's largest free trade area, it also removes tariffs, reduces trade costs, increases exports, and accelerates manufacturing, the value of which is expected to grow to $1 trillion by 2025, with the potential to create 14 million jobs.
Despite the scale of opportunity, several factors could dissuade investors. One concern is that, after injecting funds to build and expand manufacturing capacity, the demand for the COVID-19 vaccine could potentially stop in a few years. Although there have been examples of how production facilities have been repurposed to manufacture COVID-19 vaccines – meaning that the reverse is also a possibility – at risk advance spending might not be a viable option for many investors.
Additionally, the issue of patent rights waivers also persists. Some scholars suggest a public-private partnership (PPP) approach in the meantime. According to them, an alternative, sustainable solution to achieving global vaccination goals is to sign PPPs between pharmaceutical companies and government ministries, funded by access to the capital markets through "impact bonds." This essentially means that public sector entities are contractually and legally expected to pay the investors as they meet their goals, and therefore pushes additional accountability on the investors to succeed.
As the Quad works toward deepening cooperation across critical areas, it is imperative to not adopt a zero-sum-approach. Mitigating the scale of global suffering inflicted by COVID-19 will require a concerted effort. However, one of the many areas that could benefit from collective, concrete action is supporting African actors in strengthening their health systems and improving their access to vaccines. As multiple action plans are drawn up and decisions deliberated upon to achieve this end, augmenting vaccine manufacturing in Africa needs to be urgently prioritized by the Quad.