It's Time for the Quad to Chart a Bold Course on Space Governance
The Quad countries should consult on space situational awareness, conjunction avoidance, and orbital debris issues.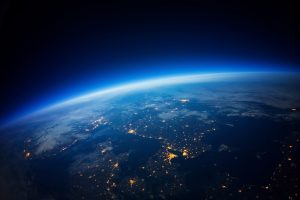 The Quad has its eyes set on space. At the first-ever in-person leaders' summit last month, U.S. President Joe Biden, Indian Prime Minister Narendra Modi, Australian Prime Minister Scott Morrison, and then-Japanese Prime Minister Suga Yoshihide jointly resolved to "consult on rules, norms, guidelines and principles for ensuring the sustainable use of outer space" and committed to share satellite data to combat climate change and prepare for natural disasters on Earth.
Their shared interest in bolstering governance in space comes at a critical time. Human activities in space are booming, but efforts to enhance space governance have flagged for decades. Major space powers fundamentally disagree about how to structure future efforts to ensure space safety, security, and sustainability.
The Quad won't turn into a space governance powerhouse overnight, but their consultations on space should begin by addressing a small, but important, menu of issues that can serve as a foundation for broader international efforts. Specifically, the Quad should address space situational awareness (SSA), conjunction avoidance, and space debris removal. Addressing these three items as part of their consultative agenda on space would address important gaps in space governance and can over the longer term serve to revitalize broader international discussions on these matters.
Even absent other major space powers, the Quad countries, as a minilateral group with significant space equities, are well positioned to make positive contributions to the sustainability of human activities in Earth's orbit.
While Australia, India, Japan, and the United States rely on space to differing degrees and use space systems for different strategic ends, the countries share common concerns related to hazards and threats to space systems.
The Quad members have also reached for smaller targeted bilateral efforts among themselves. For instance, India and the United States are finalizing a new space situational awareness data sharing arrangement. These frameworks may serve as established templates for broader adoption within the entire Quad. On the lunar front, Japan and Australia have joined the Artemis Accords, the United States' marquee effort in space diplomacy.
Given their common interests and history of cooperation, the Quad is well positioned to consult on and design guidelines, principles, and rules that address mutually concerning space issues. Consensus among these countries could generate significant momentum toward broadly observed norms in space and, eventually, binding rules. While states remain at loggerheads in the broader debate about the structure of effective rules and regulations for human space activities, the Quad can make headway on a number of pressing issues.
Space Situational Awareness
Accurately measuring and characterizing the near-Earth space environment is an essential step in understanding the current state of play in orbit and forecasting potentially hazardous or concerning interactions between satellites. Actionable SSA data help satellite operators identify close passes and conjunctions, another point of potential cooperation among the Quad.
The Quad is well positioned to make significant strides on SSA and data sharing agreements. The well-dispersed geography of Quad states provides a unique footprint for a new network of ground-based sensors. The Quad is no stranger to SSA; while Japan, Australia, and India have their own competencies in the area, the United States leads the world in providing high fidelity SSA data. U.S. entities, including the U.S. Space Force's 18th Space Control Squadron, provide vital SSA data and analytical services with space operators around the world, but a more dispersed, international architecture can build resiliency and trust. Beyond new sensors, the Quad should consult on improving the analytical processes that make use of SSA data, with the goal of better serving space operators around the world.
Conjunction Avoidance
The Quad's space consultations should focus on establishing formal rules for conjunction avoidance. Some states and multinational organizations collect and disseminate conjunction avoidance data, but there are no formal international requirements for taking action based on these analyses. Some organizations have, on an ad hoc basis, agreed to rules of the road. Developing an equitable multi-state playbook that outlines operators' conjunction avoidance obligations would be an important step toward safe space operations and this can be initially done meaningfully at an intra-Quad level.
Debris Removal
The Quad is well positioned to discuss emerging technologies that can remediate polluted orbits. This includes active debris removal (ADR) technologies, which show promise in improving orbital sustainability, but breed mistrust because of their perceived potential for misuse. Some perceive many debris collection and removal concepts as akin to weapons in orbit.
International rules for removing orbital debris have been hamstrung by legal ambiguities and a lack of political will has prevented serious international consultations. New rules, even if only agreed to by the Quad and their constituent commercial ADR entities, could attenuate the tensions related to debris removal and set the table for peaceful, consensual, and transparent technology demonstrations.
By aligning perspectives among these four countries on regulatory and governance issues in space, the Quad can seek to promote a broader consensus among major space actors. For instance, the Quad is well positioned to socialize their principles, guidelines, and rules with other likeminded organizations. These could include, perhaps, the European Union and the remaining Five Eyes countries (Canada, New Zealand, and the United Kingdom).
By leading on space governance, the Quad can not only promote "the free, open, rules-based order, rooted in international law and undaunted by coercion," as its four leaders recently agreed, but move toward expanding this order in what is currently an undergoverned domain.