Storm Clouds Hang Over 'All-Weather' Sino-Pakistani Friendship
Attacks on Chinese nationals working in CPEC projects in Pakistan have drawn China's ire.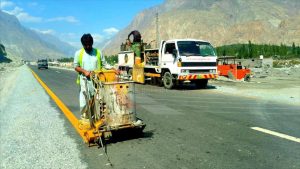 Pakistan's deteriorating security situation has put Islamabad's relationship with China under strain, indicating that the state of the bilateral relationship remains far from ideal.
On July 14, 13 people, including nine Chinese engineers, died when a bus carrying the team working on the Dasu Hydropower Project was attacked by militants in Khyber Pakhtunkhwa province. On August 21, a convoy carrying Chin­ese personnel working on the East-Bay Expressway project was attacked by a suicide bomber in Gwadar.
Follow the attack on the Dasu project, Pakistan's Foreign Office said that the incident took place due to a "mechanical failure" in the bus. The Chinese foreign ministry spokesperson called it an "attack" and asked for an investigation. Later, Pakistan's government admitted that the incident was the result of a suicide bombing. Separately, China's Foreign Minister Wang Yi told his Pakistani counterpart Shah Mahmood Qureshi that "lessons should be learned from the incident."
The attacks have complicated China's interactions with Pakistan.
Calls from Beijing for Pakistan to ensure the security of Chinese nationals and workers in the country have grown over the last few months. Recently, the Chinese Embassy in Pakistan said that "the security situation in Pakistan has been severe" and urged Islamabad to take practical and effective measures to accelerate implementation of stronger security measures.
Added to the issue of security are disagreements over payment conditions on projects related to the China-Pakistan Economic Corridor (CPEC). China, Pakistan's "all-weather" friend, has demanded $38 million in compensation from Islamabad as a precondition to resume the work on the stalled Dasu Hydropower Project. Reportedly, the issue of payment to the Chinese nationals is being discussed at a high level with the Pakistani government. The Chinese firm, China Gezhouba Group Corp (CGGC), had suspended work on the Dasu project after the bus attack.
Meanwhile, Pakistan's Water and Power Development Authority (WAPDA) has threatened to impose liquidated damages on CGGC for causing delays on the project. It is important to note here that in the wake of the Dasu attack, WAPDA and CGGC decided after mutual consultation to suspend construction work on the project for a few days, but the work has not resumed even after two months.
In September, a meeting of CPEC's Joint Coordination Committee (JCC) could not "finalize arrangements for over $6 billion Mainline Railway Track (ML-1) and a framework agreement on industrial cooperation pending for a long time." The JCC, which is expected to meet twice a year, has not met since November 2019, indicating serious shortcomings on both sides when it comes to steering and resolving CPEC-related issues.
Reportedly, the Chinese are frustrated over the issue of payments in the power sector, and want an increase in withholding tax rates on the signed agreements with the Pakistani government. It is also being reported that Chinese firms are "not interested in making further investment in Pakistan, citing inappropriate treatment, especially in payment to companies that invested in the power sector."  Estimates suggest that Pakistan's energy sector circular debt has crossed 1.34 trillion Pakistani rupees and there remains no hope of its resolution soon.
The Chinese "question why Pakistan requested them to establish projects if there were no resources for payments against their investment," said one report. For its own part, the Pakistani side has sought changes to the tariff structure from China for independent power producers in order to decrease the fiscal burden and address the issue of circular debt pressure. However, it is unlikely that it will succeed in renegotiating terms already agreed with the Chinese firms.
In September, Pakistan assured Beijing that it would not renegotiate $15 billion in energy project deals under CPEC. Pakistan also agreed to disburse $1.4 billion to Chinese companies on account of power generation costs that remain stuck in Pakistan's circular debt cycle.
But, as Pakistan's circular debt grows and the economy comes under pressure, it is unlikely that Pakistan's payment issues with Chinese firms are going to be resolved any time soon.
Pakistan's security woes may worsen in the coming weeks, owing to developments in neighboring Afghanistan. Islamabad's relationship with Beijing is about to go through another testing period.