The G-20 Can't Ignore the World's China Problem
A regime that is allowed to commit genocide and violate international agreements with impunity is a regime that will be emboldened to continue to commit atrocity crimes and threaten others beyond its borders.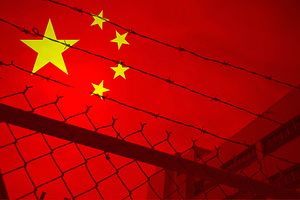 As world leaders gather in Rome this weekend for the G-20, their focus will understandably be post-COVID-19 recovery and climate change. These are undeniable priorities, but there is a third challenge facing the world that is the elephant in the room: The threat to freedom and in particular the rise of authoritarianism led by the Chinese Communist Party.
Over the past decade, the regime in Beijing has intensified its repression at home and increased its aggression abroad. Under Xi Jinping, China's dictatorship has relentlessly cracked down on all dissent, closing down whatever limited space previously existed for civil society, citizen journalists, bloggers, human rights defenders, and religious believers. In the early days of COVID-19, the regime repressed the truth instead of the virus, silencing whistleblowers and failing to alert the World Health Organization in a timely manner, in breach of its international obligations. It has completely dismantled Hong Kong's freedoms and autonomy, in violation of an international treaty, and is credibly accused by a growing number of governments, parliaments, lawyers, and academics of committing genocide against the Uyghurs. Repression in Tibet has intensified, and in recent weeks Beijing has accelerated its threats to Taiwan, with an unprecedented number of fighter jet incursions into Taiwan's air defense zone. It has proven what a mendacious, cruel, and dangerous totalitarian regime it is.
The time has come for the rest of the world to say enough is enough. The vast majority of G-20 members are democracies, which should surely wish to defend the international rules-based order and the freedoms on which their societies are based. So this weekend in Rome, they must stand together in defense of democracy, freedom, and the rule of law in the face of growing challenge.
We attended a pre-G20 gathering of legislatures from around the world in Rome – the Inter-Parliamentary Alliance on China (IPAC) – which brings together over 200 parliamentarians from 21 legislatures. This bipartisan, global network has grown extraordinarily in just over one year since it was founded, and it shows there is both increasing understanding of the challenge posed by Beijing and an increasing political will to do something to address the challenge. We would like that political will to be shown also by the G-20.
Earlier this week we delivered a clear message to the Chinese Embassy in Rome. The two of us spoke outside the embassy next to a Pillar of Shame statue by Danish artist Jens Galschiot. It is a replica of a sculpture that is currently displayed in Hong Kong University, and which the Chinese regime wants removed. It symbolizes a shameful event that must never recur – in China's case the Tiananmen massacre of 1989 – but one which, in various ways, is repeated on a daily basis throughout China today.
A regime that is allowed to commit genocide with impunity, and faces no consequences, is a regime that will simply be emboldened to continue to commit atrocity crimes and threaten others beyond its borders.
A regime that is permitted to violate international agreements, and destroy what was until recently one of Asia's most open societies – Hong Kong – with impunity, and faces no consequences, is a regime that will be emboldened to invade Taiwan, exert its power in the South China Sea, and subvert democracies elsewhere.
It therefore cannot be in anyone's interests, except Beijing's, to allow the status quo to continue and to keep business as usual.
Democracies must therefore work on building a strong alliance to defend freedom. Countries confronting China alone will have limited impact and may face repercussions from the bullies in Beijing. But working together, a coalition for freedom should coordinate policies to sanction the perpetrators of human rights crimes, diversify supply chains, stop slave labor, and divest from unethical Chinese companies that are producers of the regime's tools of repression and complicit with its crimes.
The world is rightly focused on climate change, and on Sunday the COP26 summit opens in Glasgow. But it is a grave mistake to say that because we need China to reduce carbon emissions, we must turn a blind eye to their human rights violations. First, the regime in Beijing can never be trusted to keep its promises. Without a strong and vibrant independent media and civil society, it is difficult to ensure the government keeps its promises. And second, while liberty is of limited value if we destroy the planet, blue skies and green fields cannot be enjoyed if humanity is in chains. Climate change is one of the most important issues of our time – so is countering dictators. Freedom must rank higher in our global agenda – for those seeking freedom from tyranny, and those who live in democracies and now need to be defended.