The German Elections and Angela Merkel's China Legacy
A new government must re-adjust Germany's China approach. Fortunately, the likely new coalition is well-placed to do so.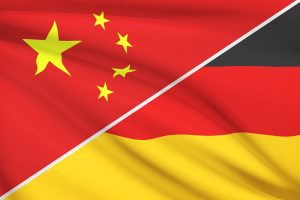 Chancellor Angela Merkel's retirement after 16 years in office is an epochal moment for German politics, and it presents an excellent opportunity to reset policy approaches and reprioritize agendas.
The two German big-tent parties, the Social Democratic Party (SPD) and Christian Democratic Union (CDU), have for decades received over 40 percent of the popular vote and alternated the chancellery between them – though in coalition with disproportionately smaller junior partners, traditionally the Greens or the Free Democratic Party (FDP).
September's elections have now changed the traditional make-up of Germany's parliament and returned a more fragmented Bundestag of four more or less medium-sized parties, plus two extreme fringe parties. This has changed the traditional coalition-building arithmetic, all but guaranteeing both the Greens and FDP a position in a new three-party government. A novelty in German politics in itself, the formerly small junior parties are now within reach of 10-15 percent vote share, entering coalition negotiations from a position of historic strength.
Among many other policy areas, their agenda will be consequential for Germany's future China policy.
Merkelism and China
Angela Merkel navigated Germany and Europe through some exceptionally challenging crises, and she is known to travel extensively. Notwithstanding some domestic criticism, this has earned her an impeccable global reputation.
A staunch transatlanticist, it is no surprise that Washington tops the list of Merkel's non-EU travel destinations (14 official visits). More noteworthy, and somewhat counterintuitive, is that Merkel's 11 state visits to Beijing come in a close second, outnumbering even her seven trips to Moscow, Germany's greatest geopolitical challenge.
In fact, no other Western leader has visited China more often, not many know the Chinese Communist Party leadership better than her, and no one shows a greater interest in Chinese civilizational history and culture. France's Emmanuel Macron, the president of Europe's only self-identified resident Indo-Pacific power, has visited China only twice since becoming president over four years ago. A similar time into her leadership, Merkel had been to Beijing four times, and had also visited Shanghai, Nanjing, and Xi'an.
Beyond her personal interests in China, Merkel leads an export-dependent economy that has an intrinsic national interest in maintaining workable relations with Beijing. Over the past 16 years, however, Beijing has become noticeably more assertive, often acting with disregard for virtually all norms and principles Germany values dearly. New geopolitical fault lines have also emerged, especially between the U.S.-led liberal order and a yet-to-be-defined Chinese alternative.
This dilemma translated into an ambiguous balancing act vis-à-vis China and the transatlantic and European partners. Merkel generally tended to prioritize Germany's economic imperative over confrontation; she sought to remain neutral and even appeared indifferent at times – especially as of her second term. This nonchalant and taciturn attitude toward both the systemic and the concrete challenges posed by China caused much frustration domestically and among Germany's allies and partners – in Washington in particular.
German Indifference?
Many foreign critics of this seemingly indifferent China policy often fail to account for two fundamental constituents of Germany's China policy.
One, Angela Merkel personally was influenced by the experience of Ostpolitik – former Chancellor Willy Brandt's ultimately successful Cold War doctrine of closer engagement with the communist East, advocating "change through rapprochement and trade" rather than confrontation. In this tradition, Merkel always resisted international pressure, rejecting containment in favor of "change through trade and engagement."
Second, post-war Germany has un-learned geopolitics and strategic calculations – at least beyond its immediate neighborhood. Thinking in strategic terms and engaging in geopolitical balancing is alien to most Germans, who have grown accustomed to outsourcing their security to NATO and the United States – a tendency that Washington had actively encouraged for much of Europe's post-World War II history. Instead, modern Germans see their country as an economic and normative powerhouse, not a security actor. This seeps into the DNA of Germany's political culture.
A "Traffic-Light" Reset
Although it is yet unclear who will succeed Merkel as chancellor, the likeliest bet is a so-called "traffic light" coalition government of the SPD, Greens, and FDP, led by Chancellor Olaf Scholz of the SPD.
Should this materialize, as seems likely, critics of Merkel's somewhat blasé attitude toward Beijing can rest assured that it will retire with her.
First, Merkel's retirement will reduce the chancellery's foreign policy authority – which used to drive China policy – and transfer some power back to the foreign affairs ministry. Under a new foreign minister – Green leader Annalena Baerbock seems most probable – we can expect the ministry to reassert itself and design a Green human-rights-led, normative foreign policy profile.
Second, a "traffic-light" government is ideologically uniquely well-placed to re-evaluate and rethink how to reconcile Germany's economic imperative with current geopolitical dynamics and international norms. The center-right, market-liberal FDP will balance well the center-left agenda of the SPD and Greens.
Lastly, despite their ideological differences, especially the Greens and FDP share the intent to take a stronger stance on China (and Russia). Leading figures from both parties have frequently urged a harder line on China, and their election manifestos anchor this rhetoric in official party agendas.
The new trilateral security pact AUKUS (uniting Australia, the U.K., and the U.S.) puts Germany in a difficult position, and it serves as a pertinent reminder that Berlin cannot continue to indefinitely postpone the question it least likes to ask: Where to position Germany within the unfolding great power competition?
If a new government fails to anchor its China policy in a broader strategy for the future, events and challenges will soon overtake Berlin's capacity to manage them. In the light of the center-left's pacifist base, Germany will not become a "hawkish" balancer of Chinese power. But a "traffic-light" government has a unique opportunity to align more closely with Germany's partners and work toward a united transatlantic position on the challenges posed by Beijing.