The Indians Still Stranded in Afghanistan
At least 100 Indians are waiting to be evacuated from Afghanistan, with New Delhi offering little help or information.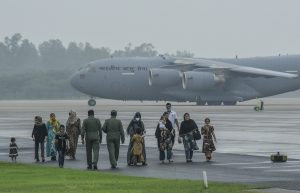 The Indian government has come under huge criticism from a group of Indian citizens stranded in Afghanistan who have received little to no help since the U.S. withdrawal on August 31. The group of at least 100 women and men in different parts of Afghanistan are concealing their identities by wearing burqas (head to toe coverings worn by women) and growing beards, respectively.
"The [Indian] government is yet to decide what to do. We were supposed to leave Afghanistan on 3rd October but it seems we still can't get out. The Ministry of External Affairs themselves don't know what to do," Amar* told The Diplomat.
I called Amar in mid-September, following the U.S. withdrawal. At the time, he was being hustled inside the Pakistani embassy, in order to process visas so he and his friends could get out of Afghanistan. I could hear gunshots and people screaming in the background.
Trying to catch his breath, Amar spoke in a voice thick with frustration: Indian leaders "haven't done anything for us. Get us out. Do something!"
Suman*, an Indian professional working in Afghanistan, told me that the airport was disorderly and chaotic. There were two suicide bomb attacks outside the Hamid Karzai International Airport, the sole airport being used to evacuate expats from Afghanistan at the time.
"We thought it would be best to wait after the chaotic situation at the airport improves. No point deliberately risking your life," Sumai said. But there was another reason to stay as well: "we also wanted to witness how things unfold in Afghanistan and help our Afghan friends who were going through hell!"
Many Indians decided to stay back during the rushed evacuation between the Taliban's takeover of Kabul on August 15 and the full withdrawal of the United States and its international partners on August 31. They were deterred by the chaotic and dangerous situation at the airport in Kabul, where many would-be evacuees lost their lives. Over 180 were killed in a terrorist attack on August 26, and several others were simply crushed by the crowd.
However, it also appears that the Indian government failed to communicate the risks involved in remaining in Afghanistan, including the fact that the government lacked necessary knowledge and experience to schedule additional evacuation flights after August 31. The Indian government has also failed in providing up-to-date information and words of comfort to the stranded Indians as well as their families. Even Twitter-savvy Prime Minister Narendra Modi has continued to remain silent over the issue.
"Yes, we decided to stay back for whatever reasons," said another source who requested anonymity. "That doesn't mean the Indian government should punish us. The [Indian] government didn't clearly communicate that they wouldn't come back for us. They are so incompetent!"
The stranded Indians are mostly professionals who worked with the previous Afghan government, human rights organizations, and NGOs. However, the group have requested anonymity to conceal their identities. Many fear that if the Indian government finds out they are "complaining," they "will be branded as traitors." In particular, they are fearful that the BJP government will punish them for exposing the Ministry of External Affairs (MEA)'s shortcomings, and ruining the so-called shining image of India.
The stranded Indians came together after they created a private WhatsApp group, which includes hundreds if not more, to plan their own evacuation.
"It was like [a] ground effort of Indians coming together to talk to each other and find solutions," explained Manav Sachdeva, a former senior official with the U.N. Afghanistan, currently based in Ukraine, who  has been in close contact with the stranded Indians. According to the WhatsApp group, "an estimated 100 Indians are still trapped in the country after the Indian government failed to evacuate them following the Taliban takeover," Sachdeva said.
He added: "The Indian government is making a fool of the Indians left behind. We really need to highlight their plight. They keep promising they'll get them out but then nothing is being done. They are beginning to get really upset."
Some of the Indians left in Afghanistan worry that the government is in no hurry to bring them home for ideological reasons. "Some Indians have grown to critique the Modi government's apparent bias on the basis of religion. They fear that their statements on secularism and challenging the Indian government's authority may put them at odds with the current national government in India, perhaps even put a target on their back!" said Sachdeva.
Amar told me that a group of Indian citizens, including Indian women stranded in Afghanistan, are "considering land routes to neighboring countries, including Pakistan and Iran." In the absence of appropriate security advice from the Indian government, they are tempted to try their luck with dangerous routes that could cost them their lives.
"Indians cannot go through Pakistan. It's not safe!" Sachdeva said. "Iran is no longer issuing visas to them, the northern corridor countries are all closed and require visas, and there is no seaport."
Evacuation plans began in earnest in Afghanistan after the Taliban takeover of Kabul on August 15. A number of countries began rescue missions to get their citizens out of the country, including India, whose evacuation operation expatriated over 500 people, including 260 Indians from Kabul and Dushanbe. However, the government is yet to evacuate and clearly communicate their plans to those left stranded in a country run by a terrorist group with a history of mercilessly killing innocent civilians, including Indians.
India and Pakistan have long supported opposing sides in Afghanistan and accused each other of using the third country's soil to support terrorists. The current rulers of Afghanistan, an Islamist militant group more closely aligned with Pakistan, have long targeted Indians in Afghanistan. Just in July 2021, Danish Siddqui, an Indian photographer, was brutally killed by the Taliban. Frequent reports and trends from 2003 suggest that Indians have been prime targets for the Taliban.
Amar left India two decades ago to escape unemployment, and has worked in Afghanistan for several years. He hasn't been paid for over three months and doesn't know if he ever will be again. He told me that he is running out of cash and has moved in with friends to save rent and escape isolation. Reports from Afghanistan suggest that banks in Kabul are not fully operational, as the crisis unfolds each day.
"We do go out and meet other people when we can but tend to be in groups. We are short of money. The Banks in Afghanistan have a withdrawal limit of USD 200 a week and we don't have the jobs any longer," said Amar. "We are desperate to get out so that we can reunite with our families who are equally anxious and concerned about the uncertainty we are facing."
"If the situation continues like this, we would have no option left but travel using land routes via Pakistan," said Suman. "It's better than being stuck here. We have families and children waiting back home. We are getting extremely frustrated. We are running out of money."
While Indians stranded in Afghanistan are increasingly getting anxious and worried, Indian news outlets haven't attempted to cover the failure of the Indian government to get their own citizens out of a country ruled by terrorist groups. It is unclear if this silence is meant to shield Modi's image, or being motivated by fear. Proponents of the right wing Bharatiya Janata Party have been attacking their critics using every means at their disposal, from tax investigations to sedition charges and the Unlawful Activities Prevention Act. In either case, the Indian media should speak up and put pressure on the Indian government to evacuate its citizens from a country run by extremists.
"Of course, we are anxious and there is an uncertain situation, but what can we do?" asked Suresh*, another Indian expat stranded in Afghanistan.
Names marked with * are pseudonyms.