Biden, Xi Emphasize Conflict Management at First Virtual Summit
China-U.S. differences were on display, but both leaders also expressed a commitment to keeping tensions from erupting into conflict.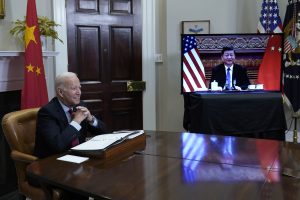 On the morning of November 16, Beijing time, U.S. President Joe Biden held his first meeting with China's President and Communist Party leader Xi Jinping – albeit in a virtual format. The three-hour discussion followed an in-person meeting between U.S. National Security Advisor Jake Sullivan and China's top diplomat Yang Jiechi in Zurich in early October, during which Sullivan and Yang tried to ease tensions in the relationship and committed to an eventual Biden-Xi virtual summit.
A face-to-face meeting, even a virtual one, is "fundamentally different from phone calls," Sullivan said in virtual remarks hosted by the Brookings Institution on November 16. "…This was a big, and I think meaningful, step forward from talking on the phone."
During the discussion, Biden emphasized his long-standing relationship with Xi, which dates back to the Obama administration, when both men were vice presidents. Biden referenced their numerous conversations and exchanges in the past, expressing his hope that "we can have a candid conversation tonight as well." Xi called Biden his "old friend."
The performative bonhomie, however, does not mean it was an entirely smooth conversation. Sullivan emphasized that Biden and Xi's personal history meant that their conversation was "not scripted, it's not just reading off talking points, there is actually a genuine give-and-take." The discussion at times was "incredibly direct, candid, and straight-forward," Sullivan said.
According to the White House read-out, Biden covered all the major issues: human rights concerns, including in Xinjiang, Tibet, and Hong Kong; "the PRC's unfair trade and economic practices"; and "the importance of freedom of navigation and safe overflight" (although the read-out did not directly accuse China of threatening freedom of navigation).
Biden also laid special emphasis on Taiwan, noting that "the United States strongly opposes unilateral efforts to change the status quo or undermine peace and stability across the Taiwan Strait." Sullivan noted that the conversation between Biden and Xi spent a good amount of time on the issue of Taiwan," an indication of the importance both leaders place on the future of Taiwan.
For his part, Xi continued to insist that the United States needed to change its approach to China to one that emphasizes "mutual respect": "The two countries need to respect each other's social systems and development paths, respect each other's core interests and major concerns, and respect each other's right to development. They need to treat each other as equals…" a read-out from China's Foreign Ministry paraphrased Xi as saying.
Xi emphasized that "China will certainly defend its sovereignty, security and development interests," and he spoke at particular length on Taiwan. He warned that the current U.S. approach to Taiwan was "extremely dangerous" and that China would "be compelled to take resolute measures" if "the separatist forces for Taiwan independence provoke us." That said, Xi also offered reassurance that "We have patience and will strive for the prospect of peaceful reunification with utmost sincerity and efforts," an attempt to tamp down fears that a Chinese invasion of Taiwan is imminent.
Xi also complained about what he called the United States' "abusing or overstretching the concept of national security to suppress Chinese businesses" and pushed back against U.S. criticisms on Beijing's human rights record, although the official Foreign Ministry read-out did not specifically mention Xinjiang or Hong Kong, a departure from some previous conversations.
Still, both leaders made clear that they hoped to keep tensions to a manageable level.
"Our responsibility as leaders of China and the United States is to ensure that the competition between our countries does not veer into conflict, whether intended or unintended. Just simple, straightforward competition," Biden said in his opening remarks.
"Common sense guardrails" seems to be the administration's new mantra for managing the risk of conflict with China, as the phrase was repeated by both Biden and Sullivan. What, exactly, those guardrails would be is still unclear, but Sullivan emphasized that "There is no substitute for direct leader-to-leader engagement to prevent miscommunication."
For his part, Xi said that "A sound and steady China-U.S. relationship is required for advancing our two countries' respective development and for safeguarding a peaceful and stable international environment."
"No conflict and no confrontation is a line that both sides must hold," he added.
To that end, both leaders indicated an openness to cooperation on areas such as climate change and public health, alongside continued dialogue on a wide range of issues. Xi, in particular, mooted the idea of resurrecting long-dormant "dialogue channels and mechanisms" covering diplomatic, security, economic, financial, and climate issues. China and the U.S. held regular high-level dialogues, under different names and formats, starting in the George W. Bush administration, but talks derailed under Trump.
The United States also expressed interest in restarting high-level dialogue, although Sullivan framed it slightly differently. In his analysis, such dialogues have to ultimately be guided from the very top, and result in concrete progress. "This relationship needs to be guided by consistent and regular leader-to-leader interaction," Sullivan said, and those top-level interactions should "lead to a series of taskings to senior and empowered interlocutors on both sides who can engage not in dialogue for dialogue's sake, but on practical, tangible issues…"
While the overall relationship is still frosty, the Biden-Xi virtual summit was the second sign in as many weeks that China and the U.S. are finding ways to cooperate and communicated. Last week, the two countries issued a joint statement on climate change, a welcome surprise on the sidelines of the COP26 conference. According to Sullivan, both leaders welcomed the climate change statement and Biden emphasized the need for additional cooperation on the climate crisis.
According to both the White House and China's Foreign Ministry, Biden and Xi also discussed regional issues including Afghanistan, Iran, and North Korea. Sullivan also said the two presidents had tasked teams to coordinate "expeditiously" on global energy supply and pricing issues.