China's Supply Chain Bottlenecks: Winners and Losers
While manufacturers are losing out, logistics companies are making record profits.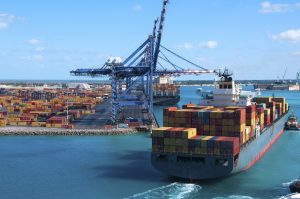 China's supply chains have taken hits from COVID-19, power outages, a shortage of shipping containers, and a sudden surge in consumer demand. Even though U.S. demand has rebounded after COVID-19 vaccines became available, supply and logistics have taken time to catch up. Order fulfillment delays have become pervasive and will continue at least through Christmas. The bottlenecks have produced stark winners and losers.
China's factories made a comeback in 2020 after the country was shut down due to the COVID-19 outbreak, but manufacturing activity has since declined throughout 2021. Yantian port in China remained semi-closed for a month-and-a-half in May and June 2021, while Ningbo was briefly closed in August due to COVID-19 concerns. Factory activity receded in September due to power outages resulting from curbs on electricity use.
At the same time, ports in the United States are overwhelmed with containers that will continue to result in a container shortage in China in the coming weeks. In the ports of Long Beach and Los Angeles, numerous cargo ships have been unable to go ashore, and the waiting period for unloading can be up to 12 days. The unloading event can take around 24 hours, and there is no place to store containers after they are unloaded. There is also a shortage of drivers to haul away empty containers, so there is a massive buildup of empty containers.
Some of those who will miss out on necessary or wished-for items are consumers. Due to these bottlenecks, Christmas items such as decorations, toys and games, artificial trees, and electronics will be in short supply this December. Staples such as toilet paper and bottled water may also be out of stock. Retailers are already struggling to stock their shelves due to the logistics crunch. Items such as kitchen supplies, paper towels, medicines, food products, and numerous other products have been in short supply.
Firms are losing out on potential profits due to delayed shipping and shortages. Toy makers, electronics manufacturers, auto makers, medical equipment and other device producers, and diversified manufacturers have lowered profit outlooks due to supply constraints. For example, 3M slashed its annual earnings forecast, while Apple cut its production targets to 10 million this quarter due to chip shortages and the logistics crunch.
Companies are also paying more for logistics. Some firms have turned to air freight to get goods delivered on time or have chartered entire cargo ships. Container shipping costs have risen tenfold in some cases, placing major strain on firms' profit margins. While some companies are able to pass on costs to their customers, others have absorbed much of the price increase, betting that customers will not be willing to pay more, especially for commodity products.
By contrast, logistics firms such as China's COSCO have benefited from the bottlenecks that have driven shipping costs sky-high. COSCO reported a net profit of 69.59 billion renminbi in the first three quarters of 2021, close to twice the sum of all net profits since 2002. China International Marine Containers Group experienced a net profit in the first three quarters of 8.799 billion RMB, more than a tenfold increase year-on-year. Shanghai International Port Group, which manages port terminals, hit total net profit of 11.74 billion RMB, a year-on-year increase of 95.39 percent and the best performance in its history.
U.S. railroad freight logistics firms Union Pacific, Norfolk Southern, and CSX have enjoyed stock appreciation of about 20 percent. UPS' third quarter revenue was $23.2 billion, a 9.2 percent annual increase, driven by strong domestic and international revenue per package.
While the current situation looks likely to persist into 2022, preventing future bottlenecks is on the minds of firms' leadership teams. Even while firms increasingly have end-to-end supply chain visibility, they are unable to resolve the bottlenecks and instead are left to anguish over containers loitering outside of ports, waiting to be unloaded. Such companies are looking to diversify supply chains and also find more ways to improve supply chain agility.
Agility encompasses the integration of demand and supply, with cross-functional communication that coordinates business planning on a frequent, regular basis. It also requires strong scenario planning to adapt to changing circumstances. This will become increasingly important as climate change takes hold, generating natural disasters, crop failures, and labor migration. The confluence of several shocks, including COVID-19, the energy supply shortage, and rapidly changing consumer demand led to the current crisis, and only agile supply chains will thrive in an uncertain future.