In Europe, President Moon Sought Support for Inter-Korea Peace Process
South Korea's President Moon Jae-in reaffirmed allies' cooperation on the North Korea issue on the sidelines of the G-20 and U.N. climate summits.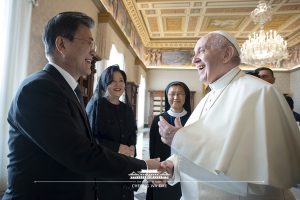 South Korean President Moon Jae-in visited three European countries – Italy, the United Kingdom, and Hungary – from October 29 to November 4. The main purpose of his trip was to attend the G-20 summit meeting in Rome and United Nations climate conference, also known as COP26, in Glasgow.
As developed countries have started making agreements to take actions on climate change, South Korea, the seventh-biggest carbon dioxide emitter, also produced an audacious plan to reduce carbon emission.
Moon pledged to cut greenhouse gas emissions by more than 40 percent by 2030, which is a 14 percent increase from the previous target. Some experts say that the country has set a challenging target, comparing the figure with other countries' goals, but the government reaffirmed its willingness to keep the pledge. South Korea has not been actively cutting greenhouse gas emissions in recent years even while many other developed countries have been notching gradual declines.
But strengthening South Korea's stance and action against climate was not the only item on the agenda for Moon's European tour.
Moon met Pope Francis on October 29 before attending the G-20 summit meeting. As a religious Catholic, whose baptismal name is "Timothy," Moon had met Pope Francis three years ago after he had summit meetings with the North Korean leader Kim Jong Un. At the time, Moon asked for the pope to visit North Korea. Pope Francis welcomed his proposal and expressed his interest in visiting North Korea to promote peace and prosperity in the Korean Peninsula once he received an official invitation from the North.
However, the invitation from Kim never came. Meanwhile, the bilateral inter-Korean talks and North Korea-U.S. nuclear talks have been stalled since the failed Hanoi summit in 2019. Seoul's Ministries of Unification and Foreign Affairs delivered messages asking North Korea to review the proposal of Pope Francis in a bid to persuade Pyongyang to engage in diplomacy again.
Considering the deadlocked negotiations with North Korea, Moon once again asked Pope Francis to visit North Korea during their meeting, saying it could be "a momentum to promote peace in the Korean Peninsula." Pope Francis reaffirmed his optimistic stance on Moon's efforts to build a peaceful Korean Peninsula and reiterated that he would visit North Korea if he received an invitation from Kim.
Seoul expects that a visit by Pope Francis to North Korea would have significant effects in re-engaging the denuclearization process with North Korea, considering the turning point former U.S. President Jimmy Carter made by visiting North Korea in 1994, when the Clinton administration was at the brink of war due to North Korea's growing nuclear capabilities. It would be a powerful breakthrough in inter-Korean diplomacy if Pope Francis visited North Korea this winter, building up momentum that could be carried through to the Beijing Winter Olympics in February.
The Presidential Blue House Spokesperson Park Kyung-mi, however, said that this winter would not be a great time for Pope Francis to visit the North, considering the weather conditions and Pope Francis' limited schedule during winter.
"North Korea could be interested in a visit by the pope as a way to both boost its credentials as a 'normal' country engaged in talks with several countries, and as a way to improve relations with Europe," Ramon Pacheco Pardo, a professor of International Relations at King's College London, told The Diplomat. "But I think that the role of the pope in fostering talks between the two Koreas would be limited."
During his trip to Europe, Moon spoke with allies to reiterate the need to reinvigorate his roadmap for inter-Korean peace, which is a long-time goal for Moon. However, aside from the United States, South Korea's other partners have only limited influence on nuclear talks with North Korea. Washington is the only party that Pyongyang considers as a legitimate dialogue partner on the issue.
Moon had a short chat with U.S. President Joe Biden and shared his efforts toward Pope Francis' visit to North Korea, according to the Blue House. However, Biden delivered only rhetorical support for Moon's efforts to promote peace on the Korean Peninsula, showing a relatively inactive stance on Moon's final attempt to entice the North back to the table before the end of his term.
During the G-20 summit, Seoul also sought to arrange a sideline meeting with the new Japanese Prime Minister Kishida Fumio, but the meeting did not take place. During the G-20, Kishida was busy preparing for upcoming elections in his country and the Japanese leader was only interested in having a meeting with Biden during COP26. Japan-South Korea relations have been fraught with tension since Japan took punitive trade measures against South Korea, in what was widely viewed as retaliation for court rulings that Japanese corporations must pay Koreans for forced labor during the colonial era.