The Gulf States in China-US Rivalry
Insights from Jonathan Fulton.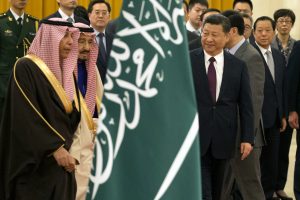 The Diplomat author Mercy Kuo regularly engages subject-matter experts, policy practitioners, and strategic thinkers across the globe for their diverse insights into U.S. Asia policy. This conversation with Dr. Jonathan Fulton – assistant professor at the College of Humanities and Social Sciences, Zayed University in Abu Dhabi in the United Arab Emirates and senior non-resident fellow at the Atlantic Council – is the 295th in "The Trans-Pacific View Insight Series."
Explain the strategic calculus of Gulf states in building relations with China.
The Gulf Cooperation Council countries have long relied on extra-regional partners to help navigate a challenging regional security complex, and since the end of the Cold War we've gotten used to the idea that the U.S. would play this role indefinitely. However, American interests in the Middle East and North Africa (MENA) have been transitioning and there's a strong sense in the Gulf – despite continued U.S. military preponderance – that they need to make provisions for a post-American future, or at least one in which the U.S. role isn't quite so central. As a result, you see the GCC developing stronger ties with a lot of other countries.
It's not just a matter of choosing between the U.S. or China. The European Union, the UK, India, Korea, Japan, and many more are all playing larger roles. China gets more attention because most countries actively engaging in the region are U.S. allies or partners, so the expectation is that they won't challenge the status quo in any fundamental way, while China is America's main strategic competitor and is less likely to bandwagon or accept U.S. leadership.
When Gulf countries consider China, I suspect they see a deeply engaged long-term economic partner with a growing importance across Eurasia and the Indian Ocean region. It makes sense to cultivate the relationship with China, but it has to be emphasized that it is one among many countries with a rising profile here.
Analyze the Gulf states' hedging strategies as China-U.S. rivalry escalates.
For most of this century it was possible for Gulf countries to think of China as an economic partner and the U.S. as a political and security partner, and pursuing deeper commercial ties with China wasn't especially problematic. The Saudis and Americans have a security relationship that goes back to World War II, Oman and the U.S. have had a facilities access agreement since 1980, and the other four GCC countries have had defense cooperation agreements with the U.S. since the 1990s. Despite concerns about a wavering U.S. commitment to the region, it remains the most important extra-regional partner of all the GCC countries. China doesn't offer anything close to the range of political and security commitments that the U.S. does, so any hedging is being done with an eye to the long-term future, I think, rather than a near-term pivot to China.
What is the strategic relevance of the Gulf states to China's broader ambitions in the Middle East?
The Arabian Peninsula is key real estate for what China wants to achieve in the MENA region. On the Persian Gulf side there is the energy component, with much of China's imported oil and LNG coming from Gulf countries, and there's also substantial trade, investment, and contracting for Chinese companies. Looking at the top sources of contracting revenue for Chinese companies in MENA, it's not surprising that since 2005 Saudi Arabia, the UAE, Iran, and Iraq have been major sources of contracts for Chinese construction and infrastructure. So economically the Gulf countries are important partners for more than just energy.
At the same time, their ports and free zones along the coastline of the Arabian Peninsula fit neatly with China's Maritime Silk Road Initiative ambitions, and there have been a lot of projects to align Gulf countries' industrial park and port development with the MSRI. This links business clusters and supply chains from the Gulf to the Arabian, Red, and Mediterranean Seas, helping China reach European markets without costly naval bases. Projects that are first and foremost about economic outcomes are therefore helping serve larger strategic ambitions.
Identify the challenges and opportunities that China poses to Saudi Arabia-U.S. relations.
There is a lot of space between the U.S. and Saudi Arabia on a wide range of issues, with or without the China factor. Despite deep ties at the elite level, the Americans and Saudis don't look like a natural partnership. Support from the White House during the Trump administration masked a lot of the underlying tensions, but there aren't a lot of Saudi allies in either the Democrat or Republican parties. Both countries need to do a lot of work to repair the bilateral relationship, because it is an important one despite their problems.
China has a major role in Saudi Arabia's economy – it is consistently Saudi Arabia's largest trading partner and Chinese companies are engaged in a tremendous range of construction and infrastructure projects throughout the kingdom. There's also a lot of synergy between China's Belt and Road Initiative and Saudi Vision 2030, the economic diversification program that Saudi Arabia hopes can build a more diverse and sustainable economy. Seen that way, engagement with China is an opportunity in that it may help Saudi Arabia achieve its development goals. It can also be seen as a challenge, I suppose, because the tech that Chinese firms are exporting promotes integration into Chinese systems and networks and weakens U.S. dominance in that sphere. We've seen this most notably with the U.S. backlash on the use of Chinese 5G networks.
Assess the key geopolitical and technological risks to the U.S. of China's growing influence in the Gulf states.
At this point I'm not sure that I would say there is a geopolitical risk to the U.S., because China doesn't have much in the way of power projection into the region and it's not altogether clear that the PRC is interested in that anyway. China's interests in the region are primarily economic and it has avoided a larger security role. The U.S. has troops and bases up and down the coast of the Arabian Peninsula, and as I said above, deep security partnerships. China only has a naval support base in Djibouti. More importantly, it doesn't have the naval capability to pose a geopolitical threat to any other countries' interests in the Gulf or MENA.
As far as tech goes, that's a different matter. Chinese firms are making great inroads into the region at each level of the technology stack. In infrastructure, hardware, software, apps, China has a competitive edge. In looking at how China has developed its own "smart" infrastructure in its cities, transportation, commerce, health care, its performance gives it an edge over the U.S. This can lead to spillover effects – tech involves a lot of normative cooperation as well, and one can see how the greater use of Chinese applications will result in greater Chinese influence across other related platforms as well.