Middle Eastern Countries Are Rebalancing Relations With the US and China
Gulf states aren't choosing China over the U.S., but rather weaning themselves away from overdependence on Washington by engaging with a variety of other partners.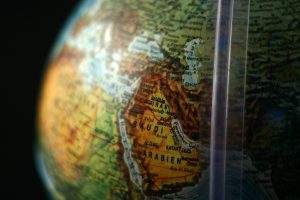 A recent flurry of Chinese diplomatic initiatives in the Middle East seems to be drawing countries closer to Beijing's orbit while chipping away at the United States regional influence. Some analysts have gone as far as to suggest that a "Pax Sinica" is emerging in the region. But Middle Eastern countries are not necessarily viewing these developments in such binary terms.
In March 2023, Riyadh became an official dialogue partner of the Shanghai Cooperation Organization (SCO), a China-led multilateral security organization that includes Russia, Kazakhstan, Kyrgyzstan, Uzbekistan, Tajikistan, India, Pakistan, and (soon) Iran as members. Other dialogue partners include Armenia, Azerbaijan, Cambodia, Egypt, Nepal, Qatar, Sri Lanka and Turkey; Afghanistan, Belarus, and Mongolia enjoy observer status.
Iran is set to be the latest country to have its status upgraded from observer to full member, which will be made official later this year. In the mid-term, Saudi Arabia is aiming to follow suit. The Kingdom's accession to the SCO comes on the heels of a Saudi-Iranian rapprochement brokered by China, which many pundits framed as a signal that a multipolarization of the global order is well underway.
Saudi Arabia's leadership seems to agree with this hypothesis and has been preparing accordingly to navigate this emerging reality. Since becoming crown prince in 2017, Mohammed bin Salman has radically recalibrated Riyadh's foreign policy – which for decades had been dominated by its ties with the United States – adopting a more assertive, multivector approach prioritizing state sovereignty.
Saudi Arabia has at once welcomed Chinese infrastructure and technology to advance its "Vision 2030"; sought weapons and military support from the United States to fend off Iranian proxies across the Middle East; expanded energy cooperation with Moscow in the face of Western sanctions; and cultivated robust economic and security ties with another SCO member and the fifth largest economy in the world, India. The Saudi government maintains open lines of communication with both Moscow and Kyiv and has achieved some sort of rapprochement with Iran while openly entertaining the idea of normalization with Israel.
The Wall Street Journal reported that the crown prince "expects that by playing major powers against each other, Saudi Arabia can eventually pressure Washington to concede to its demands for better access to U.S. weapons and nuclear technology."
While there is a semblance of credence to this assessment, it fails to appreciate that the Kingdom's behavior might be a response to broader shifts in the very character of the global order.
After all, it's not just Saudi Arabia rebalancing its relations with major powers. Other Gulf states have responded likewise to this changing geopolitical landscape: long-standing strategic relationships with Western countries increasingly coexist with their growing economic and energy ties with Eurasian continental powers.
Growing frustration with shifting U.S. priorities and inconsistencies in its engagement with the region has led many Arab states to embrace a more pragmatic national interest-oriented approach. Rather than seeking to align themselves with a single great power, they wish to simultaneously participate in the multilateral orders led by both Washington and Beijing.
Arab countries have expressed their support for Chinese initiatives that advance a multipolar world in joint statements signed at events like the China-Arab States Summit and China-Gulf Summit in December 2022. These include the already well-established Belt and Road Initiative as well as the more nascent Global Security Initiative and Global Development Initiative.
Yet despite some countries entertaining Beijing's calls to create "a new security architecture in the Middle East," none wishes to replace the U.S. security umbrella with a Chinese one. Nor does China necessarily wish to take on this role.
At the same time, Chinese investment, infrastructure, technology, and the multilateral organizations created by Beijing have become an increasingly important component of many Arab states' economic and political diversification strategies. This helps explain why the United Arab Emirates, Bahrain, and Kuwait – all of whom list China as their largest trading partner and the United States as their strategic partner – have all applied to join the SCO as dialogue partners.
Notably, BRICS, a grouping of major developing economies whose founding members include Brazil, Russia, India, China, and South Africa, has also piqued the interest of many Middle Eastern nations. Since China proposed the BRICS+ initiative in September 2021, Saudi Arabia, Iran, the United Arab Emirates, Algeria, Egypt, Turkey, and Bahrain have all indicated their desire to join the club.
BRICS is not a formal free trade bloc. However, members often coordinate on trade matters and even established a policy bank, the New Development Bank, back in 2014 to coordinate infrastructure loans. What's more, BRICS nations have recently declared they intend to create a new currency to diminish the U.S. dollar's global reserve status – a move that was announced amid growing speculation that ​​China and Saudi Arabia may create a petro-yuan to replace the petro-dollar.
Some pundits have sounded the alarm, warning that these moves threaten to  "usurp, or at least shake, the dollar's place on the throne." Meanwhile, others point out that such predictions are grossly overblown, amounting to nothing but noise. These developments may well serve to usher in a more multipolar currency system. Even so, such a system would likely remain dollar-centric, with select currencies orbiting around the dollar for transaction purposes.
Regardless of how these developments unfold, they reflect a growing discontent with a world in which one country calls the shots or sanctions those that fail to fall in line with its idea of how the world should operate. Many Middle Eastern countries have come to share these sentiments and are seeking ways to enhance their strategic autonomy.
If the United States fails to find ways to rebuild trust and credibility among its regional partners, it may find itself sleepwalking into the end of Western hegemony in the Middle East. China's leadership will be all too pleased with this outcome.