US Lawmakers Visit Taiwan Amid Flurry of Diplomatic Activity
The trip came amid a busy diplomatic stretch, including Taiwan-Europe exchanges as well as the Biden-Xi phone call.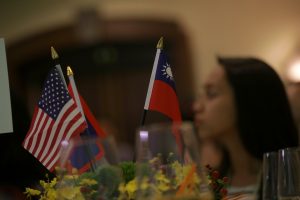 A delegation of four U.S. senators and two members of the House of Representatives was in Taiwan last week, from November 9 to November 11. The visit took place a few days before a virtual summit between U.S. President Joe Biden and Chinese President Xi Jinping on what was Monday night in the U.S. and Tuesday morning in Asia.
The visit by the U.S. delegation also came after a whirlwind of diplomatic activity by the Tsai administration in Taiwan. First, Minister of Foreign Affairs Joseph Wu went on a tour of Europe in late October. Wu visited Czechia and Slovakia, among the Central and Eastern European countries to indicate strengthening ties with Taiwan through vaccine donations and trade talks, with Taiwan and Slovakia signing seven memorandums of understanding regarding economic cooperation in October. Wu's Slovakia stop was not announced prior to the trip.
Likewise, Wu's tour included a surprise trip to Brussels to speak to European Union lawmakers. Wu also spoke by video to the Inter-Parliamentary Alliance on China, a group of European parliamentarians critical of China, on the sidelines of the G-20 in Rome after some speculation about whether he would be attending in person.
The week before the U.S. delegation's arrival, Taiwan saw a visit by seven European lawmakers, with the delegation led by Raphael Glucksmann of France. Other members of the delegation hailed from Austria, Czechia, Greece, Italy, and Lithuania, with meetings conducted with Taiwanese President Tsai Ing-wen, and Digital Minister Audrey Tang.
The visit by the European delegation took place under the auspices of the European Parliament's special committee on foreign interference and disinformation, which is abbreviated INGE, with INGE members touting Taiwan's potential as a regional hub to fight disinformation.
Along with Wu's Brussels trip, the INGE visit has raised hopes that Western European countries who have shrugged off U.S. pressure to decouple from China will follow the lead of Central and Eastern European countries in strengthening ties with Taiwan. The CEE countries have weaker trade ties to China compared to Western European countries, and their interest in strengthening ties with Taiwan is in part driven by reliance on the U.S. for security against the threat of Russia.
The same week as the U.S. legislators' visit, outgoing Honduran President Juan Orlando Hernandez traveled to Taiwan. The Hernandez visit seemed aimed at shoring up relations between Taiwan and Honduras, with the possibility looming of Honduras switching its recognition to Beijing under a new presidential administration after elections later this month. Hernández stayed for three days and left on November 15.
Amid this flurry of activity, it's noteworthy that the U.S. delegation's visit was conducted in a low-key manner. Although Taiwanese media quickly found out about the visit, the names of the visiting politicians were not initially confirmed by the Tsai administration, and the Ministry of Foreign Affairs only issued its formal press release about the visit on November 15. This was several days after the delegation had already left. The participants in the visit were Senators John Cornyn (R-TX), Mike Crapo (R-ID), Mike Lee, (R-UT), and Tommy Tuberville (R-AL), and Representatives Tony Gonzales (R-TX) and Jake Ellzey (R-TX).
The visit complied with the pattern established by the Biden administration, in which trips to Taiwan by high-ranking U.S. politicians are announced shortly in advance, with only a few hours' notice or no notice at all. That was the case with the June visit of Senators Tammy Duckworth (D-IL), Chris Coons (D-DE), and Dan Sullivan (R-AK), in which they announced a donation of 750,000 vaccines to Taiwan on behalf of the Biden administration. Like the more recent visit, the June visit saw the U.S. delegation traveling to Taiwan via military transport plane, and departing from another point on their itinerary in Asia.
The Biden administration's approach may be aimed at differentiating itself from how the Trump administration conducted diplomatic visits to Taiwan, with visits by Under Secretary of State Keith Krach and Secretary of Health and Human Services Alex Azar telegraphed in advance and widely publicized. The Biden administration likely aims to minimize the window of opportunity for China to respond, as well as helping such moves come off as substantive, rather than primarily for quickly hitting back against China. Taiwan has also seen more visits by elected representatives than administration appointees under Biden.
The Tsai administration may prefer this approach, having faced significant upticks in air incursions into Taiwan's Air Defense Identification Zone from China in the past two months. That being said, this low-key approach prevents the Tsai administration from trumpeting the diplomatic visits as representing policy achievements in strengthening ties with the U.S., something that Tsai's Democratic Progressive Party (DPP) might like to tout for future elections.
The U.S. delegation also visited the Philippines and India as part of its itinerary. The delegation met with commander of U.S. Indo-Pacific Command Admiral John C. Aquilino in Hawaii and representatives of the Dalai Lama in India.
The members of the delegation include politicians responsible for proposing pro-Taiwan legislation in Congress such as the Taiwan Deterrence Act, TAIPEI Act, and CHIPS for America Act. The Taiwan Deterrence Act in particular calls for financing military procurements by Taipei and may be seen in line with calls by Republicans hawkish on China to shift the U.S. away from long-standing policies of strategic ambiguity toward strategic clarity. Given that the TAIPEI Act is focused on preserving Taiwan's diplomatic relations with its remaining allies, the timing of the U.S. visit concurrently with Honduran President Juan Orlando Hernandez's trip to Taiwan is worth noting.
What has raised some questions, however, is the fact that the visit was wholly Republican and was not bipartisan in nature. As a result, even if the delegation maintained the approach of the Biden administration to diplomatic visits, it is questionable to what extent it reflects the Biden administration's will. The visit could have been aimed at pushing the Biden administration on the issue of Taiwan. Or, alternatively, it could be read as a move aimed at reassuring Taiwan ahead of the Biden-Xi summit.
In comments, Senator John Cornyn stated that the purpose of the visit was to learn how the U.S. could assist Taiwan's defense and strengthen economic ties. High-level security talks are scheduled to take place between the U.S. and Taiwan this week as well.
There was some speculation in Taiwanese media as to whether the visit was aimed at regularizing diplomatic relations between the U.S. and Taiwan – and whether this could be interpreted as a move that pushed the U.S. position on Taiwan further toward strategic clarity. This was a salient question in light of the possibility of Biden shifting policy after his meeting with Xi.
In October, following the Chinese air incursions, Biden suggested agreement between the U.S. and China on the issue of Taiwan when there is officially none, stating that he and Xi had both agreed to abide by the "Taiwan agreement." There is no agreement between the United States and China by that name.
Later on in the month, Biden caused further confusion after comments during a CNN town hall suggesting a U.S. commitment to defend Taiwan. The White House quickly walked back these comments, though U.S. Secretary of State Antony Blinken later made remarks in November that he believed the United States and its allies would take some form of action if Taiwan were attacked.
One day following the virtual meeting with Xi, Biden stated that, on the question of Taiwan, was "We made very clear we support the Taiwan Act, and that's it." Biden then stoked confusion by saying that, for Taiwan, this means "Its independence" and that "It makes its own decisions." The United States has never formally recognized Taiwan's independence, which is a red line for Beijing. This seemed to be walked back with comments by Biden an hour later, in which Biden stated that "They have to decide – Taiwan, not us. We are not encouraging independence."
Due to this history of confusing statements and flip-flops, while outright calls to abandon strategic ambiguity are still more common from Republican hawks, the Biden administration is itself perceived as increasingly ambiguous on whether it still adheres to strategic ambiguity.
Media focus on Biden's remarks suggesting commitment to defend Taiwan in late October arguably overshadowed his comments earlier that month suggesting compromise with China regarding Taiwan. Biden's post-summit comments will only add fuel to the fire. While there has been no official shift in the U.S. policy, there will be those that speculate that this ambiguity on strategic ambiguity is deliberately intended to push the line of the U.S. position on Taiwan without announcing a policy shift.
So as to reassure that the United States and Taiwan continue to act in coordination, Taiwan's representative to the U.S. Hsiao Bi-khim has stated that she was aware ahead of time about the Biden-Xi meeting. Tsai also thanked the Biden administration for stating that it opposed any unilateral attempts to change the status quo after his summit with Xi, another example of how Tsai has sought to adhere to the status quo in order avoid ruffling feathers or jeopardizing U.S. support.
But regardless, the latest exchanges, including the U.S. delegation's visit, are likely to be interpreted in the frame of the increasingly complex debate regarding strategic clarity and strategic ambiguity, with the stance of the Biden administration now no longer perceived as being as clear-cut as before.