Is There a Kishida Doctrine?
Even from retirement, former Prime Minister Abe Shinzo continues to cast a long shadow over Japan's foreign policy.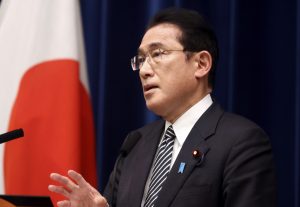 Prime Minister Kishida Fumio is finding it hard to emerge from the shadow of former Prime Minister Abe Shinzo (2006-07, 2012-2020). Kishida faces high expectations for deft diplomacy because he was Japan's longest serving foreign minister (2012-2017) in the postwar era, but in reality Kishida never got much of a chance to shine because Abe was de facto foreign minister.
Kishida is probably most remembered for his role in reaching two flawed accords with South Korea in 2015. After much public jousting, Seoul and Tokyo reached agreement on UNESCO World Heritage designation for Meiji Industrial sites, contingent on Japan posting signage affirming that Koreans were forced to work at the sites. This rare feel-good moment in bilateral relations was quickly dissipated by Kishida's comments at the press conference announcing the deal, where he asserted that being forced to work is not the same as forced labor.
Why Kishida felt compelled to rain on the parade by making this dubious distinction is uncertain, but probably he was concerned that right-wing nationalists in Japan might criticize him. Alas, the glimmer of goodwill evaporated, and Japan looked more churlish than contrite.
This incident is an example of a deeper problem: Under Abe's aegis, historical revisionists became more aggressive in denying, downplaying and shifting responsibility for abuses committed by Japan during the colonial and wartime eras. Their exculpatory and vindicating narrative of Japan's shared past with Asia has been mainstreamed domestically, roiling regional relations.
Kishida also reached a deal with his South Korean counterpart at the end of 2015 regarding the comfort women. Although touted as "final and irreversible," the agreement was dead on arrival for number of reasons. Prominent among these was the absence of a public apology by Abe; second-hand reports of one in a phone call with then-Korean President Park Geun-hye fell well short of the grand gesture needed to heal this deep wound. Subsequently Abe rebuffed President Moon Jae-in's request for a public apology.
The deal also fell short because it was negotiated in secret likes an arms deal, without consulting the comfort women or their advocates. Moreover, the deal involved a dubious quid pro quo. Tokyo expected the South Korean government to remove the comfort woman statue in front of the Japanese Embassy in Seoul and not raise the comfort women issue internationally in exchange for about $9 million in hush money for distribution to the dwindling ranks of elderly survivors. It did not help that the deal was negotiated with President Park – a year later, she was on her way out of office due to cronyism allegations that lead to her impeachment.
It may not be fair to read too much into these diplomatic fiascos, however, as Kishida may have had his hands tied and was only executing Abe's agenda.
Looking forward, Kishida inherits the same set of foreign policy challenges that Abe and Suga Yoshihide made little headway on. Despite all the fanfare and global grandstanding, in his biography of Abe entitled "The Iconoclast," Tobias Harris concludes that Abe achieved remarkably little, especially in his regional diplomacy. Relations with China and South Korea remained chilly and there was no progress on territorial disputes with these neighbors. Nor was there any progress on North Korea and the abduction issue. In a bid to overcome the Northern Territories dispute with Russia, Abe met Vladimir Putin more than any other world leader, but had nothing to show for his efforts. Putin seemed to lead a credulous Abe on, as a way of driving a wedge between Tokyo and Washington over the U.S. policy of isolating Moscow due to its 2014 seizure of Crimea.
In South Korea, Tokyo is hoping that former prosecutor general Yoon Suk-yeol, the presidential candidate for the conservative People Power Party (PPP), prevails in the elections next March because his opponent, Lee Jae-myung, from current President Moon's Democratic Party, has taken a harder line on the history issues that have derailed bilateral issues. Whoever wins, it is hard to predict smooth sailing as the forced labor and comfort women issues continue to fester, but with Yoon there is a possibility of hitting the reset button. Washington is frustrated that its two allies remain at odds over their shared past and will continue to pressure them to nurture a better working relationship to counter contemporary threats in the region.
Kishida's China Challenges
Kishida has been dealt several early surprises that are testing his foreign policy leadership: Abe's controversial speech warning China that it's playing with fire over Taiwan, joint Sino-Russian naval and air patrols around Japan, and U.S. President Joe Biden's diplomatic boycott of the Beijing Winter Olympics.
Abe's bombshell speech to a Taipei-based think tank on Japan-Taiwan relations on December 1 has further soured relations with Beijing. Abe warned China against invading Taiwan, urging it "not to step onto a wrong path" adding, "Military adventure would lead to economic suicide." Noting that an invasion of Taiwan would be a threat to Japan, Abe also asserted that it would be "an emergency for the Japan-U.S. alliance," calling on President Xi Jinping not to miscalculate the allies' resolve.
Abe's rhetorical saber rattling over Taiwan continues a pattern of increasingly bold statements by Tokyo, including a joint communique with the United States in April 2021 that included a line stating: "We underscore the importance of peace and stability across the Taiwan Strait and encourage the peaceful resolution of cross-Strait issues." This may seem like a fairly bland statement, but it was the first time since 1969 that the allies issued a joint statement naming Taiwan. Back in 1969 the Taiwan clause was included to reassure the U.S. that it could use its bases in Okinawa after reversion in 1972 in the event of a contingency in the Taiwan Straits.
No longer constrained by leadership responsibilities, Abe's recent speech played to his hawkish constituency by inflaming a tense situation. Perhaps signaling limelight deprivation syndrome, Abe subsequently repeated his warning on Japanese television, adding that an attack on a U.S. vessel would allow Japan to invoke its right to collective self-defense, alluding to unpopular legislation he rammed through the Diet in 2015 that was designed to skirt constitutional constraints on Japan's military.
There was speculation that Kishida's appointment of Hayashi Yoshimasa as his new foreign minister following a post-election cabinet reshuffle, replacing Abe's protégé Hagiuda Koichi, presaged closer engagement with China as the two nations gear up for the 50th anniversary of normalization of relations in 2022. Hayashi had headed a Diet group advocating improved ties with China and was invited to Beijing soon after his appointment as foreign minister.
Abe's blunt warnings, however, will complicate engagement and celebrations because as a former premier and now head of the LDP's largest faction, his influence is immense. Beijing reacted harshly with its own warnings. Perhaps this might be a bad cop/good cop gambit, with Abe drawing red lines while Kishida pursues dialogue, but more likely it is a way for Abe to box in Kishida and Hayashi.
Moreover, signs of increased cooperation between China and Russia are a troubling development that is propelling increased defense spending. This has plateaued for several years at about $50 billion, but the LDP promised to boost that number to 2 percent of GDP, twice the current level, in its election manifesto.
In his Diet policy speech, Kishida sought a $6.8 billion supplementary defense budget to boost Japan's military arsenal and raised the possibility of acquiring enemy base strike capabilities, a gambit that critics insist violates Japan's war-renouncing constitution.
In boosting total defense spending to $53 billion in FY2021-22, up 15 percent from the previous year, Kishida has also agreed to increase payments to Washington for hosting U.S. bases and is committed to pursuing the ill-fated Henoko base construction project, in part because the regional risk environment deteriorated sharply on Abe's watch.
It remains to be seen whether Kishida will go beyond Abe's empty grandstanding on values diplomacy and human rights. As prime minister, Abe was circumspect about China's crackdown on Hong Kong and the Uyghurs even as he promoted the concept of a Free and Open Indo Pacific and shared values. Kishida has named Gen Nakatani, a China critic, as his czar for human rights, a newly created position that suggests Tokyo might take a harder line.
Yet, Japan has long been wary of risking anything in support of human rights or opposing democratic backsliding. Given that China is Japan's biggest trading partner, and crucial to a sustainable economic recovery, it seems unlikely that Tokyo will suddenly find its backbone, wishful thinking notwithstanding. Biden's decision to boycott the Beijing Olympics, citing ongoing genocide against the Uyghurs, put Kishida in a tight spot since Washington seeks solidarity on values diplomacy while Japanese corporate interests and diplomats advocate business as usual.
Meanwhile, despite his circumspect stance while in office, Abe has pressured Kishida to join a U.S. diplomatic boycott of the Beijing Winter Olympics. It appears that Kishida is trying to walk the tightrope by not attending himself or sending any Cabinet ministers to the Beijing Winter Olympics 2022 to appease Washington (and LDP hawks) while dispatching a delegation of high-ranking Olympic sports representatives as a sop to Beijing. This boycott-lite will add to the chill in bilateral relations with China.
A Kishida Doctrine?
It's probably too much to expect a distinctive Kishida Doctrine. It's more likely that he will follow Abe's faltering lead on security and diplomacy, meaning continuity at a time when Japan might benefit from upping its diplomatic game by constructively engaging with adversaries. A priority should be rescheduling the summit Abe had planned with Xi in April 2020, which was called off due to the pandemic. Japan and China have much to discuss as they mark the 50th anniversary of normalization of relations amid heightened tensions. At a press conference on December 21, Kishida reiterated his intention to prioritize a summit with Biden before reaching out to any other leader, but he should remember that when Abe became prime minister in 2006 his first overseas trip was to Beijing to engage in fence mending.
Given frosty relations now, a low-expectations Japan-China summit might help Kishida burnish his leadership credentials by jumpstarting dialogue about the security issues that divide the nations and threaten the region. After all, face-to-face diplomacy is essential to go beyond the dead-end of lobbing recriminations.