Mirziyoyev Meets Moon: South Korea, Uzbekistan Aim to Deepen Special Strategic Partnership
A possible free trade agreement and hopes for rare earth supplies underscore a strengthening South Korea-Uzbekistan relationship.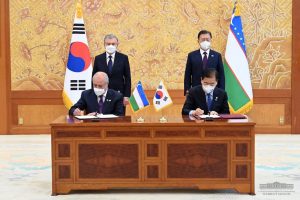 In welcoming Uzbek President Shavkat Mirziyoyev last week, South Korean President Moon Jae-in called him "brother." Moon remarked that his first summit of 2021 took place virtually with Mirziyoyev and his final summit was during Mirziyoyev's in-person visit from December 16-18. 
The two leaders signed a joint statement on deepening the special strategic partnership, and a handful of agreements related to health care, development, and foreign affairs cooperation for the 2022-2024 period, as well as memorandums related to developing dialogue on energy, smart city and smart farm developments, ICT, electric vehicles, and diversification of rare earth supply chains.
This was Mirziyoyev's second state visit to South Korea, the first having taken place in November 2017. Moon made the trip to Uzbekistan in April 2019 when the two countries elevated their ties from a strategic partnership to a special strategic partnership. A number of other officials have made bilateral visits in the past five years, underscoring a relationship that may not make headlines but is nevertheless important for both partners. The two will mark 30 years of relations in late January 2022.
Uzbekistan and South Korea, per the joint statement, have made progress on a free trade agreement, with hopes to sign it in the coming year. South Korea also expressed support for Uzbekistan's pursuit of World Trade Organization membership. Uzbekistan started negotiations to join the WTO in 1995, though the process stalled definitively after 2005. In 2020, Uzbekistan resumed its pursuit of WTO membership, though in tandem with its arguably more active flirting with the Russia-led Eurasian Economic Union (EAEU).
Perhaps the most lucrative aspect of the joint statement related to rare earth metals. Per the Korea Times, the joint statement read in part: "With the Korea-Uzbekistan research center on rare metals, which was established in April 2019, the two countries agreed to link Uzbekistan's natural resources such as copper, tungsten and molybdenum with Korea's advanced processing technologies, in order to jointly develop technologies for producing materials for advanced industries." This follows South Korea's ongoing efforts to diversify sources of critical materials for its technology sector, evidenced by similar commitments of cooperation made with Kazakhstan earlier this year. The diversification would also benefit Uzbekistan.
Moon noted that around 910 Korean businesses are currently operating in Uzbekistan, and commented that the two sides were pushing forward in a variety of projects "involving agricultural machinery and energy as well as the construction of power and other plants."
According to the South Korea Ministry of Foreign Affairs, bilateral trade in 2021 amounted to $5.33 billion, almost all of it exports from South Korea to Uzbekistan and only $70 million imports from Uzbekistan. Back in 2017, bilateral trade was $2.14 billion, only $22 million of which were Uzbek exports to South Korea. Despite the imbalance in the trade relationship, it's clear that it has grown significantly in the last few years. At present, Uzbekistan's exports to South Korea are dominated by paper pulp, yarn, and cotton; whereas South Korea exports car parts, cars, and a whole host of machinery (from valves to engines) to Uzbekistan. Adding rare earths to the Uzbek side of the ledger would certainly increase the value of Uzbek exports to South Korea and further boost the overall trade volume.
Moon and Mirziyoyev rose to power around the same time, with Mirziyoyev becoming president after the death of Islam Karimov in the fall of 2016 and Moon winning election in May 2017. This will likely be their final meeting as presidents: Mirziyoyev secured a second term in a flawed October 2021 election, but, given South Korea's single term limit for presidents, Moon is set to step down after the March 2022 election.