New Zealand's Conflicted China Strategy
China strategy dominated New Zealand's foreign policy year, but the government has yet to find a consistent position.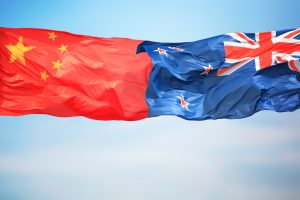 Ambiguity and contradiction over China have been hallmarks of New Zealand's foreign policy throughout 2021. In this respect, the government's hawkish new defense assessment, coupled with conflicting comments by ministers about New Zealand's view on a diplomatic boycott of the upcoming Winter Olympics in Beijing, was a fitting end to the year.
The assessment, released on Wednesday, bluntly called out China as "seeking to reshape the international system." In tone and in substance, the document comfortably put New Zealand on the same page as the Australia and the United States.
But comments made the same day by Deputy Prime Minister Grant Robertson played down the idea of New Zealand joining a diplomatic boycott of the Olympics and provided just enough room to suggest that there was daylight between Wellington and its Western partners after all. Robertson claimed "logistics of travel and so on around COVID" were the reason why New Zealand government ministers would not be attending the Olympics.
But the face-saving explanation – at least from Beijing's perspective – appeared to be contradicted on Thursday when Trade Minister Damien O'Connor explicitly endorsed a diplomatic boycott when questioned at Parliament's Foreign Affairs, Defense and Trade Select Committee.
This week's contradictions were the latest in a series of ambiguities that have been at work all year.
Whatever your personal view is on China, you can probably find a position taken by the Labor Government in 2021 that you can agree (or at least live) with.
For hawks, this week's defense assessment and New Zealand's unusually forthright condemnation of Chinese state-sponsored cyber hacking in July will go down as highlights.
For doves, the biggest wins probably came with Foreign Minister Nanaia Mahuta's very public declaration in April that New Zealand would not sign up to future joint statements from the "Five Eyes" grouping that criticized China, along with the government's vetoing in May of a parliamentary motion that would have recognized China's treatment of Uyghurs in Xinjiang as genocide.
The seemingly contradictory stances on China that New Zealand has taken throughout 2021 – and there are many others to choose from – might be seen as a textbook case of strategic ambiguity.
And if so, the concept hasn't worked out too badly so far. New Zealand's annual NZ$20 billion worth of exports to China have thus far remained untouched by the kinds of retaliatory tariffs imposed by Beijing on Australia.
Can New Zealand really have its cake and eat it too? Maybe.
But it would be wrong to assume that a strategy – if it indeed is one – that seemed to work out in 2021 will continue to be successful in 2022.
Moreover, the idea that New Zealand is taking a balanced position on China is becoming harder to sustain.
While New Zealand initially appeared to be happy to stay out of the new top-level AUKUS defense pact between Australia, the U.K., and the U.S., comments in October by Annette King – New Zealand's High Commissioner to Australia – and this week by Defense Minister Peeni Henare suggest that New Zealand may get involved to some degree after all. If New Zealand does become linked with AUKUS – in whatever form – it is hard not to see China taking retaliatory action in some way.
Elsewhere, the defense portfolio has offered other signs that New Zealand may be inching towards the Western position, especially during the second half of the year. In October, New Zealand Navy frigate HMNZS Te Kaha participated in exercises with the U.K.'s Carrier Strike Group and others in the South China Sea. And last month, the USS Howard warship docked in Wellington – a relatively rare visit full of pointed symbolism, given the falling-out between the United States and New Zealand after Wellington's refusal to allow entry to the USS Buchanan in 1985 because of the nuclear-free policy introduced by the Fourth Labor Government.
Mahuta may also be shifting her thinking, after she initially appeared to want to make a clean break with the openly pro-U.S. stance taken by her immediate predecessor, Winston Peters.
Prior to her criticism of the Five Eyes joint statements in April, Mahuta had given an interview to Reuters last December in which she suggested APEC could be an opportunity for New Zealand to mediate growing tensions between Australia and China. And Damien O'Connor, the trade minister, seemed to reinforce Mahuta's stance when he told CNBC in January that Australia should "should follow us and show respect" to China.
O'Connor's remarks were soon walked back by Prime Minister Jacinda Ardern. Mahuta's were not, but the ferocity of the criticism from the pro-Western camp at her remarks may have given her pause for thought.
Whatever happened behind the scenes, fast forward to the end of the year and something seems to have changed.
In substance if not style, Mahuta's speech to the New Zealand Institute of International Affairs (NZIIA) in November that addressed "Pacific resilience" represented a natural continuation of Peters' "Pacific reset" policy. That policy, announced in early 2018, was unmistakably aimed at countering Chinese influence in the region.
Moreover, the fact that Mahuta chose to visit Australia, the United States, and Canada – three of New Zealand's four other Five Eyes partners – on her recent inaugural foreign trip is also hard to overlook when it comes to symbolism.
Indeed, the constant Western overtures to New Zealand may be proving hard for New Zealand to turn down. Mahuta's invitation to meet U.S. Secretary of State Antony Blinken in Washington last month, October's lucrative free trade deal with the U.K., and the opportunity to participate in high-profile military exercises were just a few of the examples of the carrots given out to New Zealand this year.
Overall, New Zealand's ambiguous China strategy was successful in 2021. But as this week showed, the stakes are getting higher and higher.
There is no guarantee that the same game plan will succeed in 2022.
This article was originally published by the Democracy Project, which aims to enhance New Zealand democracy and public life by promoting critical thinking, analysis, debate, and engagement on politics and society.