After Resuming Trade With China, North Korea Fires Another 2 Ballistic Missiles
A day after a North Korean train crossed the border to get goods from China, the country conducted its fourth missile test in two weeks.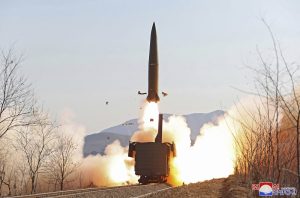 North Korea fired two missiles eastward from Sunan Airfield in Pyongyang on Monday, according to South Korea's Joint Chiefs of Staff (JCS). The missiles – suspected to be short-range ballistic missiles (SRBMs) were launched at 8:50 a.m. and 8:54 a.m. Korea Standard Time (KST), respectively, and flew about 380 km at a maximum altitude of 42 km, the JCS said.
Today's missile test came three days after North Korea tested two railway-borne SRBMs on January 14, and marked the North's fourth missile test in less than two weeks. North Korea also launched what it called hypersonic missiles on January 5 and January 11.
South Korea's JCS said it is analyzing more details on the type and performance of the latest missiles with the U.S. military. Based on the information released by the JCS so far, the missiles could be North Korea's KN-23, KN-24, or KN-25 missiles.
North Korea has not yet published any information on the performance of the missiles. Based on previous launches, state media will likely publish detailed information on the missile tests around 6-7 a.m. KST on Tuesday.
South Korea's National Security Council held an emergency meeting hours after North Korea launched the two "apparent" SRBMs on Monday. In a statement after the meeting, the NSC called the North's missile tests "very regrettable," a slightly stronger response compared with its expression of "strong regret" after previous tests.
North Korea has conducted four missile tests so far this month. The two railway-borne SRBMs launched on Friday were perhaps the most eye-catching, bringing more attention from the U.S. and South Korea. That test was conducted in the afternoon – which was unusual as North Korea usually test-fires missiles in the early morning KST – and came hours after Pyongyang released a statement condemning the U.S. decision to impose sanctions on six North Korean individuals who are involved in the country's weapons of mass destruction (WMD) and ballistic missile programs.
North Korea had already conducted hypersonic missile tests on January 5 and 11 to prove its advanced missile technologies after Seoul downplayed the performance of its "apparent" hypersonic missile launched on January 5 as "a general ballistic missile."
Pyongyang is showing its military might by repeatedly violating the U.N. Security Council resolution that bans North Korea from testing and developing any type of ballistic missiles.
"By now, Kim Jong Un has effectively achieved his goal of normalizing his SRBMs since resuming tests on May 4, 2019," Lee Sung-yoon, a professor in the Fletcher School at Tufts University, told The Diplomat. While Pyongyang has been testing SRBMs, Lee raised the possibility that Pyongyang could "move on to bigger provocations by resuming intermediate and long-range missile tests, possibly punctuated by a missile-borne nuclear test in the skies above the Pacific."
North Korea has not conducted any intercontinental-range ballistic missile (ICBM) launches or nuclear tests since November 2017. North Korean leader Kim Jong Un had announced a self-imposed moratorium on such tests as part of nuclear negotiations with then-U.S. President Donald Trump. However, Kim said in December 2019 that he no longer felt bound by his self-moratorium on nuclear and ICBM tests, meaning North Korea could test ICBMs – including missiles capable of reaching the U.S. mainland – in the future.
North Korea's recent SRBM tests clearly showed Kim's strong will to beef up his country's nuclear and missile capabilities. Compared with previous missiles tests in the last weeks, however, today's missile test came unexpectedly a day after North Korea resumed trade with China by cargo train in a bid to solve the country's devastating food shortages.
According to media reports, the train crossed the border from Sinuiju to Dandong, a Chinese city near the border with North Korea, on Sunday and headed back to Sinuiju on Monday. Another cargo train crossed the border to head to Dandong on Monday, implying North Korea and China unofficially agreed to resume trading even though North Korea has been reluctant to reopen the borders due to the COVID-19 pandemic. Reports indicated that the basic necessities of life such as flour, sugar, and cooking oil may have been the train's cargo, along with some chemical products and goods requested by the North's leadership
Cheong Seong-chang, the director of the Center for North Korean Studies at Sejong Institute in South Korea, told The Diplomat that it would take about 10 days to disinfect the train to bring the goods inside the country. If no issues emerge from this trade, North Korea will likely open the New Yalu River Bridge in late February, a move that would allow more personal exchanges from April between Pyongyang and Beijing, Cheong said.
North Korea closed its border and halted exchanges starting in late January of 2020, when coronavirus cases surged in China. Pyongyang completely suspended all trade with China, worsening the food shortages and economic crisis from the U.N.-led economic sanctions.
Last year, North Korea tried to reopen the border to get goods and supplies from China, but its disinfection system was not ready to cope with an unexpected emergency situation. Despite the resumption of trade with China on Sunday, it is still in doubt whether North Korea has a reliable disinfection system to prevent the spread of COVID-19 after reopening trade and exchanges with China.
Restarting trade with China could be a signal that North Korea would consider re-engaging international diplomacy. However, Kim is unlikely to respond to any of the United States' and South Korea's efforts to restore the stalled talks, considering the North Korean Foreign Ministry's recent remarks on the U.S. sanctions: "If the U.S. adopts such a confrontational stance, the DPRK will be forced to take stronger and certain reaction to it." (DPRK is an acronym of North Korea's official name: Democratic People's Republic of Korea.)
Given those comments, and Kim's promise to respond with "goodwill to goodwill, strength to strength" in his approach to the nuclear talks and inter-Korean relations, today's missile launch signals that North Korea will not succumb to the U.S. sanctions and "double standards" on the military activities conducted by the two Koreas. It will likely keep testing SRBMs until the international community recognizes it as a nuclear power, even while focusing more on reviving the country's economy and developing rural areas for this year.
With the Beijing Winter Games less than three weeks away, some expected North Korea to pause its missile tests until the end of the Olympics, especially given the overture to renew China-North Korea trade. However, Pyongyang tested SRBMs again on Monday, raising more tensions and concerns on the Korean Peninsula that could affect China's plan to host a successful Olympics in a peaceful mood.