Cambodian PM Calls on Myanmar Junta to Implement ASEAN Peace Plan
Cambodia says the junta's participation in ASEAN meetings is dependent on progress in implementing its peace plan. But how will it define progress?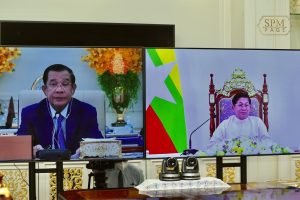 Cambodia's Prime Minister Hun Sen has urged Myanmar's military junta to make "persistent and concerted efforts" to implement an Association of Southeast Asian Nations (ASEAN) peace plan. Speaking as this year's chair of ASEAN, the Cambodian leader made the appeal in a video call yesterday with Senior Gen. Min Aung Hlaing, who led last February's coup and has presided over the country's subsequent descent into economic and political turmoil.
According to the official readout of the call from the Cambodian Foreign Ministry, Hun Sen said that his government was "deeply concerned over the persistent violence in Myanmar" and called on him to implement ASEAN's plan, which is known as the Five-Point Consensus. "Persistent and concerted efforts to implement the Five-Point Consensus should remain a priority," Hun Sen stated, according to the readout. Hun Sen also urged Myanmar's military administration to allow a visit of ASEAN's special envoy and to support humanitarian aid access.
The Five-Point Consensus, which was agreed at a special ASEAN summit last April, calls for both of these points, as well as a cessation of violence and political dialogue involving "all parties."
The call comes after Hun Sen made a trip to Myanmar on January 7-8, during which he held direct talks with Min Aung Hlaing aimed at resolving the country's crisis. While the Cambodian government claimed that the talks marked a "progressive step forward," the trip was widely criticized for conferring de facto legitimacy on the coup government and marking a step away from more robust approach that coalesced under last year's chair, Brunei. This culminated in the (for ASEAN) drastic step of disinviting coup leader Min Aung Hlaing from the bloc's last summit in October, for the junta's lack of action in implementing the Five-Point Consensus.
Intra-ASEAN disagreement was probably the reason that Cambodia postponed the ASEAN Foreign Ministers' Retreat, which was due to be held in Siem Reap last week, after several ASEAN foreign ministers said they would have "difficulties" attending. In the subsequent days, four Southeast Asian nations – Singapore, Malaysia, Indonesia, and the Philippines – would go on to express reservations about Cambodia's approach, with Singapore's Prime Minister Lee Hsien Loong saying that there had been "no progress" on the Five-Point Consensus.
Hun Sen's call came a day after the Cambodian leader told Malaysia's Prime Minister Ismail Sabri Yaakob that he had invited Min Aung Hlaing to the next ASEAN summit, on the condition he makes progress on the Five-Point Consensus.
Taken together with Hun Sen's call with Min Aung Hlaing, this would seem to suggest that Cambodia has reverted at least partially to ASEAN's previous position on restricting Myanmar junta's access to ASEAN events if it fails to make headway on the Five-Point Consensus.
The key, however, is how one defines "progress." The Myanmar junta has so far shown no interest in implementing ASEAN's plan, arguing that it will first fulfill its own five-step "roadmap," which essentially requires the crushing of the anti-coup resistance. In this context, even apparent concessions can't be taken to reflect a commitment to the letter, let alone the spirit, of the Five-Point Consensus.
One such possible concession was dangled yesterday by a junta spokesperson, who said that the military administration might be willing to allow ASEAN's special envoy to meet with "moderate" members of the ousted National League for Democracy (NLD) government, after refusing ASEAN delegations any access to senior members of the government, including State Counselor Aung San Suu Kyi and President Win Myint. This seems tailored to offer just enough for the ASEAN chair to proclaim a breakthrough and confirm the junta's invitation to the next ASEAN Summit. At the same time, there is scarce chance the junta will grant the envoy access to senior officials, or any who are active in the opposition National Unity Government.
In the end, ASEAN's disagreements over whether to engage directly with Myanmar's junta may simply be funneled into the question of how it defines "progress," and the extent to which its member states are willing to accept words or gestures in place of substantial actions.