China's COVID-19 Border Restrictions Wreak Economic Havoc in Southeast Asia
Tighter customs clearance procedures have led producers to dump truckloads of fruit by the roadside.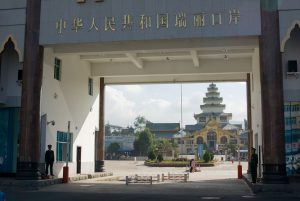 Strict Chinese border controls imposed to prevent COVID-19 outbreaks ahead of next month's Beijing Winter Olympics have wreaked economic havoc for neighboring countries in Southeast Asia, grinding the usually busy border trade to a halt. In late December, China began tightening its customs controls at land border crossings in order to keep a lid on a COVID-19 outbreak in the city of Xi'an, which was placed under lockdown in order to prevent any disruption of the Olympics.
The result has been economic turmoil, as shipments of perishable agricultural goods have been stuck at clotted border crossings. Perhaps the greatest impact has been felt by Vietnam, which engaged in $11.3 billion in agricultural trade with China in the first 11 months of 2021. In late December, China imposed a four-week ban on dragon fruit imports via the ironically named Friendship Pass border crossing, the main land crossing between the two countries, after health authorities in Shanxi province said they had found traces of COVID-19 on dragon fruit packaging from Vietnam. Then, late last week, Chinese authorities shut down supermarkets across Zhejiang and Jiangxi provinces in eastern China after traces of COVID-19 were found on Vietnamese dragon fruit.
According to a detailed article by Radio Free Asia (RFA), which cited local media reports, around 3,000 Vietnamese trucks were waiting to cross the border into China as of the end of last week, of which an estimated 1,700 were said to be hauling shipments of dragon fruit, jackfruit, mango, and watermelon.
Earlier, the border restrictions prompted protests from the Vietnamese government. "Anti-virus prevention measures that Guangxi is applying under the 'zero COVID' policies, including closing border gates or stopping fruit imports, are over necessary," the Ministry of Trade said in a statement on January 2, according to Reuters. "This disruption has caused negative impact on bilateral trade and great losses to businesses and people on both sides."
The situation is particularly dire for dragon fruit producers, who ramped up production in time for the Lunar New Year but are now unable to reach their intended market in China. With the Vietnamese government advising businesses and farmers to promote local consumption in order to absorb the glut, the retail price of dragon fruit in Vietnam has reportedly plummeted to mere cents per kilogram.
Similar chaotic scenes have unfolded along the Myanmar-China border, where truckloads of watermelon have been dumped by the roadside, with local exporters complaining that delays due to Chinese border controls had made trade in perishable agricultural goods "nearly impossible."
In late November, China reopened a major road link with Myanmar at the town of Wanding in Ruili after five months of closures due to COVID-19. But new border restrictions have prevented a full recovery of trade, gumming up the serpentine highway that links Mandalay in central Myanmar to the border town of Muse, and forcing many truckers to abandon their shipments.
As Lee Htay, a 65-year-old transport company owner, told the South China Morning Post, "Before the pandemic, we used to export more than 500 truckloads of fruit daily to China, mainly tropical fruits like watermelon, honeydew melon, mango, and so on. Now, fewer than 10 trucks can cross the border daily."
A long queue of semitrailers are similarly backed up at the Boten border crossing between Laos and China. According to RFA, trucks stretch all the way to the town of Nateuy, some 15 kilometers distant. "Everywhere we go it's hard for even motorcycles or cars to maneuver with all the trucks lining up for the gate to China," it quoted one villager as saying. "Officials are trying hard, but the drivers are all cutting in front of each other to get in first."
These disruptions are just one of many ways in which the COVID-19 pandemic has laid bare China's economic importance for the nations of Southeast Asia, particularly those nations that share land borders to its its south. In particular, trade in agricultural goods between the two regions has grown by leaps and bounds since the signing of the China-ASEAN Free Trade Agreement in 2010 (along with concurrent infrastructure improvements), leaving agricultural producers and exporters heavily reliant on Chinese demand.
Southeast Asian producers are unlikely to turn away from the Chinese market. Despite the disruptions of COVID-19, Vietnam's agricultural trade with China actually increased by 11 percent in the first 11 months of last year over the same period in 2020; similarly, one Yangon fruit trader told RFA that while he could fetch 1.5 to 2 million kyats for a shipment of fruit in Myanmar, "on the Chinese side, the price is much higher." However, as long as the Chinese government persists with its whack-a-mole "zero COVID" strategy, this sort of turbulence will remain a routine hazard of doing business with Asia's largest economy.