What Lies Behind Beijing's Assigning of Chinese Names to Indian Places?
Beijing's assigning of Chinese names to 15 places in the Indian state of Arunachal Pradesh is aimed at strengthening its territorial claims there.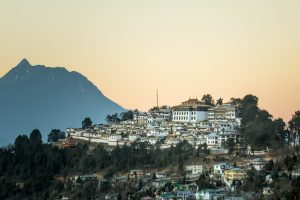 On December 30, China's state-run Global Times announced that the country's Ministry of Civil Affairs had "standardized in Chinese characters, Tibetan and Roman alphabet the names of 15 places in Zangnan." The 15 places include eight residential areas, four mountains, two rivers and a mountain pass. All official Chinese maps will henceforth have to mark the locations as per the names in the Ministry of Civil Affairs list.
Zangnan, or South Tibet, is the name the Chinese government uses to refer to the Indian state of Arunachal Pradesh, which is located in India's northeast. China lays claim to around 90,000 square kilometers of land that roughly approximates Arunachal.
The 15 names listed by Beijing are from 11 of Arunachal's 25 districts and stretch from Tawang in the west to Dibang Valley in the north and Anjaw in the east.
"The places have existed for hundreds of years" and it is "China's sovereign right to give them standardized names," Global Times quoted Lian Xiangmin, an expert with the China Tibetology Research Center in Beijing, as saying.
Describing Beijing's decision to assign names to the 15 places as a "legitimate move," Lian said that this was "part of a national effort to standardize the management of place names."
"More standardized place names in the region will be announced in the future," Lian said.
India's Ministry of External Affairs responded to the Chinese move by saying that "assigning invented names" will not alter the facts on the ground. "Arunachal Pradesh has always been, and will always be an integral part of India," MEA spokesman Arindam Bagchi said.
This isn't the first time that China has assigned names to places in Arunachal Pradesh. It also did so in 2017, when it issued standardized spellings of the names of six places in the Indian state. Back then this was seen in India as retaliation by the Chinese to New Delhi permitting the Tibetan spiritual leader, the Dalai Lama, to visit Arunachal Pradesh.
The Chinese move to assign names to places in Arunachal seems aimed at strengthening its territorial claims in the eastern sector of China's disputed border with India.
This is a tactic that Beijing has used in the disputed South China Sea, too. In April 2020, for instance, China's Ministry of Natural Resources and the Ministry of Civil Affairs listed the Chinese names of 80 islands and reefs, 55 of which are submerged by water, in addition to their coordinates.
Chinese academics said at the time that "the standardization reflected China's sovereignty over these listed islands in the South China Sea and their surrounding waters." Beijing issued a similar list in 1983, when it provided Chinese names for 287 geographical features in the South China Sea.
The assigning of Chinese names to places in Arunachal comes at a particularly difficult time in Sino-Indian relations. Tensions along the two countries' disputed border have been running high for almost 18 months now. Although several rounds of talks have aimed to get the People's Liberation Army and the Indian Army to disengage from flashpoints, the crisis along the western sector of the border continues and Chinese soldiers remain deployed on territory previously under Indian control. Moreover, China has stepped up pressure on India in other sectors as well.
The announcement of Chinese names for places in Arunachal came just days before a new border law, which China enacted in October 2021, came into force. The border law lists the responsibilities of various Chinese government bodies, civilian and military, to "safeguard" Chinese territory. It has been interpreted as a move to formalize Chinese intrusions along border areas. It is expected to provide momentum to Chinese efforts to settle people and establish "frontier villages" in border areas with a view to strengthening its claims over disputed territory.
The Chinese government can be expected to announce more lists in the coming months that provide Chinese names to these recently established villages along disputed borders with India.
New Delhi can expect its border dispute with China to get even more complicated and hard to resolve this year.