Amid Ukraine Crisis, Japan Toughens Stance on Russia
Japan's sanctions on Russia could spell the end of previous efforts to resolve the long-standing territorial dispute.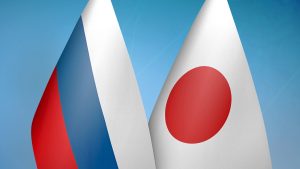 Japan has announced economic sanctions against Russia in response to President Vladimir Putin's decision to recognize the independence of – and deploy Russian troops to – two separatist-held areas in eastern Ukraine. On Wednesday Prime Minister Kishida Fumio condemned Russia's actions as a breach of Ukraine's sovereignty, territorial integrity, and international law.
In recent days Japan has ramped up its diplomatic support for Ukraine and joined other world leaders in coordinating its response in the event Russia invades Ukraine. On Wednesday Kishida said the Japanese government will suspend the issuance of visas and freeze the assets of individuals linked to the pro-Russian regions of Donetsk and Luhansk. A trade ban will also be imposed on imports and exports to the separatist regions as well as a ban on the issuance and circulation of new sovereign bonds by the Russian government in Japan.
On February 16, Kishida spoke to his Ukrainian counterpart, President Volodymyr Zelenskyy, over the phone to offer support for Ukraine's territorial integrity. The following day, after a 20-minute phone conversation with Putin, Kishida stopped short of confirming whether Japan would join the U.S.-led sanctions. He appealed for a diplomatic solution, saying, "Rather than changing the status quo by force Russia should pursue a solution through negotiations that is acceptable to the international community."
The United States has warned that a Russian invasion would destabilize the region. But inaction by Tokyo and Seoul could also set a dangerous precedent for vulnerable democracies in Asia in terms of upholding human rights and the importance of territorial sovereignty.
Kishida said aggression in Ukraine went against the Minsk ceasefire agreement signed by the Ukrainian government and pro-Russian forces. He urged Russia to return to negotiations and said that if the situation continues to escalate Japan will take prompt action in line with other G-7 countries. Japan now joins the European Union, the United Kingdom, Canada, and Australia, who have pledged sanctions.
The Russian ambassador to Japan, Mikhail Galuzin, warned against sanctions and said it would have an "opposite effect" and could undermine relations with Japan.
The previous Abe administration had sought to improve relations with Russia based on an eight point economic cooperation plan. It was a strategic step toward resolving the six decade-long territorial dispute over four volcanic islands known as the South Kuril Islands in Russia and the Northern Territories in Japan. The islands are situated between northeast Hokkaido and the Russian Kamchatka Peninsula. Russia occupies the islands but Japan claims ownership. The outstanding question of the islands has prevented Japan and Russia from ever formally signing a peace treaty to end their conflict during World War II.
Through his outreach to Russia, Abe hoped to foster enough trust to conclude a Japan-Russia peace treaty. But Abe wound up with little to show for his efforts after eight years at the helm, and now the bilateral relationship looks likely to stall even further under the Kishida administration.
What's more, Abe's aim to improve relations as a way to prevent Russia growing closer to China appears to have backfired. Cooperation between Russia and China has deepened, particularly on the military front, in an attempt to counter the global influence of the US.
There has also been growing concern over Russia's increased military activity in East Asia. Last week a fleet of 24 Russian warships was detected in waters off Japan, and experts say the "unusual" deployment is supposed to serve as a warning to Japan for siding with the United States and Ukraine.
When Russia annexed Crimea in 2014, Japan imposed import regulations primarily on weapons and general purpose soldering products that could be used for military purposes. But it's thought that economic sanctions this time will go even further, covering semiconductors and specialized electronic components.
While the export restrictions on Russia are expected to have limited impact, particularly since Japan is no longer a major exporter of semiconductors, the U.S.-led economic sanctions, which aim to inflict military and economic damage on Russia, have the greatest effect when imposed jointly.
The Japanese government is also mulling further financial sanctions in addition to freezing the assets of Russian government officials. During the Ukraine crisis in 2014 the government banned five major Russian banks from raising funds in Japan. They are expected to impose even tougher financial restrictions this time.
In addition, energy sanctions could still be on the cards if Russia invades Ukraine. Japan imports 12 percent of its thermal coal and 10 percent of its LNG from Russia. Kishida told reporters that the sanctions do not pose a risk to Japan's immediate energy supply. He explained that the government and private sector have crude oil reserves to last 240 days and enough LNG to last three weeks. Kishida reassured the private sector that the government will consider all options to minimize the impact of oil and energy price hikes on businesses.
When Kishida took power in October last year, his greatest foreign policy challenge was the intensifying confrontation between China and Japan's main ally, the United States. But worsening relations with Russia could see Moscow play a more dominant role in Japan's foreign diplomacy mix.