Cambodia and Malaysia Try to Resolve Their Differences
"Frank and candid" talks held as Olympic-sized global issues take hold.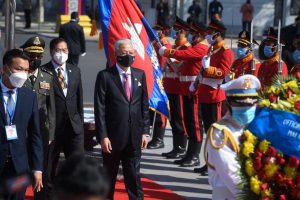 Amid the usual pomp and fanfare, Cambodian Prime Minister Hun Sen rolled out the red carpet for his Malaysian counterpart in Phnom Penh this week, in what was widely seen as an attempt to soften differences within the Association of Southeast Asian Nations (ASEAN) and find desperately needed common ground on global issues.
However, the meeting was overshadowed by both the ongoing carnage in Myanmar, an issue that has divided ASEAN, and the Russian invasion of Ukraine, an issue which will challenge ASEAN given the joint statement issued by Beijing and Moscow as the Winter Olympics began.
The 5,364-word statement did not mention Ukraine and according to analysts interviewed by the Washington Post that omission may reflect China's unwillingness to support openly a Russian invasion of its western neighbor.
However, Reuters had another take, pointing out that Beijing supported Russia's demand that Ukraine should not be admitted to NATO and quoting from the statement that, "friendship between the two States has no limits, there are no 'forbidden' areas of cooperation."
That included their shared opposition to AUKUS, an alliance between Australia, Britain and the United States aimed at curtailing Chinese expansion into international waters and the disputed South China Sea, which has also divided ASEAN's maritime and mainland states.
Divisions have widened over Myanmar's treatment of its Rohingya population, pitting Indonesia, Malaysia, and the Philippines – maritime, Islamic-Christian, and democratic – against mainland Buddhist, military backed governments in Cambodia, Laos, Thailand, and Myanmar.
The schism was laid bare when Hun Sen tried to bring Myanmar back into ASEAN after it was barred from the bloc following last year's coup, but he has since backed off saying the Myanmar crisis will be too difficult to resolve during his year as chair of ASEAN.
That laid the ground work for the arrival of Malaysian Prime Minister Ismail Sabri Yaakob who, as always, raised the plight of the Rohingya and ASEAN's Five-Point Consensus designed to push forward some kind of peace in Myanmar.
An unusually terse joint statement read: "Both leaders exchanged views in a frank and candid manner on regional and international issues of common interest and concerns such as Myanmar issues, South China Sea, and geopolitical rivalry among major powers."
There was also the usual glib lines like finding an "early" conclusion to a Code of Conduct in the South China Sea. That was initially endorsed a quarter of a century ago and can not proceed due to China's opposition to a united front by ASEAN.
No one expected anything more than a plastering of the cracks at this meeting but the 10 ASEAN nations, which pride themselves on unity and non-interference polices of its neighbors affairs, are facing a rapidly changing diplomatic environment.
Russia remains Myanmar's sole ally and its voice in the United Nations Security Council and despite their differences the junta remains a tight fit with China's geopolitical framework alongside its chief ally in Southeast Asia, Cambodia.
It's an awkward mess, given the two-week-old Russian-Chinese "no limits" declaration and a backing of each other when it comes to standoffs in Ukraine and Taiwan with promises to collaborate further against the West.
As the U.S. State Department's top diplomat for East Asia Daniel Kritenbrink put it: "If Russia further invades Ukraine and China looks the other way, it suggests that China is willing to tolerate or tacitly support Russia's efforts to coerce Ukraine…"
Myanmar's junta imperiled its own people and is in a disastrous position. Cambodia is in a hard spot with ASEAN's multilateral style of diplomacy in deep trouble forcing its members to choose between a Russia-China axis or alliances with the West which date back to World War II.
At stake are the sovereign and cultural values of each state and whether or not they are prepared to shut up, at least publicly, and tolerate Myanmar's junta with Russian backing and China's incessant meddling across the region amid its Olympic-sized agreement with Moscow.