Cambodian PM Says He Will Step Down in 3 Weeks and His Son Will Succeed Him
Hun Sen says that will relinquish the prime ministership on August 22, after more than 38 years in power.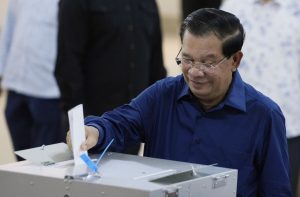 Longtime Cambodian leader Hun Sen said Wednesday he will step down in three weeks as prime minister and hand the position to his oldest son, who won his first seat in Parliament in Sunday's election.
The announcement came after their Cambodian People's Party won a landslide victory in weekend elections that Western countries and rights organizations criticized as neither free nor fair, and in which the country's main opposition was suppressed.
Hun Sen has been Cambodia's autocratic leader for 38 years but said ahead of the elections he would hand off the position to his oldest son, Hun Manet, sometime during the next five-year term.
Hun Manet, 45, is currently the chief of the country's army.
In a televised address, Hun Sen, who is Asia's longest-serving leader, said he had informed King Norodom Sihamoni of his decision and that the king had agreed in a formality.
Hun Sen said his son would be named prime minister after the National Election Commission reports the final results of Sunday's election, in which the CPP won 120 of 125 seats. He has also said that a new generation would take over many of the top ministerial positions in the new government, which he said would be formed August 22.
Even though he is stepping down from the premiership, Hun Sen is widely expected to remain closely involved in running Cambodia, and is also to become president of the country's Senate.
After a challenge from the opposition Cambodian National Rescue Party in 2013 that the CPP barely overcame at the polls, Hun Sen responded by going after leaders of the opposition, and eventually the country's sympathetic courts dissolved the party.
Ahead of Sunday's election, the unofficial successor to the CNRP, known as the Candlelight Party, was barred on a technicality from running in the election by the National Election Committee.
Following the election, the European Union criticized the vote as having been "conducted in a restricted political and civic space where the opposition, civil society and the media were unable to function effectively without hindrance."
The United States went a step further, saying that it had taken steps to impose visa restrictions "on individuals who undermined democracy and implemented a pause of foreign assistance programs" after determining the elections were "neither free nor fair."
Hun Sen had been a middle-ranking commander in the radical communist Khmer Rouge responsible for genocide in the 1970s before defecting to Vietnam. When Vietnam ousted the Khmer Rouge from power in 1979, he quickly became a senior member of the new Cambodian government installed by Hanoi.
A wily and sometimes ruthless politician, Hun Sen has maintained power as an autocrat in a nominally democratic framework.
Hun Manet is a graduate of the U.S. Military Academy West Point graduate with a master's degree from New York University and a doctorate from Bristol University in Britain.
Despite his Western education, however, observers don't expect any immediate shifts in policy after his father steadily moved Cambodia closer to China in recent years.