Myanmar's Drone Wars
Myanmar's anti-coup forces are rigging civilian drones to carry bombs, while the Tatmadaw uses UAVs for surveillance.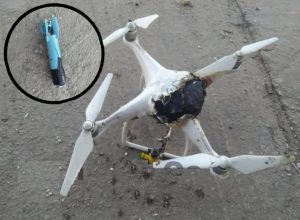 Constrained by financial difficulties, Myanmar's resistance fighters have experimented in secret with adapting low-cost drones to combat uses for the last five months. Meanwhile, the Myanmar junta has reportedly used advanced unmanned aerial vehicles (UAVs) for surveillance. Will drones tip the scale in Myanmar's prolonged conflict?
"We started with a simple F11 drone, which does not reach far," a member of Karenni Generation Z Army (KGZ-A) says. "But by practicing and modifying other models from the amateur toy store, we got more and more proficient in handling them."
KGZ-A is one of many anti-junta resistance groups. They were formed on May 26, 2021 in Karenni (Kayah) State, Myanmar's smallest state by both territory and population, which borders Thailand. The group consists of an undisclosed number of male and female fighters aged between 15 and 30 years old and introduces itself as "a non-profit organization that assists in the fight against terrorism and provides food and shelter to refugees."
Operating as a unit of the Karenni Nationalities Defense Force (KNDF), they claim to train other groups, both in person and online, in adapting drones for the combat. Besides the drones, they also use ground weapons.
"We are happy to kill the junta soldiers because the generals took power and murder people," KGZ-A members explain when asked about the psychological impacts of the war.
Another group that confirmed using drones in fighting against the Tatmadaw is Aung San Force (ASF) based in the Sagaing Region.
Every three days, KGZ-A deploys a DJI P4 drone model with a modified mechanism used for bomb release. Munitions are packaged into a polyvinyl chloride (PVC) pipe and explode once it hits the ground.
"The challenge is facing devices that interfere with the drones," the group says, noting that "they can't be used in drone-protected areas."
"Also, we want to fly back our drones safely so they can't be operated too low; otherwise they would be shot down."
"Drones do not make a big difference, rather a small difference," says the KGZ-A members. The same source recalls laughing over Tatmadaw soldiers hiding in a forest to avoid drone attacks.
This conclusion is echoed by the Ministry of Defense (MoD) of the anti-junta National Unity Government (NUG), which was created in the aftermath of the coup as a government in exile. The MoD agrees that "drone strikes have shown to be effective, but may not be a game changer."
The ministry claims to coordinate the subject of the deployment of drones but notes that as "there are many People's Defense Forces (PDFs) across the country, it is challenging for us to communicate with all of them."
MoD has repeatedly encouraged the resistance groups to follow its code of conduct. To prevent casualties on the side of civilians, KGZ-A vows "not to deploy the drones over the crowds of people," and "only after the reconnaissance."
Before attacking, "we have to spy on the target. The use of drones in warfare is more effective because it saves lives," they add.
Importantly, Myanmar's civil war is being waged not only by military means, but also in a psychological way aimed at making Tatmadaw soldiers break the ranks.
According to Captain Lin Htet Aung, who joined the civil disobedience movement, the Myanmar Army has lost about two and a half infantry divisions. He says that the Tatmadaw has more than 500 battalions under the 10 infantry divisions and divisional headquarters, with more than 100,000 officers and men who can actually fight. Lin Htet Aung believes casualties have reached up to 10 percent of that number.
He added that "their forces have been affected emotionally, physically and operationally."
Meanwhile, the Myanmar Army is also making use of unmanned aerial vehicles. "Tatmadaw is deploying drones mainly for surveillance purposes such as scouting our PDF camps," says the NUG's Ministry of Defense, citing their intelligence updates and reports from the ground.
Some witnesses have both seen and photographed Myanmar Army drones in action. They say that Chinese-made drones have been deployed several times both to monitor the protesters and crack down on the armed resistance groups. While some of the Myanmar Army's drones, such as the CH-3A, can launch laser-guided air-to-ground missiles, they are primarily used as intelligence, surveillance, and reconnaissance assets .
So far, "in terms of using drones in combat by the Tatmadaw, we haven't seen them much," the MoD comments.
With the declining capacity of the Tatmadaw on the frontline, air support remains crucial. This where the generals have a clear upper hand over the anti-coup fighters.
Karenni State, where KGZ-A is based, has been heavily attacked by Tatmadaw soldiers, who have burned over 100 houses. The ongoing clashes caused over 170,000 people (more than half of the state's population of 300,000) to flee.
Reportedly, in mid-January, a camp of internally displaced people was bombed from the air, killing health workers and civilians – an action that may amount to a war crime.
"Since the formation of the Committee Representing Pyidaungsu Hluttaw [CRPH, a Burmese legislative body in exile] on 5 February last year, we have urged the international community to cease supplying and selling arms and weaponry to the Tatmadaw, since they are primarily using them to kill unarmed innocent citizens who oppose their unlawful rule," the MoD explains. The shadow government has appealed to the global community to impose an arms embargo and a no-fly zone for many months, to no avail.
Against this backdrop, recent reports confirmed the Myanmar Army will acquire Pantsir-S1 SHORAD systems, radar stations, and Orlan-10E UASs from Russia.
The United Nations stated recently that while "international humanitarian agencies are working with local partners to provide emergency relief aid to the affected, there are many logistical difficulties and tightened inspections on the road." Supplies of humanitarian aid are being halted, or in some cases stolen or destroyed by the Tatmadaw soldiers.
Yet, despite the losses and terror on their side, Myanmar resistance fighters refuse to bow to the generals, stressing that the anti-junta movement is more united than ever.
"They can't say they won," a KGZ-A member says, for the simple reason that the "junta is not in control."