North Korea Launches Ballistic Missile for Reconnaissance Satellite Test
Four days before the South Korean presidential election, North Korea conducted an "important" second reconnaissance satellite test – its second in a week.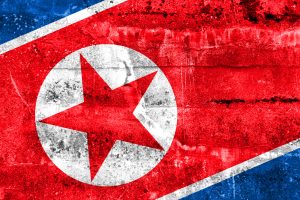 North Korea fired a ballistic missile into the sea off its east cast on Saturday, South Korea's Joint Chiefs of Staff (JCS) said. It was the North's ninth round of missile tests this year and came six days after it tested a cruise missile on February 27.
The missile was launched from Sunan, near Pyongyang, North Korea's capital, at 8:48 a.m. Korea Standard Time (KST) and flew 270 km with an altitude of 560 km, South Korea's military officials confirmed.
South Korea's National Security Council (NSC) held a meeting and condemned the North's missile test. While sending the usual message of "regret" to the North, the NSC also delivered unusual messages that it is closely monitoring North Korean nuclear facilities. The North recently has been accused of producing fissile materials in Yongbyon Nuclear Scientific Research Center.
Hours after North Korea's latest missile launch, the U.S. and South Korean special representatives for North Korea also condemned the North's missile launch and consulted on ways to strengthen bilateral cooperation in a phone meeting.
On Sunday, Korea Central News Agency (KCNA), North Korea's state-controlled media, confirmed its second missile test in a week. KCNA said that the North conducted "an important test" again on March 5 according to "the reconnaissance satellite development plan."
"Through the test, the National Aerospace Development Administration confirmed the reliability of the satellite data transmission and control command system and various satellite control systems," it said.
KCNA has not provided any details on the performance or the type of missile test-fired on Saturday. Similarly, Pyongyang did not elaborate on the capabilities of the missile it launched on February 27. The North did release photos taken from a camera attached to the missile launched on February 27, but it has not shared any photos from Saturday's reconnaissance satellite test. South Korean military officials had downplayed the resolution of the released photos last week.
United Nations Security Council resolutions ban North Korea from testing any type of ballistic missile, but the North has never abided by the restrictions. Despite the U.S. and the U.N.'s devastating economic sanctions against the North, Pyongyang has consistently been developing nuclear and missile technologies.
Considering the tests conducted on February 27 and March 5, North Korea seems to be preparing to launch a reconnaissance satellite in the lead-up to the country's most important event for this year: The 110th birth anniversary of Kim Il Sung, the current leader Kim Jong Un's grandfather, on April 15.
North Korea's "recent reports on tests of reconnaissance satellite components practically advertise a forthcoming long-range missile firing as a space launch," Leif-Eric Easley, associate professor of international studies at Ewha Womans University in Seoul, told The Diplomat.
North Korea tested the Hwasong-12 intermediate-range ballistic missile (IRBM) on January 30. That was the largest missile Pyongyang has tested since its intercontinental ballistic missile (ICBM) test in November 2017. However, North Korea will likely showcase larger missiles in coming months and may resume testing its newest Hwasong series of ICBMs as a response to upcoming South Korea-U.S. joint military drills.
"The Kim regime may be betting that it can easily get away with such violations of U.N. sanctions, and by doing so publicly, normalize its military activities as just another country keeping up with the neighbors in order to defend itself," Easley said.
Since the failed Hanoi summit in 2019, Kim Jong Un and other North Korean officials have said repeatedly they no longer feel bound by the previous self-imposed moratorium on testing nuclear devices and ICBMs, made at a time when Kim was pursuing diplomacy with then-U.S. President Donald Trump. However, Pyongyang has so far restrained from actually breaking the moratorium. North Korea is looking to utilize its reconnaissance satellite tests as momentum to cross that red line in a bid to entice the United States to offer more favorable incentives through backchannels to restore nuclear talks. The North's recent rounds of satellite-related tests can be interpreted as a signal that it will launch a reconnaissance satellite into orbit in the coming months. As satellite and ICBM launches require similar technology, the U.S. and its allies have reacted to past satellite launches with alarm.
The United Nations Security Council is planning to hold a session this week to respond to the North's missile launches, according to local news reports.