The Misplaced Male Anger That Drove the 2022 South Korean Presidential Race
Today's young Koreans – both men and women – deserve better than Hell Chosun in one of the wealthiest and most promising economies.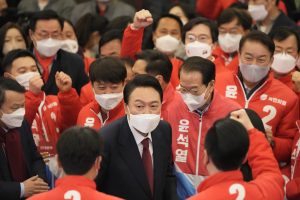 "Squid Game" and "Parasite" captured the hearts of global audiences in large part because of their depictions and social critique of poverty and inequality in contemporary South Korea, which many across the world can relate to. Once an exemplar of equitable growth, the divide between the rich and the poor has grown in recent decades, and among young Koreans "Hell Chosun" has long been a popular term. Chosun is the name of the pre-modern dynastic Korea that lasted five centuries (1392-1897) and "hell" captures the suffering and futility under a system of haves and have-nots. 
So perhaps it is not surprising that in the 2022 presidential election, rising inequality and poverty were top issues. Yet, the policies offered by the two major parties were predictable and underwhelming. The candidates from the conservative right, People's Power Party (PPP), and the progressive left, Democratic Party (DP), were pale versions of Donald Trump and Bernie Sanders in the United States. The PPP's candidate Yoon Suk-yeol, now the president-elect, ran on a platform of stimulating the economy through business-friendly policies, and his opponent, the DP's candidate Lee Jae-myung, on the promise of a universal basic income. 
Both camps have courted the swing block of voters in their 20s and 30s, referred to as the "20/30." These are the angry young of Hell Chosun, now adults of voting age. Lee pledged an extra cash subsidy, in addition to the universal basic income, for those in the age group between 19 and 29. Gender became a salient issue when Yoon announced his intention to abolish the Ministry of Gender Equality and Family (MOGEF), a symbol of women's rights in Korea. Yoon may have won the election, but with this move, the voice of anti-feminism and misogyny — akin to the Incel movement in the United States — that was once at the fringe has entered the mainstream political debate.
Echoing the sentiments of angry young men, Yoon argued that the ministry failed to uphold its mission for gender equality by giving preferential treatment to women, while disadvantaging and criminalizing men. Lee did not defend the ministry, either, which was perhaps his biggest mistake. Instead, he announced a plan to rename the ministry as the "Ministry of Equality and Family" to remove "gender" (which in Korean translates as "women.")
Why Are Young Men So Angry?
The three main components of poverty and inequality that generate economic insecurity for the 20/30 generation are unaffordable housing, the rise of precarious work, and student debt. Affordable housing, especially in the capital, Seoul, where economic opportunities are concentrated, is a scarce commodity. The future of work is precarious in the ever-growing gig economy, in a country where 96 percent of the population use the internet. Precarious work makes tuition debts financially and psychologically burdensome. Of the OECD countries, South Korea's private spending on tertiary education is one of the highest at 60 percent, double the OECD average. Higher education is highly valued and one of the key factors leading to high household debt. University fees impose a huge financial burden on Korean parents, with 15 percent of university students using loans to pay for tuition. This debt is either carried by parents or by the student themselves.
When a lack of opportunity and conservative values meet, they create shame for young adult men. A lack of housing and good jobs threaten the patriarchal foundations — men as the head of the household and the main breadwinner — that define masculine roles and norms in such a society. Some direct their anger toward women, in the form of misogyny and anti-feminism. However, others are anti-misogyny, but at the same time, do not support feminism. In a recent survey, 47 percent of Korean men said that feminism does more harm than good, a higher figure than Saudi Arabia at 34 percent. Why? Korean men feel that there is already gender parity. Women's attainment in education in South Korea is the highest among the OECD countries. Moreover, all males aged between 18 and 28 must complete 21-24 months of military service, which women remain exempt from. 
Is This Anger Legitimate?
The latest peer-reviewed research shows that the perception of gender parity is not supported by facts. In the labor market, for example, women in their 20s experience slightly more precarity (what is referred to as "irregular work" in Korean) than their male counterparts, with this trend becoming significantly worse into their 30s and 40s. In short, men eventually find secure work with age, whereas women do not. Even among those employed, women are paid less than men. The gender pay gap was more than 40 percent in 2000 and was still around 32 percent as of 2019. South Korea ranks lowest in the 2022 Economist Glass Ceiling index among 29 OECD countries.
Women also experience a double burden as primary caregivers, and are faced with discrimination and sexual harassment in the patriarchal militaristic work environment. Many are pushed out of the labor market. The ratio of female-to-male labor force participation in South Korea was consistently much lower than other OECD countries between 1990 and 2019. In short, Korean women face obstacles in translating their educational advantages into lasting employment opportunities, and this is precisely the context in which the soon-to-be-abolished Ministry of Gender Equality and Family (MOGEF) was first established in 2001. 
Where Should This Misplaced Anger Go? 
Today's young adults – men and women – deserve better than Hell Chosun in one of the wealthiest and most promising economies. South Korea overcame the middle-income trap to attain high-income status. The Economic Complexity Index – considered to be the best predictor of growth – places South Korea in the top four, just below Germany. While there is a lot to be angry about for the 20/30 generation, young men's anger against women and feminism is misplaced. This anger should be directed to the next occupant of the Blue House for playing divisive politics with nothing to show for it other than populist policies. Young Koreans need to wise up and strive to build politics of solidarity for a better future that can improve the opportunity structures for young men and women alike.
As for the president-elect, he needs step up and unite the country he helped divide.